Hillwalker completes 10th round of Munro summits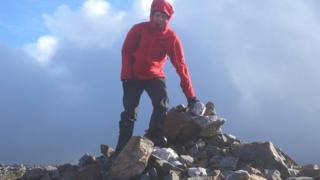 A record-breaking hillwalker has successfully completed her 10th round of Munros - Scotland's highest peaks.
Hazel Strachan scaled her last summit Carn an Tuirc, near Braemar on Sunday, in the company of about 20 friends and supporters.
The 50-year-old, from Bathgate, is helped by husband Ian, 67, who provides back-up in the couple's motorhome.
The Scottish government scientist completed the most Munro rounds by a woman with her seventh circuit in 2015.
Having completed her first Munro in 1980, Hazel said she "only really got started" after moving away from her parents' farm in 2000.
For the past six rounds of Munros, she has managed to complete one every year.
After completing her final 10th round peak on Sunday, Hazel told the BBC Scotland news website: "I am absolutely delighted. It's been a fantastic journey.
"I have learned so much about myself and about the mountains as well.
"I've had great people behind me, including a great physio, who have looked after me and sorted out any problems."
Munro facts and figures
A Munro is a Scottish summit over 3,000ft (915m). The name stems from Hugh Munro who was the first person to compile a list in 1891.
The number of Munros has grown and shrunk over the years, from 277 in 1984 to 284 in September 1997.
In 2009 the list returned to 283 before falling by one more after Beinn a'Chlaidheimh was found to be just under the minimum height.
The record for completing Munros is held by Edinburgh-based Steven Fallon, who has climbed 15 full circuits.
The Strachans spend most of their spare time travelling across Scotland in pursuit of the challenge.
The couple bought their first motorhome after Mr Strachan retired from his job as a civil servant.
They have climbed 33 Munros together, although Mrs Strachan is usually a solo walker.
While she is out in the hills, husband Ian spends his time reading or driving to a pick-up point.
He said: "I am very proud of her and I am amazed absolutely amazed that she is able to do what she does.
"When she completed the first round I thought that's it, we'll go and do other things, but then she told me, 'no, no I want to continue to do it - I want to get the women's record'.
"The women's record was six rounds, so she had to do seven.
"And once she completed seven then I thought well, that's it, that'll be fine, but she said 'no I want to continue to do them'."
Hazel has no plans to hang up her mountain boots, and has already "banked" 50 Munros on her 11th round.
She said: "I love the self-reliance, the planning, the physicality of it all, and the tremendous views."