Teaching LGBTI issues in Scotland's classrooms
By Nichola Rutherford
BBC Scotland News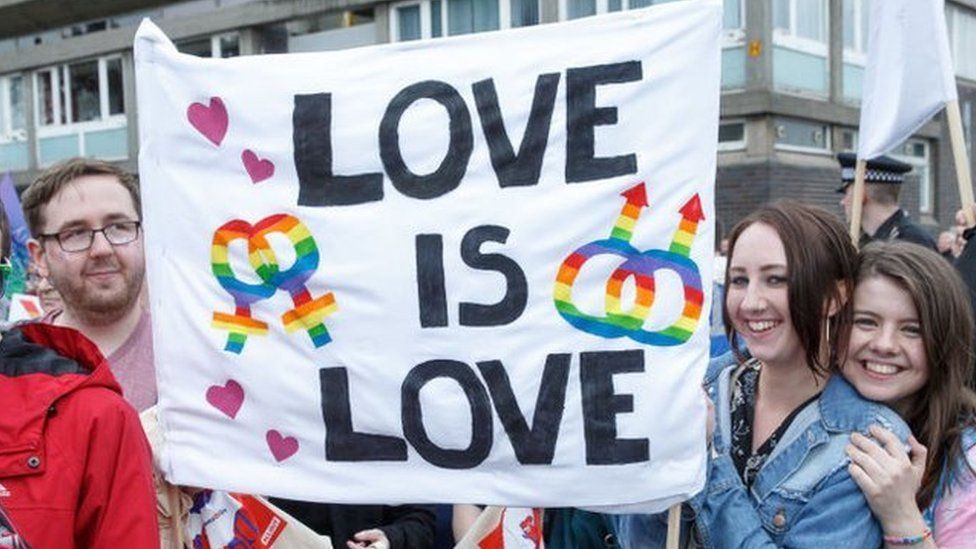 Eighteen years after the abolition of a law which banned the promotion of homosexuality in schools, the Scottish government has accepted in full the recommendations of a working group set up to improve the experiences of LGBTI young people in classrooms and playgrounds.
He said that kind of education would have enabled him to realise that he was "OK to be exactly to who I am".
But it has been criticised by others concerned that money would be better spent on other aspects of education rather than "promoting LGBTI politics".
All state schools in Scotland will be supported to teach LGBTI equality and inclusion across different age groups and subjects, according to the Scottish government.
This includes an understanding of LGBTI terminology and identities and recognising and understanding homophobia, biphobia and transphobia.
But in essence, campaigners want young people who are struggling with their sexuality to see themselves reflected in their regular lessons.
Turing was convicted of "gross indecency" when homosexuality was illegal in the UK and his achievements at Bletchley Park were not recognised until decades after his suicide in 1954.
In English lessons, campaigners say students could study the life and work of Edwin Morgan - the celebrated Scots poet who announced he was gay on his 70th birthday.
And they believe the Stonewall riots in 1969 which led to the birth of the gay rights movement could be the focus of discussion in lessons touching on social studies, religious and moral education, languages and expressive arts.
Jordan Daly, the co-founder of the Tie campaign, said the LGBTI-inclusive education was not just about teaching pupils about relationships and identities.
"When I was 12 years old and struggling with being gay at school, I didn't necessarily need an education about relationships.
"What I really needed to be told was: 'Here's the history of the LGBTI community, here are some amazing LGBTI role models, people who have been in your shoes - people like Alan Turing; Marsha Johnson.
"This is about empowering young people and teaching young people about respect, diversity and inclusion."
In primary schools, campaigners insist any LGBT education would be age-appropriate.
James Morton, manager of the Scottish Trans Alliance, said he wanted primary school children to know they did not need to conform to gender stereotypes.
And Dawn Wilson, a teacher in Clydebank, told BBC Radio Scotland she talks to pupils about different types of families in a bid to remove any stigma.
"The majority of young people now live in families where there's not just a mum or a dad," she said.
"We've got kids who live with two mums, two dads, one mum, one dad, aunties, uncles, and what we're trying to do at primary stage certainly is to break that down and just say 'Do you know what? Everybody's family is different. But they are all valuable, they are all equal, they all have the same amount of love'."
The law prohibited local authorities and schools from promoting homosexuality and campaigners claim it has had a "destructive legacy".
James Morton said young people who were at school while the law was in force felt they simply could not talk about their sexuality.
He said it has had a lasting effect on the mental health of people in the LGBTI community - including himself.
"I grew up and went to school during Section 28. The lack of ability to talk to people about LGBTI nearly cost me my life.
"It's incredibly positive that more schools are providing that support that no matter who they are, how they live their life, there's a future for them."
And although Section 28 was repealed in 2000, a recent survey by the Tie campaign revealed that life can still be difficult for LGBTI students.
It found that 90% of LGBTI people have experienced homophobia, biphobia or transphobia at school, and 64% have been bullied because of their sexual orientation or gender identity.
The campaign group believe this change to the curriculum could promote understanding and inclusion across the wider community.
Teacher Dawn Wilson said: "It's about promoting awareness and celebrating diversity.
"We all know that if people lack awareness about something, it breeds fear. Fear breeds hate and hate leads to violence.
"If you remove that mystique then kids will say, 'oh that's no big deal'."
Tie's Liam Stevenson added: "When young people can see themselves reflected in their education, it gives young people the opportunity to reach their full potential."
What has the reaction been?
Hate crime victim Blair Wilson told the BBC Scotland website that schools have been lacking this kind of education for a long time.
The 21-year-old said: "If we had some LGBTI-inclusive education, I may have found it easier to talk to my friends about my sexuality. More than that, they may have found it easier to talk to me.
"If we were taught about sexuality and gender expression in school, I probably wouldn't have had to go on such a journey of self-discovery making a lot of mistakes on the way while I figured out who I was - I would have understood it was okay to be exactly who I am."
However the response to John Swinney's announcement on Thursday has not been overwhelmingly positive.
David Robertson, the minister of St Peter's Free Church in Dundee and director of the Solas Centre for Public Christianity, raised fears that children were going to be "indoctrinated into one particular philosophy".
"At best this is, I think, virtue-signalling but in reality I think it's discriminatory and indoctrination, and it's an unnecessary expense when the money could be used for much better things," he told BBC Radio Scotland's Steven Jardine Programme.
"It's the very opposite of equality. It's about teaching one particular philosophy and one particular view and excluding everyone else."
He said he wanted schools to tackle all forms of bullying - not just those that target LGBTI youngsters.
"But the reality is the bullying thing is being used as an excuse to impose a doctrine and a philosophy upon all our children. I strongly object to that," he said.
Related Internet Links
The BBC is not responsible for the content of external sites.