Man arrested at Steve Bannon protest in Edinburgh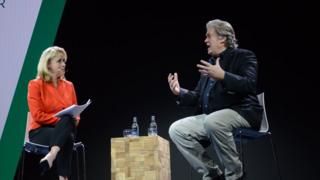 About 100 protesters gathered outside a media conference in Edinburgh where Steve Bannon was being interviewed.
Police say a 56-year-old demonstrator was arrested and charged with threatening and abusive behaviour.
Mr Bannon is a former White House strategist who supports right wing political causes.
He was interviewed by BBC Scotland Editor Sarah Smith at the News Xchange conference.
First Minister Nicola Sturgeon withdrew from the event at the Edinburgh International Conference Centre when Steve Bannon's involvement was announced.
She said she would "not be part of any process that risks legitimising or normalising far-right, racist views".
Mr Bannon told the audience that populist politics were "catching fire around the world" and argued that immigrant labour is leading to lower wages for many workers.
He claimed Mr Trump's "zero tolerance" approach at the US border with Mexico was a "humanitarian policy" - claiming it helped deter human trafficking and people smugglers.
"These are not racist views," he said. "In fact populist nationalism, which I've been working on for nine or 10 years, is the exact opposite."
One of the protesters outside the conference, Willie Black, said giving the media executive a platform would "normalise far-right ideology".
The 67-year-old retired electrician said: "He wants to strengthen all the right-wing organisations across Europe.
"We don't want these people to be accepted as normal politicians."
Last month, organisers defended the decision to invite Steven Bannon, saying it was their "journalistic responsibility to share and scrutinise a range of relevant viewpoints within the framework of a balanced debate".
The BBC, which is co-hosting the event, said: "News Xchange is an annual EBU journalism conference which the BBC and other broadcasters support to make happen.
"Steve Bannon was invited on behalf of the EBU's News Xchange committee. Good journalism in a world of fake news and disinformation is more vital that ever.
"Journalism is about asking tough questions and understanding what is happening in the world and why. A conference designed to analyse the big issues impacting that world isn't an endorsement of anyone or anything - it is a function of what journalism is."