Court bid to force Scottish undercover police probe fails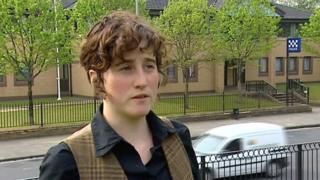 A political activist has failed to have a Home Office inquiry into undercover policing extended to Scotland.
Tilly Gifford claims she was spied on and suffered human rights breaches while a member of an environmental group protesting at airport expansion.
She argued at the Court of Session that the Scottish government should hold a public inquiry into the issue.
But judge Lady Carmichael said European human rights laws did not apply in the case.
Ms Gifford was arrested during a protest at Aberdeen Airport in 2009.
She claims that she was subsequently offered money by undercover officers to provide information about the activities of her group.
The campaigner took her case to the Court of Session after a decision by the Home Office not to extend their own inquiry about officers in England and Wales to Scotland.
In February, Scotland's then Justice secretary Michael Matheson rejected calls for a new probe.
He said it was in light of a report on undercover policing in Scotland which showed "no evidence of any systemic failings".
Lawyers for Ms Gifford, of Govanhill, Glasgow, argued that the decisions by both the UK and Scottish governments breached her human rights and were unlawful.
Lady Carmichael said actions of certain types taken by the police in the course of surveillance "may violate the psychological integrity of individuals".
But she added: "What this petitioner avers is, however, not a violation of psychological integrity. The present case involves no allegation of violence, or harassment or racially-motivated conduct.
"To infer a duty to direct that there be a public inquiry in the circumstances of the case would require a significant extension of reasoning.
"The petitioner has not demonstrated that either respondent has acted incompatible with her convention rights on this basis."
'Codes of practice'
The Home Office inquiry has heard that "secret" police units infiltrated activist groups, some forming long-term relationships and fathering children.
Mostly instigated by the Metropolitan Police, the officers worked in long-term operations within political groups on the far left and right, and animal rights groups.
Police Scotland said a report by Her Majesty's Inspectorate of Constabulary in Scotland (HMICS) in February had concluded that Scottish undercover officers "had been well regulated in the 423 operations they had been involved in since 2000".
The report said: "The use of undercover officers is a legitimate policing tactic and has been used effectively in Scotland.
"Operational activity has primarily focused on drug-related offences, child sexual abuse and exploitation, human trafficking and exploitation and serious organised crime."
The report said that all the authorisations for the use of undercover officers it had examined fully complied with the regulations and codes of practice.
And it added: "There was no evidence that undercover advanced officers from Police Scotland had infiltrated social justice campaigns or that officers had operated out with the parameters of the authorisation."
'Institutional sexism'
Ms Gifford previously told BBC Scotland: "These are really serious abuses of human rights.
"These officers stole the identities of dead children, deceived women into long-term intimate relationships, some of them fathered children and disappeared out of these women's lives when they got a promotion to go and train more police officers to do the same thing.
"It's revolting the level of institutional sexism and human rights abuses - how can we move forward and have any proper safeguards in place and protect ourselves and the general public if we don't understand what happened?"