The Staircase lawyer David Rudolf backs not proven verdict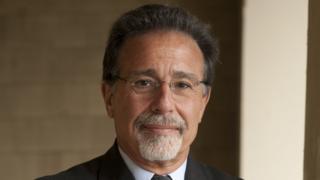 US lawyer David Rudolf, who features in the documentary series The Staircase, finds Scotland's unique three-verdict legal system fascinating.
Mr Rudolf is known for his defence of Michael Peterson, an author who was convicted of murdering his wife Kathleen in 2003.
She had been found dead in a pool of blood at the bottom of the staircase in the mansion she shared with Peterson in North Carolina.
The fraught trial and its complicated aftermath are examined in documentary series The Staircase, which aired on Netflix earlier this year.
Mr Rudolf, who is in Scotland for a speaking tour, told the BBC that he would have welcomed Scotland's "not proven" verdict as an option in the Peterson trial.
The defence lawyer said he thought the verdict focused the jury's attention on whether the evidence was "beyond reasonable doubt".
"I think the jurors didn't want to say not guilty because there's a sort of implication that Michael would get a clean bill of health," he says.
"It's very difficult to establish innocence - it's hard to prove a negative.
"If a jury in the Michael Peterson case had the option of guilty or not proven they would have voted not proven."
The Miss M case
Unlike most of the world's legal systems, including the US, Scotland has three possible verdicts in criminal cases - guilty, not guilty and not proven.
In the eyes of the law a not proven verdict is exactly the same as not guilty in that the accused is acquitted and free to leave the court.
Earlier this month, a rape victim launched a campaign calling for Scotland to get rid of the "not proven" verdict in criminal courts.
Her attacker was given a not proven verdict by a jury in a criminal trial - but in a rare case for Scotland, was branded a rapist by a sheriff in a civil case and ordered to pay £80,000 in damages.
The woman, known as Miss M, said not proven was confusing and lets juries "sit on the fence".
She was supported by women's groups who are concerned it gives juries an "easy out" in rape trials and contributes to low conviction rates.
However, Mr Rudolf, who has had a 40-year career as a defence lawyer, says the not proven verdict reflects the true purpose of the jury.
"The jury is never asked to find that someone is innocent," he says.
"What they're asked to do is determine whether the prosecutor has met its burden.
"If it's not met then frankly the more logical verdict is not proven, so if the Scottish government was going to drop one of two alternatives then they should drop not guilty."
Rape Crisis Scotland has shared concerns that having two options for acquittal may influence conviction rates in cases involving sexual offence charges.
They said they had very real concerns it may be contributing to "guilty men walking free".
But Mr Rudolf maintains "we don't want to convict innocent people" - and says he was "crushed" in 2003 when Michael Peterson was sent to prison.
The defence lawyer claims jury members were "swayed" by convoluted evidence given by blood spatter expert Duane Deaver - who was later found to have committed perjury.
'Innocent people'
Peterson, who spent eight years in prison, was granted a new trial but before it could take place he entered an Alford plea to the voluntary manslaughter of Kathleen.
This is a guilty plea where he accepted there was enough evidence for a conviction but he still asserted his innocence.
It meant he did not face additional prison time.
Since The Staircase aired on Netflix, Mr Rudolf has launched a tour in which he discusses the case.
In the case of Miss M, Mr Rudolf is hesitant to deliver opinion on the side of victim or accused - but is very clear on one point.
"To abolish not proven would be illogical," he says.
The defence lawyer speaks passionately about Scotland's third verdict in his talks, which will be delivered in Edinburgh and Glasgow on 25-26 November.
He added: "It's quite coincidental that the [Miss M] controversy has arisen just at the time I'm coming.
"For a long time I've advocated the US's not guilty verdict should be changed to not proven.
"We don't want to convict innocent people."
'Listen to victims'
Responding to Mr Rudolf's comments, Miss M said: "I received a not proven verdict in a criminal trial where the burden of proof is higher than in a civil case.
"Regardless of this, less evidence was presented for my case in the criminal trial. David Rudolf has commented that I don't like the burden of proof in criminal trials.
"What I don't like is a criminal system where rape victims are not involved in their own case which can lead to vital evidence being left out by mistake.
"What I don't like is an additional verdict which can allow juries to sit on the fence.
"We are the only European country with three verdicts, which includes two verdicts of acquittal. It is time that survivors who received a not proven verdict are listened to."