'I fought injury to win X Games BMX medal'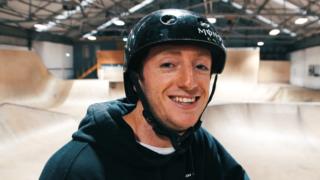 After injuring his knee in a fall last year, BMX street rider Alex Donnachie thought he might never ride again.
Just 10 months later, the 24-year-old went on to win gold at the X Games in Sydney.
He is the first ever Scottish athlete to claim a gold medal at the extreme sport competition.
Alex been speaking to BBC Scotland's The Social about his win, overcoming injury and Scotland's thriving BMX scene.
"After that injury, there were times where I didn't think I was going to be riding again," he said.
"You just don't know if you'll ever get your confidence back."
The X Games is an internationally-renowned extreme sport competition held in the summer and winter in different locations around the world.
Alex joins a list of world-class winners, including Travis Pastrana, Bob Burnquist, Tony Hawk, and the late Dave Mirra.
UK representation at the summer games is generally low, with the US, Australia and Brazil dominating the rankings.
The US' Garrett Reynolds has particularly dominated the BMX Street scene, consistently placing either first or second at the Games since 2012.
This year, he was knocked off the top spot by Alex.
"I would say Garrett Reynolds is the greatest rider, he's always winning X Games. He's just unstoppable," said Alex.
"He was probably my biggest competition that day. He wins pretty much every competition he goes to."
Alex is originally from Crieff in Perth and Kinross, but says he spends most of his time at Unit 23 skate park in Dumbarton.
"I've pretty much been staying here for years on and off. For me it is pretty much the dream - you can't get any better than staying in a skate park," he said.
"All I want to do is ride and this is the best place to do it.
"I think one of the biggest factors of me getting back on the bike was this place. It was such a big help.
"It really helped me get my confidence back up after injuring my knee last year."
The skate park is home to many faces from the thriving BMX scene in Scotland, most of whom are now securing major brand deals with the likes of Monster Energy, Vans, and Nike.
Alex has even had his own signature bike frame made in recognition of his talent.
His injury in September 2017 forced Alex to take a break from the sport, and brought his ability to compete into question.
Alex tore the ACL (anterior cruciate ligament) in his knee, a common, but potentially devastating injury often suffered by athletes.
"It took over a year to recover from that, it was a long process," Alex said.
"In December I had surgery, so since then it's pretty much been non-stop physiotherapy every day.
"Everything goes through your brain at the time... at times I didn't think I was going to be riding again."
The BMX Street competition at the X Games consists of two runs showcasing the riders' most technical skills, of which the highest scoring run counts.
Alex's best run at this year's games placed him a whole point above favourite-to-win Reynolds.
"BMX Street pretty much is as it is. You just take your bike, go into the street and ride whatever you find," Alex said.
"Whether it be a handrail down some stairs, a wall... anything really. Anything you find."
Alex said his love for riding started at a young age: "I'm not really sure what got me into it.
"As soon as I could learn to ride a bike that was me, I was never off of it."
Alex's win came as bit of a surprise, not least to him.
"Before launching into the X Games run, I hadn't even considered winning," he said.
"Even just to get invited... I was just happy to be there to be honest!"
And his gold-medal win may have been a first for Scotland, but he is hoping it won't be the last.
"The BMX scene in Scotland is amazing right now," he added.
"It just gets bigger and bigger every year. There's just so many younger kids coming up all the time. It's so good to see."