Councils face further funding pressure, says watchdog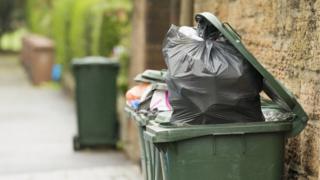 Scotland's 32 councils are facing difficult times ahead with no sign of financial pressures easing, according to the public spending watchdog.
The Accounts Commission said funding from the Scottish government fell by 2.3% in real terms in 2017-2018.
Its annual overview of councils across Scotland highlighted the increasing role of council tax funding.
Responding, authorities' umbrella body Cosla said "councils are at a cliff edge" and need more financial powers.
The Scottish government said it had treated local government "very fairly".
Councils have managed to balance funding shortfalls using reserves and council tax rises, the Audit Commission report said.
It pointed out that an additional £189m was raised from council taxpayers.
According to the watchdog, councils had managed budgets well over the period but face a difficult time ahead.
The report found that in 2017-18:
Councils used savings and reserves to manage budgeted funding gaps of 4%
24 increased council tax (In the current year all 32 have done this)
Overall rises in spending on education and social work were offset by reductions in other services
The commission forecasts further reductions in funding in the medium term.
Because of this, pressure remains on councils to make further savings and find ways of providing services more efficiently and effectively.
Councils will learn how much government money they will get in 2019-20 after next month's Scottish budget.
Some are already consulting on possible cuts and savings. Falkirk Council is consulting on significant cuts to school budgets and apologised for letters which appeared to suggest teachers could be cut.
'Budgets tightened'
Graham Sharp, chair of the Accounts Commission, said: "Councils did a good job last year in managing resources as budgets are tightened and demands on them rise.
"The position varies from council to council but there is clearly need for continuing change in the way services are provided.
"It's not been easy but the pressure on them - and the key services we all rely on - shows no signs of easing."
Cosla's resources spokesperson councillor Gail Macgregor said the report "clearly recognises that councils have managed budgets well over the last year despite the challenges but that we face an extremely difficult time ahead".
"The Accounts Commission is correct to flag up the range of complex challenges we face and the continuing pressure on our finances.
"Its assessment is correct. As our Essential Services document shows there is no room left for manoeuvre, we really are at a cliff edge and our core budget is under real threat."
She added: "We hope that the Scottish government listens to the stark warning contained within today's report from the independent Accounts Commission and funds local government and the essential services councils provide in their budget on 12 December."
A Scottish government spokesman said: "Despite continued UK government real terms cuts to Scotland's resource budget, we have treated local government very fairly - and in the current financial year councils received a real terms boost in both revenue and capital funding."