Scottish teacher training numbers increase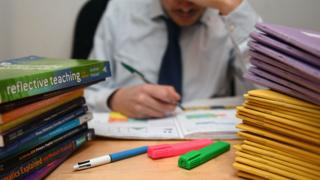 The number of people in teacher training in Scotland has gone up for the third year running, according to new figures.
There are nearly 4,000 new student teachers in Scotland this year.
The Scottish government also said the number of vacancies being advertised for more than three months had fallen sharply.
However, the figure remains higher than two years ago with some teacher training places left unfilled.
There have been concerns about the difficulties some secondary schools have faced filling vacancies.
Their worries have centred around the challenge of filling posts in subjects such as science, technology and maths - and in certain rural and deprived parts of the country.
The latest Scottish government figures show the number of posts in secondary schools advertised for more than three months fell from 229 last year to 148 this year.
Despite the drop, that figure is still significantly higher than in 2016, when only 75 posts remained unfilled for more than three months.
The number of pre-school and primary vacancies advertised for more than three months also dropped - from 136 last year to 49 this year. Again, the figure was still higher than the 33 recorded in 2016.
The Scottish government statistics also show:
Student teacher intake increased for three years in a row, reaching 3,902 in 2018 compared to 3,376 in 2015-16
Growth in teacher numbers across all STEM subjects (Science, Technical, Engineering and Mathematics)
Student primary teacher intake rose to 2,082 and exceeded targets for 2018
1,494 student teachers will start at secondary level, up from 1,226 in 2017
Deputy First Minister John Swinney said education remained the number one priority for the government.
He added: "We have increased targets for recruitment into initial teacher education and created new routes to make it more practical and flexible for people to access courses.
"Our STEM bursary for career changers has contributed to concentrated growth in this area, providing more pupils with the opportunity to be inspired by a teacher with real-world experience, while our recruitment campaign is reaching out to people to highlight the opportunities of a teaching career.
"Fewer teaching vacancies across the country, including significant reductions in jobs advertised for more than three months, also demonstrates the impact of our investment in attracting new talent to the profession."
Lib Dem education spokesman Tavish Scott criticised the Scottish government for failing to meet all of its targets.
He said: "These statistics shed light on the Scottish Government's serious failures to meet its student teacher intake targets.
"The Education Secretary demands praise for surpassing the primary school teacher training target, but he's missed the same target for secondary by almost three times as much. On alternative routes into teaching they've missed their target by almost 40%. That's atrocious.
"John Swinney should be ashamed of this blatantly skewed presentation of the facts. What they really show is that the teacher recruitment crisis is alive and well."
Career change
A breakdown of the figures shows that 85% of the places available in secondary teacher training were taken up compared to 70% in 2017.
The figures vary significantly between subjects.
Target numbers were missed in subjects including English, Physics, Chemistry and Modern Languages, but exceeded in other areas including Modern Studies, PE and biology.
The figures cover both the traditional Postgraduate Diploma in Education courses - the main route into secondary teaching - and the new ways into teaching that have been set up in recent years. They are often aimed at science graduates and people who want to change careers.