Teachers urged to reject pay offer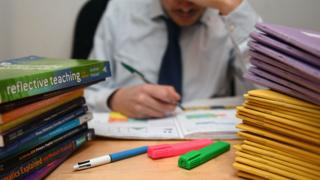 Scotland's largest teachers' union is urging its members to turn down an improved pay offer.
Councillors had agreed to an enhanced pay offer, with a series of rises said to be worth 9% by April, with a further 3% next year.
The EIS will ballot its members but has recommended they reject the offer.
Teaching unions had been campaigning for a 10% one-year deal. Councils have said the offer was the most they could afford.
The EIS said its council "voted narrowly" to recommend rejection of the revised pay offer.
It agreed that the ballot communication will reflect the range of opinions expressed, and arguments both for and against the offer, to support members in "making an informed decision".
Funding
EIS General Secretary Larry Flanagan said: "Following today's decision at council, it will now be for our members to decide on whether to accept or reject this revised offer."
The Scottish government had indicated it would give councils money to pay for the enhanced deal.
Deputy First Minister John Swinney said: "It is extremely disappointing that EIS council have voted to recommend rejection of the enhanced offer agreed by Cosla earlier today and by such a narrow margin.
"This offer would see teachers receive a minimum 9% increase between January 2018 and April 2019, with a further 3% rise in April 2020.
"It is a clear indication of our commitment to recruit and retain teachers and is unmatched in the public sector. The Scottish government will provide the funding for pay restructuring in addition to the local government settlement."
Analysis: A profession on the edge over a pay dispute
The Scottish government announced details of the new offer two weeks ago.
Mr Swinney added: "We believe that this offer represents the fair pay rise that teachers deserve, and the consultative ballot planned by EIS still presents an opportunity to get this pay rise into their members' pockets as soon as possible."
Protest rally
The EIS and other teachers' unions asked for a 10% one-year rise effective from April last year.
In October, a massive protest took place in Glasgow which is believed to have been attended by about 30,000 people.
Two weeks ago, the EIS agreed to start a strike ballot with a view to action in March. The SSTA union has also warned of a ballot.
Some teachers have been passionately supporting the 10% pay claim because they believe their workload has increased significantly or because of other concerns they want addressed.
Others may believe the revised offer is the best which might be affordable at present.