Nothing suspicious found on security alert plane at Glasgow Airport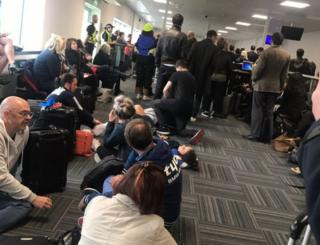 A plane at the centre of a security alert at Glasgow Airport was found to have nothing suspicious on board.
All flights were suspended to and from Glasgow Airport after the crew on the aircraft, which had just landed from Gatwick, raised the alarm at 10:25.
Initial reports suggested the incident, which shut the runway for 30 minutes, was linked to a suspect package.
Police later confirmed a search of the aircraft delivered a "negative result" but inquiries are ongoing.
Passenger James Gale said he was not aware of any problem on board until he checked Twitter.
The 21-year-old, from Brighton, told BBC Scotland: "No one seemed aware of anything, not visibly to me anyway.
"The captain just said that we were waiting for a stand.
"It was only from looking in Twitter that I found out."
When the plane stopped there was an announcement to say there was an incident on board.
Mr Gale added: "The captain said there was a security incident but not on our plane, and then when we were stopped, he announced that it was our plane, and that we needed to get onto the buses and head to where we are still at now."
He said the passengers were then taken off the plane and escorted to what one person later described on social media as a "survivor evacuation room".
Mr Gale said he did not see anyone being arrested and confirmed police were taking personal details from passengers before they were permitted to go on their way.
A spokesman from Glasgow Airport confirmed that the incident had ended and the runway reopened just before 11:00.
Police Scotland said officers were made aware of a security incident by the flight crew.
A force spokeswoman said: "All passengers from the affected flight have been spoken to by officers and able to continue their journeys.
"The plane has been searched with a negative result and nothing has been found.
"The circumstances surrounding the nature of the security alert will continue to be investigated."
An EasyJet spokeswoman said: "EasyJet can confirm that passengers on flight EZY883 from London Gatwick to Glasgow were delayed disembarking on arrival in Glasgow, purely as a precaution, due to additional security checks.
"The passengers have been disembarked and taken into the terminal.
"The safety and security of its passengers and crew is always EasyJet's highest priority and we would like to thank passengers for their understanding."