£70,000 to help families of missing people and those at risk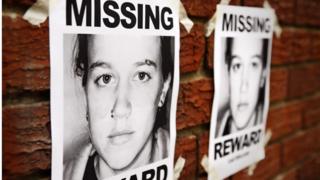 The Scottish government has given £70,000 to improve the help for families of missing people.
The cash will also support vulnerable people who are at risk of going missing.
About 55 people - adults and children - are reported missing in Scotland every day. While missing, they are at a higher risk of coming to harm.
A new independent working group will help authorities work together to help missing people and those close to them.
Anne Foster, whose stepmother disappeared more than a decade ago, said it would be "absolutely amazing" to have a more structured form of support for the families left behind.
Minister for Community Safety, Ash Denham, has launched a group of expert professionals to look at the gaps which exist in the provision of services.
The working group will support the delivery of Scotland's National Missing Persons Framework.
The funding will be used to establish a national development co-ordinator who will work closely with local authorities to improve how they and other organisations work together to support vulnerable people and help prevent individuals from going missing.
'Huge trauma'
About 23,000 missing persons investigations are undertaken by Police Scotland every year and this latest funding takes the Scottish government's total investment in support for missing people, their families and those at risk of going missing to more than £360,000 since 2016.
Ms Denham said: "Families and friends of those who go missing face a huge trauma, particularly when their loved-one remains missing long term.
"The majority of missing people are returned safely within a couple of days but we must continue to improve how we safeguard and support the most vulnerable in Scotland.
"The work of our new national development co-ordinator and working group will build on recent progress and enhance multi-agency working to improve outcomes for missing people and their families."
The scheme has been welcomed by the family of a woman from Livingston who has been missing since 17 June 2008.
May Ferns, who was 88, was last seen on a shopping trip to Edinburgh's Princes Street. Her husband Bill has since died without knowing what happened to her.
Mrs Ferns' step-daughter Anne Foster said she was "absolutely delighted" that Scotland was "leading the way" with the new working group.
She said: "For people left behind, it's incredibly traumatic.
"I got a lot of support from Missing People Scotland but a lot of people are not aware of the charity.
"They are not aware of the psychological and emotional help that they can get. To have a form of structured support for people who have gone missing or have been left behind is absolutely amazing."
Mrs Foster said there had been "no signs" that her step-mother would vanish.
She said: "People have asked us if she had dementia, but she was sharp as a tack.
"Despite her age and frailty, there was was no indication that she could go missing.
"She loved her family - she loved being with her step-children and her grandchildren. She was very much a family member.
"Not knowing is absolute torture. It's not like a death where it's a natural progression in life. You know what's happened to that person and you can celebrate their life and have a finality.
"With May, it's constantly living in limbo."
Prof Hester Parr, who will chair the working group, said: "This group is comprised of expert professionals with special insights into the complex social and spatial issue of missing persons.
'A pressing need'
"The working group will assess the national impact of the National Framework for Missing People in Scotland to identify best practice and the gaps which still exist in the provision of professional services to help missing people and their families.
"There is a pressing need to make the ambitions in the Framework a reality and act as more than a symbolic document. This will ensure Scotland remains an international leader in terms of support for missing people."
Susannah Drury of the Missing People charity said: "It is vital that every one of these people receives the response and support they need, wherever they live."