Household statistics show more Scots are living alone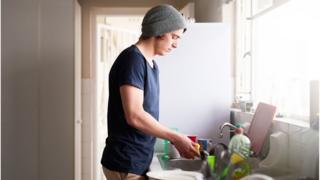 More people than ever are living on their own in Scotland.
The latest government statistics show the number of households is rising - and increasing numbers of those are occupied by single people.
More than a third of households in Scotland are filled by single occupants, about 885,000 people.
An ageing population and an increase in younger people living alone are among the reasons for the change.
The number of households in Scotland rose to 2.48 million in 2018, according to new figures published by National Records of Scotland (NRS).
The report "Estimates of Households and Dwellings in Scotland, 2018" shows that over the last 10 years the number of households in Scotland has grown by about 139,000 (6%).
Households consisting of only one person have been the most common type in Scotland since 2010 and now make up more than a third of households.
The main reason for single occupancy is the ageing population.
Many elderly people are left alone when their partner dies and a growing proportion of older people are living in their own homes rather than care homes.
Brian Sloan, chief executive of Age Scotland, said: "Older people are more likely to live alone, with the number of households consisting of someone aged 70 or older projected to increase by 58% in the next 25 years.
"While it's good news that we're living longer, we urgently need to prepare for the challenges of our ageing population. It's vital that the Scottish government embeds the housing needs of older people in the planning process, especially those living alone.
"We need to build more accessible, age-friendly homes, that are the right type and tenure and enable people to live independently as long as possible. Most older people want to stay part of their own communities and prefer not to have to move as their health needs change.
"We also need more action to tackle the soaring levels of pensioner poverty and loneliness and isolation. Single older people are more likely to experience financial hardship, with six in 10 struggling to pay their fuel bills. They are also more at risk of loneliness, which can have a devastating impact on their physical and mental health."
'Housing emergency'
Settling down into marriage or civil partnership at an older age and divorce also contributes to more solo households.
And many younger people are choosing to live alone.
The figures are put together each year to help planners, especially local authorities, to make decisions on housing provision and to organise things like waste collection, community care and risk analysis by Fire and Rescue Services.
With the number of people living alone on the up, housing charity Shelter Scotland said this information should encourage housebuilders to change the kind of properties they offered.
It said policymakers and housebuilders needed to catch up with this demand for different types of housing which would only get more intense as these demographic changes continued.
Gordon MacRae from Shelter said: "The failure to keep up with this long-term trend for more and smaller households is why Scotland is in the grip of a housing emergency. This emergency has a real human cost with almost 35,000 applications for homelessness in the last full year and 130,000 households on council waiting lists.
"Fundamentally, we need to see many more homes built with priority given to new homes for rent from councils and housing associations to ensure no-one is left behind. We also need people's housing rights strengthened and enforced so homelessness is prevented wherever possible."
The number of households has increased in every council area over the last 10 years, with the greatest relative increases occurring in Midlothian (16%) and the Orkney Islands (13%).