What's gone wrong with CalMac's new ferries?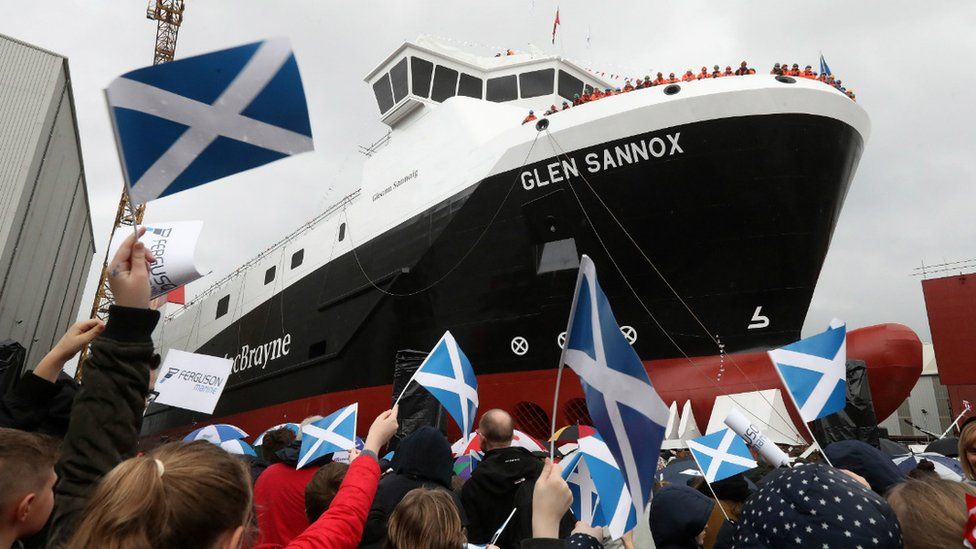 Three years late and £100m over budget. The deal to build two new CalMac ferries for Arran and the Hebrides has run into serious trouble.
Back in 2015, the £97m order was seen as a lifeline for Ferguson shipyard in Port Glasgow - the last commercial yard on the Clyde which had been rescued by industrialist Jim McColl the previous year.
That contract ended up dragging the yard back into administration. The yard has been nationalised and the final cost of building the ferries will be at least double the original estimate.
So what's gone wrong? You'll get very different answers to that question, depending on who you're talking to.
The Scottish government troubleshooter
He blames an "immature design" along with poor project management and cost controls. Here are some of the key points.
The basic design of the two ships has still not been approved by the customer, insurers or regulators. This is several years behind schedule and "a key cause of rework on the vessels".
The detailed design work was subcontracted to a firm in Portugal, with little management control of the subcontractor.
There has been poor project planning and control with work undertaken out of sequence. For example insulation, ceilings and cladding have been fitted on the first ship, Glen Sannox, giving an appearance of completion - but they'll have to be removed again for other work to be carried out.
Pipework installed in the engine and generator rooms is not to the customer's specification - and will have to be stripped out and replaced. About 1,000 pipes have already been fitted and another 2,500 (3.75km of piping) are still to be installed.
"Housekeeping and cleanliness" is of poor standard with debris, construction materials and uninstalled fittings evident.
Glen Sannox, has been moored at the quayside for two years since its slipway launch. It will need to go into dry dock to inspect the condition of its underside. Internally some bilge areas have still not been painted. The second ship, Hull 802 is still on the slipway and its primer paintwork is degrading in places. Water is getting into both ships leading to damage.
It will take seven months and £12.8m to remedy these faults and restructure the management systems before new installation work can take place. The total extra cost of completing the vessels is expected to be about £110m.
More than 50% of the staff are on temporary contracts, the average age of employees is 46, labour efficiency is "low", sickness levels are running at 7% and apprentice recruitment was cancelled for 2019 when the firm went into administration.
Former Ferguson owner Jim McColl
A self-made billionaire who transformed the ailing Clyde Blowers into a successful portfolio of engineering investment companies, Jim McColl claimed he was "begged" to step in and rescue the Ferguson shipyard when it went bust in 2014.
One of the most prominent business figures to support Scottish independence ahead of the referendum of that year, he enjoyed a close relationship with the Scottish government, sitting on its council of economic advisers.
But the ferry problems have strained that relationship, with Mr McColl laying the blame at the door of Caledonian Marine Assets Ltd (CMAL) the Scottish government-owned company that owns the ferries used by CalMac.
Jim McColl says the main factor in driving up costs has been repeated design changes by CMAL. He claims there have been more than 600 such modifications - including the design of the propellers, the location of the refuelling system which required cutting through bulkheads, the design of the engine room and changes to passenger seating which meant that pillars had to be removed.
He says the specification had not been adequately worked out before the contract was put out to tender. As a result his company was left having to make design changes "on the hoof" to accommodate CMAL's changing requirements.
The ferries were to be a dual-fuel design - the first of their kind to be built in the UK, using marine diesel and liquefied natural gas (LNG). But this "first in class" design had to be signed off at every stage by insurers and regulators - resulting in further delays.
The hybrid propulsion system was meant to reduce harmful emissions - but Mr McColl questions whether this was a suitable choice given that the ferries will be used for relatively short journeys. The benefits of being able to use LNG may never be realised, and the ships may end up being almost exclusively run on diesel, he says.
He claims the turnaround of the yard was in good shape until the ferry contract became an "albatross" - according to nautical superstition an omen of ill fortune. He cites reports commissioned by ministers from an independent expert Luke van Beek who was generally positive about the ability of Ferguson Marine to complete the job. Mr van Beek suggested mediation in its troubled relationship with CMAL and advised against nationalisation.
The tycoon says he regrets bidding for the ferry orders and insists he wasn't asking for a bailout from the Scottish government, but simply payment for additional work.
He describes the latest government report as a "snow job" designed to cover up the role of CMAL in the fiasco.
He had told the Holyrood ferry inquiry he repeatedly asked the Scottish government to intervene but they were "passive". He claims Finance Secretary Derek Mackay told him the board of CMAL would resign if he appointed an independent mediator.
Caledonian Marine Assets Ltd is the Scottish government-owned body that owns the ships and other infrastructure used by the state-owned ferry operator CalMac. CMAL - the customer in the ferry deal - emphatically rejects Jim McColl's versions of events.
CMAL says only 81 changes have been agreed - 46 were at the request of Ferguson, 35 came from CMAL.
It says it has paid for these agreed changes at a total cost of £1.5m.
It says the 1,000 seat passenger requirement was part of its original specification - Ferguson produced a drawing for fewer seats - and it was within its rights to insist on the initial spec.
CMAL points out it was a "design and build contract" - it was Ferguson's responsibility to design the ship.
It believes the shipyard started cutting steel too early, before the design was sufficiently worked out. CMAL says it is normal for a shipyard to spend 9-12 months getting the design is finalised before starting construction work in earnest. Ferguson, it says, chose to build the ferries "at risk" based on an assumption that its designs would be approved at a later stage.
CMAL says it was unwilling to agree to a "freeze" on design changes because Ferguson had only designed about 80% of the first ship. That would have in effect meant agreeing in advance designs it had not had a chance to scrutinise.
It says Ferguson's claim late in 2018 for an extra £66m compensation for extra work had "no merit whatsoever". As a "custodian of taxpayer's money" it could not enter into such a negotiation.