Christmas babies: Double celebration for couples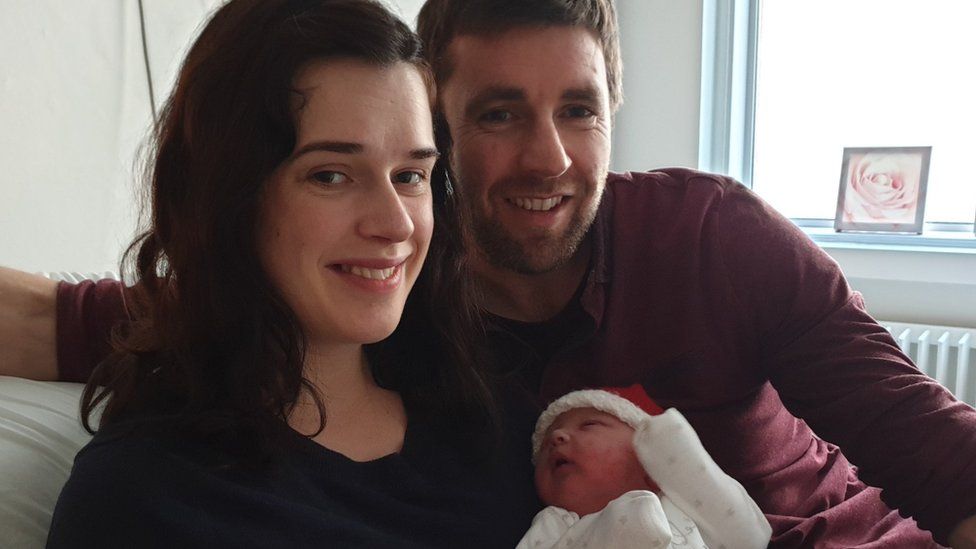 Jodie and Neil Moir are enjoying a double celebration this Christmas after the birth of baby Elena.
She was delivered at Aberdeen Maternity Hospital at 01:00 and later posed for her first family picture in a tiny Santa hat.
Lynsey Rooney and John Blackwood, from Ayr, also enjoyed a magical start to Christmas.
Their daughter, Ayda Nicola May, was born in Ayrshire Maternity Unit at 00:43 and weighed 7lb 2oz.
In Edinburgh Oliver Crispim was delivered at 01:35, to the joy of mother Ana Crispim and Zbigniew Kazimerczuk.
Oliver, who weighed 9lb 7oz, was born at the Simpson Centre for Reproductive Health in the city's Royal Infirmary.
Meanwhile, Lisa O'Donnell, of Grangemouth, also took delivery of her very own Christmas miracle at 04:52 at Forth Valley Hospital in Larbert.
The girl, who has not been named, weighed 8lb 5oz.
Jacob Alexander Clark entered the world at the home of his parents Kevin Clark and Louise Fairweather in St Cyrus, Aberdeenshire.
Jacob was born at 01:13, three days before his due date, and weighed in at 8lbs 6oz.
Mr Clark said they had decided on a home birth to ensure a "more relaxing" experience for the expectant mother.
Glasgow's Queen Elizabeth University Hospital welcomed two yuletide arrivals, just seven minutes apart.
Nicole Flannigan, of Glasgow, gave birth to 8lb 8oz Harry at 05:15.
Samantha and Craig McCulloch, of Eaglesham, were then introduced to their little boy at 05:22.
The couple plan to take some time to decide the name of their son, who weighed in at 6lbs 9oz.