Scottish mesh implant women to be offered case reviews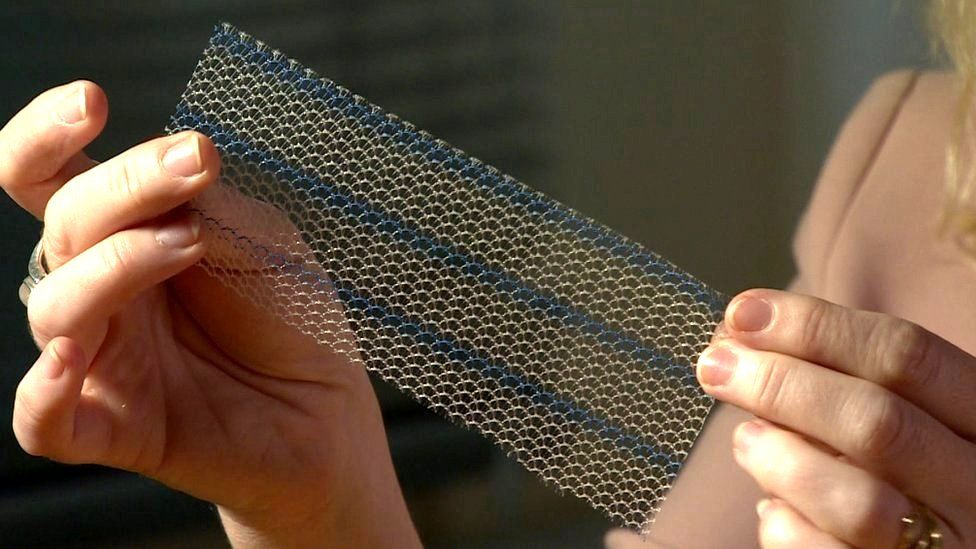 Women in Scotland who have experienced complications following vaginal mesh surgery are to be offered an independent review of their case notes.
Mesh implants have been used to treat conditions some women suffer after childbirth, such as incontinence and prolapse.
However, many women experienced painful, debilitating side effects.
The practice was suspended in Scotland, in all but exceptional circumstances in 2014.
Some of the women who have suffered complications met First Minister Nicola Sturgeon last November.
She was told a number of them had understood the mesh would be completely removed but that had not happened, leaving some of the synthetic substance still attached.
After hearing about their experiences, Ms Sturgeon has now written to the women she saw, confirming that in the spring they will be given the chance to sit down with an independent clinician for a review of their case notes.
That will be followed up by a report and possible referral to specialist care.
The case note review will initially only be offered to those who attended the first minister's meetings however, it may be offered more widely at a later date.
A fund of £1m is also expected to be made available to support those affected by mesh complications.
'If we were cars we would be recalled'
Marian Kenny, 60, from Glasgow, said that despite having had her mesh implant partially removed, its effects had "invaded" every part of her life.
She had to give up work as a community psychiatric nurse, is now on benefits and suffers "crippling, chronic pain" day-to-day as well as asthma.
After attending the meeting in November, Marian received a letter from the first minister saying that their concerns had been heard and that dates had been proposed to an expert US surgeon to meet with certain patients.
But she believes more needs to be done - from a total end to mesh implant treatments to training surgeons in Scotland in more advanced removal methods.
She said: "The first minister is saying she doesn't want to recall anyone - if we were cars, we would be recalled.
"I hope to god no one else has to go through this, but that's not what I'm seeing. What I'm seeing is there are still women getting injured by mesh for prolapse, problems with their bowels and hernia.
"It's like a conveyer belt, they stop using it for one thing then they increase it because it's quick, it's cheap. As a nurse I can understand the reasons why surgeons have been reluctant to let it go, but as a person who has been injured by it, I can't see it."
The grandmother, who currently cannot lift her newborn grandchild, says she is "determined" to continue campaigning, both to help women affected by mesh and for future generations.
Marian added: "I've got to have hope, my life is in tatters. I've got a granddaughter and daughters-in-law - I don't want them ever to be offered this for a simple issue that can be fixed in other ways."
Health Secretary Jeane Freeman said: "The first minister and I are absolutely determined to do everything possible to ensure that all women affected by transvaginal mesh problems get the treatment and the care that they need.
"When we met with women affected last year they were able to share with us their painful and continuing experience. We are very grateful to them for that.
"The case note review will hopefully give these women the answers they require about their situation."
The obstetrician-gynaecologist, from St Louis, has developed techniques for the full removal of vaginal mesh implants.
He had offered to operate on women and train surgeons in Scotland "in good faith".
However, in October he withdrew his offer of help, saying that after months of "interminable discussions" he did not believe officials were serious about him visiting Scotland.
He said: "I do not have the time to play games".
The mesh, usually made from synthetic polypropylene, is intended to repair damaged or weakened tissue
Over 20 years, more than 100,000 women across the UK had transvaginal mesh implants, which are used to treat pelvic organ prolapse (POP) and stress urinary incontinence (SUI), often after childbirth
While the vast majority suffer no side-effects, the use of mesh in Scotland was suspended except in "exceptional circumstances" in 2014 after it emerged some women suffered painful side effects
However, the procedure been used hundreds of times since
Once the mesh is implanted, it is very difficult to remove