Coronavirus: New advice issued for offshore workers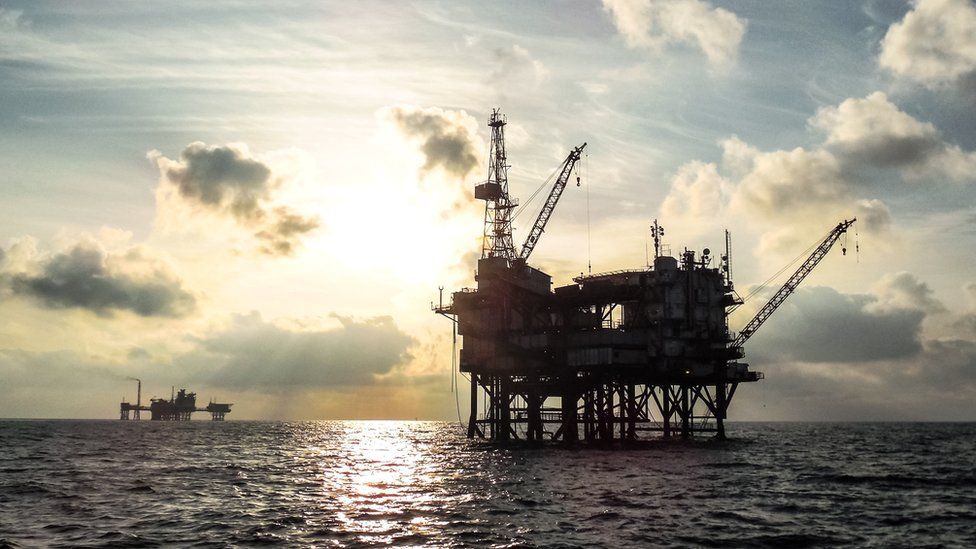 New advice has been issued to limit the risk of coronavirus spreading to offshore installations.
Industry body UK Oil and Gas (UKOG) has said workers who have recently travelled to high-risk areas of the world must not travel offshore.
It has added precautionary advice to operators that they should consider a ban on anyone who has been in lower-risk areas.
In total, 437 Scottish tests for Covid-19 have been carried out.
No-one has tested positive for the disease although the chief medical officer has said it was highly likely to spread to Scotland.
OGUK health and safety director Trevor Stapleton said: "For certainly the high-risk areas - that's Wuhan Province (in China), and areas of South Korea and northern Italy and certainly Iran - if people come back regardless of whether they're having symptoms or not, we're saying that they can't travel offshore."
He added that people who have travelled to places with a lower level of risk - including Japan and Malaysia - should self-isolate and seek advice if they have symptoms.
But he said operators should consider whether these people should be allowed on North Sea installations even if they appear to be well.
"In terms of precautionary advice, if you've been to one of these areas at risk then operators should consider not letting these people travel offshore," he said.
The BMA's Scottish GPs' representative had earlier raised concerns about doctors' surgeries receiving an adequate supply of face masks.
These are considered important in preventing patients with the disease passing it on to health workers.
Dr Andrew Buist said he had been reassured by the response.
"I did have some concerns," he said.
"We were getting reports yesterday that some practices across Scotland hadn't received the face masks and I raised this issue.
"But I'm pleased to say that swift action has been taken and practices that didn't have the masks have now received them or are receiving them."
A Scottish government spokeswoman said: "All health boards have received adequate supplies of masks to distribute to GP practices. We have asked all boards to ensure that all practices in their area have received the masks.
"The masks have been issued as a precautionary measure and to ensure that practices have readily available supplies."
First Minister Nicola Sturgeon said containment of the virus was key.
"The risk to the public remains low but we do see the increasing prospect of cases here and the potential for a significant outbreak and that means it's really important," she said.
"We've got a wealth of experience in Scotland at preparing for and dealing with public health issues of course.
"I remember well as health secretary at the time the work we did around swine flu - so we have these tried and tested practices and it's really important we do that preparation now."
Meanwhile, a precautionary letter has been issued to parents of pupils at Inverness' Culloden Academy who have recently returned from a school skiing and snowboarding trip to northern Italy.
In the letter, Highland Council said pupils could continue to maintain their normal activities and attend school.
What do I need to know about coronavirus?
The main signs of infection are fever (high temperature) and a cough as well as shortness of breath and breathing difficulties.
Frequent handwashing with soap or gel, avoiding close contact with people who are ill and not touching your eyes, nose and mouth with unwashed hands can help cut the risk of infection.
Catching coughs and sneezes in a tissue, binning it and washing your hands can minimise the risk of spreading disease.
Anyone experiencing symptoms, after travelling from mainland China, Thailand, Japan, Republic of Korea, Hong Kong, Taiwan, Singapore, Malaysia or Macau in the last 14 days, is advised to stay indoors and call the NHS 111 phone service, even if symptoms are mild.
If you have returned from the following specific areas since February 19, you should call NHS 111 and stay indoors and avoid contact with other people, even if you do not have symptoms: Iran, lockdown areas in Northern Italy, special care zones in South Korea, and Hubei province.
If you have returned from the following areas since February 19 and develop symptoms - even mild ones - stay indoors, avoid contact with others and call NHS 111: northern Italy (above but not including Pisa, Florence and Rimini), Vietnam, Cambodia, Laos and Myanmar.
The main focus for the government is on rapidly identifying people with the disease and taking them to specialist hospitals for treatment in isolation.
They are then tracing anybody who has come into close contact with the patient to make sure they know the signs of the disease and what to do.
The Foreign Office has now updated its travel advice, warning against all but essential travel to 11 quarantined towns in Italy.
Drinks producer Diageo has become the latest company to warn about the economic impact of the disease.
It said its profits will fall this year, as bars and restaurants in China are forced to close due to the coronavirus outbreak.