Coronavirus: First community transmission detected in Scotland
The first case of coronavirus transmitted within the community has been detected in Scotland.
Until now cases of the virus had been traced to people who had travelled to affected areas such as northern Italy.
Chief medical officer Catherine Calderwood said although community infections had been expected, Scotland remained in the "containment phase".
According to official Scottish figures, 2,316 tests have been carried out with 36 coming back positive.
Nine new cases were reported on Wednesday, with one of those not related to travel outside the UK.
The UK Department of Health said there had been 83 more cases since Tuesday. Six patients with coronavirus have died in hospitals in England.
How is coronavirus affecting Scotland?
Balhousie Care Group suspends all non-essential visits to its 25 care homes in north-east Scotland
Two doctors who work for the private Spire hospital in Edinburgh "from time to time" have tested positive. The Edinburgh Evening News reported that they contracted the virus during a ski-ing holiday in Italy but Spire said the medics had not been to the hospital since returning home.
Merkland School in East Dunbartonshire has been closed for deep cleaning after someone who had been in the building was advised by the NHS to self-isolate
The Scottish government is urging local councils to relax the restrictions they impose on deliveries to supermarkets and other retailers
And one coronavirus case has been confirmed on the Martin Linge oil platform, in the Norwegian sector of the North Sea
Ms Calderwood said: "We have identified the first case of community transmission in Scotland which is unrelated to contact or travel. This was identified through our enhanced surveillance scheme.
"It is important to emphasise that we are still in the containment phase.
"This case was to be expected and highlights the importance of the additional measures we have put in place to identify positive cases beyond self-identification."
Earlier, Scottish Health Secretary Jeane Freeman warned that NHS Scotland could be forced to operate with up to 30% of its staff off sick throughout the coronavirus outbreak.
She told BBC Radio's Good Morning Scotland programme: "[Health workers] will be at greater risk and and our health staff know that because they will be dealing with people who are sick.
"Even with protective equipment, they put themselves at greater risk - that is what we ask them to do.
"We are modelling on the basis of between 25% and 30% absence rate over the whole period that we think the virus is likely to be with us."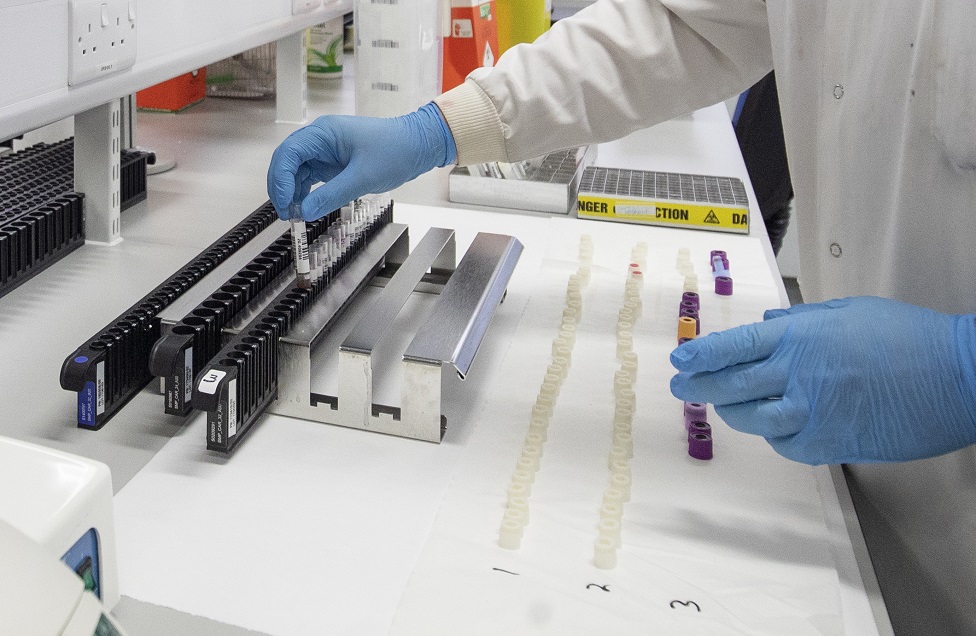 PA
Coronavirus in Scotland
2,316Negative test results

36Positive test results
456Positive cases in UK

8Deaths in the UK

121,000Approximate positive cases globally

4,300Approximate deaths globally
Source: WHO figures
Several GPs have contacted BBC Scotland to say their practices had not been issued with the promised protective equipment, putting them at further risk.
fluid resistant surgical masks
gloves
aprons
eye protection
One GP from Huntly in Aberdeenshire said he had not been supplied with the correct equipment and complained the guidance was "not clear".
Ms Freeman told the BBC that all health boards in Scotland had been asked to issue GPs with protective equipment and she would investigate any individual cases reported to her.
The minister confirmed the Scottish government was talking to the GMC and other regulatory bodies about whether they could use nursing students and fifth-year medical students to help cover some of the absences.
"We need to make sure that it is possible for them to leave their studies and enter practice through this period - and that they are only being asked to do what they are qualified to do and no more" Ms Freeman said.
The students would also be supervised and steps taken to ensure their deployment did not interfere with exams.
Ministers are also aiming to double the number of intensive care units available to those needing treatment for the coronavirus.
The vast majority of those infected will not need hospital treatment, but those who do often require oxygen therapy in the care units.
"The practicalities of that is that you start to make difficult decisions between NHS care that is critical to life - so that would be cancer treatments, transplants, maternity care - from NHS care that is not critical to life - the replacement of knees, hips and so on," Ms Freeman said.
"You start to scale down on the non-critical in order to free up the space for the critical and that's where you get additional bed space."