Covid in Scotland: Peacetime excess deaths highest since 1891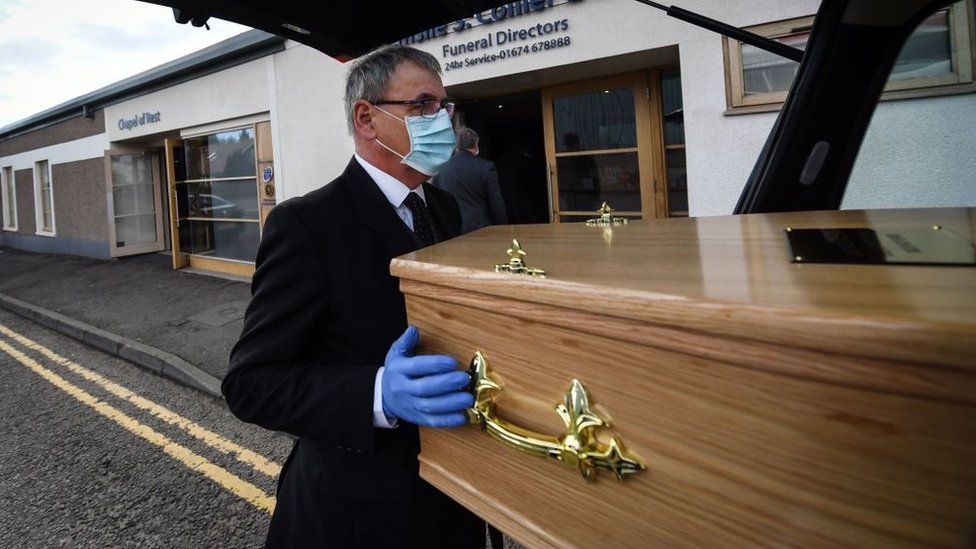 Scotland recorded the highest number of peacetime excess deaths since 1891 last year, according to the National Records of Scotland (NRS).
The figures show there were 6,324 excess deaths last year, 11% higher than the five-year average.
There were 9,253 excess deaths in Scotland in 1891, mainly caused by an outbreak of the "Russian flu".
If wartime years are included, then 2020 saw the highest number of excess deaths since 1940, when deaths were 7,097 above average.
These were civilian deaths, but were heavily affected by war-related casualties like bombing.
Excess deaths are a measure of how many more people died than would be expected based on the previous five years.
In total there were 64,084 deaths in Scotland in 2020, with Covid-19 mentioned on 6,834 death certificates.
The number of total deaths each year has mostly been in decline since the end of the 19th Century, though has been increasing over the past few years.
However, the sharp rise caused by Covid-19 in 2020 is unmistakeable.
Only seven years in the last 161 have seen excess deaths that were more than 10% higher than the five-year average: 1860, 1863, 1864, 1891, 1915, 1940 and 2020.
Michael Anderson, professor emeritus of economic history at the University of Edinburgh, says spikes in excess deaths in recent decades have generally been associated with flu outbreaks or cold winters - or a combination of both - which is what makes 2020 stand out.
But he argues that the current Covid-19 death toll could be far worse without public health measures and advanced medical care.
"Set in its historical context, the 2020 excess deaths are certainly very high, but they would have been far far worse without lockdowns and the enormous medical advances of the last thirty years," Prof Anderson said.
The NRS defines every Covid-19 death in 2020 as an excess death.
The reason there were fewer excess deaths than total Covid-19 deaths is because deaths from respiratory disease were much lower than the five-year average.
It is possible that many of those who would have died from respiratory disease, died with Covid-19 instead.
Looking at 2020 in more detail, excess deaths peaked in the spring, with a smaller increase also seen towards the end of the year.
How many people have died with Covid-19 since the outbreak began?
The NRS says 7,448 death certificates in Scotland have mentioned Covid-19 since March 2020, with 368 registered between 11-17 January.
The number of deaths per day rose throughout the autumn and had started to decline in the final week of November but then began to rise again.
Overall, the number of deaths recorded by the NRS is far higher than daily figures reported by Public Health Scotland (PHS).
This is because the NRS includes all cases where Covid-19 is mentioned on a death certificate, even if the patient had not been tested.
PHS figures only count the deaths of those who die within 28 days of a positive test for the virus.
Including excess deaths since March 2020, there are three ways to count Covid-19 deaths in Scotland.
Where are people dying from Covid-19?
Most people have died in hospital (4,112) since the outbreak began, compared with 2,867 in care homes. There have been 453 deaths at home or in other non-institutional settings.
Sixteen deaths took place in "other institutions", a category that includes prison deaths.
The NRS produce an "age-standardised" death rate for each local authority in Scotland.
Rates have not been calculated for Na h-Eileanan Siar, the Orkney Islands and the Shetland Islands, where the number of deaths is below 10.
The NRS gives a breakdown of the age and gender of people whose deaths were linked to Covid-19.
Just under 75% of all deaths involving Covid-19 registered up until 17 January 2021 were of people aged 75 or over.
Of all deaths involving Covid-19 in Scotland, 3,624 were women and 3,824 were men.
Related Internet Links
The BBC is not responsible for the content of external sites.