Covid-19: Police surgical masks 'provide no meaningful protection'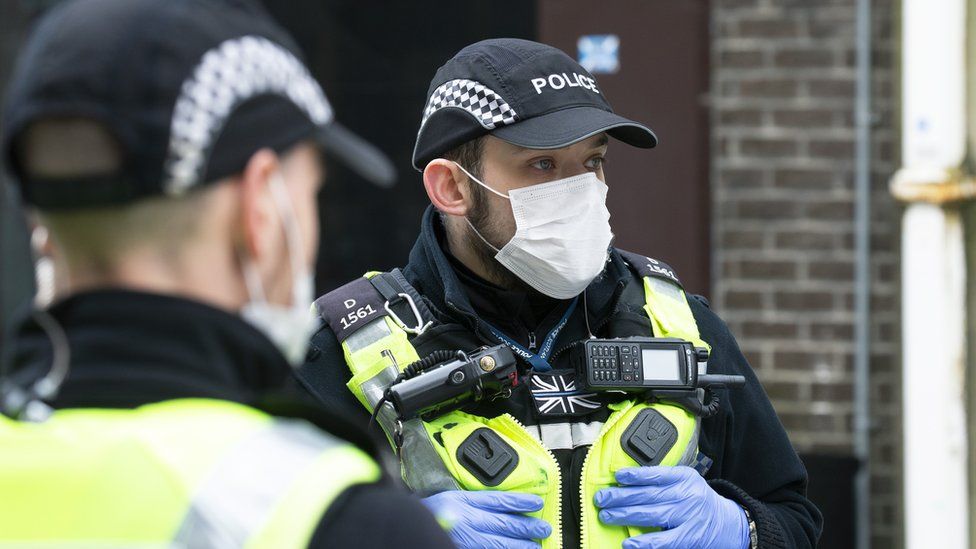 The Scottish Police Federation has claimed new personal protective equipment for officers will not provide any "meaningful protection".
Police Scotland announced staff would be given surgical face masks to wear when it is not possible to adhere to social distancing measures.
But the SPF claimed the scientific case for the PPE, known as type two masks, had not been made.
First Minister Nicola Sturgeon said she will try to respond to the concerns.
Hours after Police Scotland detailed the measures on Thursday the SPF confirmed a new expert panel set up in response to the pandemic has refused to endorse them.
SPF chairman David Hamilton said: "The demand for PPE amongst our members is understandably high and whilst we note the service is now able to issue type two surgical masks, these will not provide any meaningful protection to officers.
"Our panel is unanimous in its views that the primary aim of the surgical mask is to prevent the wearer from infecting anyone else; and that they offer little effective barrier to the wearer from contracting the virus.
"In short the scientific case that these masks can be used as PPE against Covid-19 has yet to be made."
During her daily Covid-19 briefing on Friday Ms Sturgeon was asked if she was comfortable with officers doing their jobs in a mask that, according to the SPF, does not offer full protection.
The first minister said: "I know that Police Scotland have confirmed that they have a current supply of relevant PPE for officers who are dealing with Covid-19 cases.
"The police have said that the use of Type 2 fluid resistant surgical masks is based on scientific evidence from HPS (Health Protection Scotland) and others and they are working with suppliers, and the cross sector PPE working group that we have, to ensure they have a continued supply of that.
"We work closely with health and care, and other parts of the public sector, to make sure that we have the right supplies but also to make sure that the quality of what is being used is sufficient and we will continue to listen to and try to respond to any concerns that are being raised by staff groups."
What are differences between the two masks?
The type 2 fluid resistant surgical mask will be the most familiar of the two, a type seen in TV medical dramas, if not encountered in real life in a hospital.
The mask covers a person's nose and mouth and offers protection against large droplets and splashes of fluid.
FFP3 masks, the type the Scottish Police Federation wants to see in greater use by police officers, are made of a fabric acts as a filter, offering protection against liquid and solid aerosols, particles dispersed in the air in a fine spray.
These masks are often fitted with a small valve which prevents moisture build-up.
Police Scotland has secured "initial stocks" of type two fluid resistant surgical masks and is distributing them in response to advice from Health Protection Scotland, Public Health England and the UK government.
Britain's second largest force said officers and staff would be able to use the PPE in low risk situations where they are unable to maintain a two-metre distance from their colleagues or members of the public.
A total of 4,000 officers and staff have been supplied with the FFP3 mask, which offers an enhanced level of protection through a face-fitted respirator.
Speaking on BBC Scotland's Good Morning Scotland programme, Deputy Chief Constable Malcolm Graham said the force would continue distributing surgical masks to police officers.
He said: "This week the government guidance changed and we responded to that by starting the rollout of surgical masks to ensure people wearing them don't inadvertently spread the virus.
"There is evidence from the UK government and Health Protection England that these masks offer some protection to the person wearing them and we have communicated this to our staff and that's what the SPF don't agree with.
"Police Scotland has a moral and legal duty to get this right. The issue of the surgical masks isn't going to change the way they are deployed. I have highlighted to the SPF that the opinion they sought from the panel they have set up hasn't been shared with us."
The SPF last week announced it had set up an expert panel comprising "some of the finest medical and scientific minds".
Members include bacteriologist Prof Hugh Pennington and former chief medical officer Sir Harry Burns.
Related Internet Links
The BBC is not responsible for the content of external sites.