Coronavirus: What is a blended model of learning?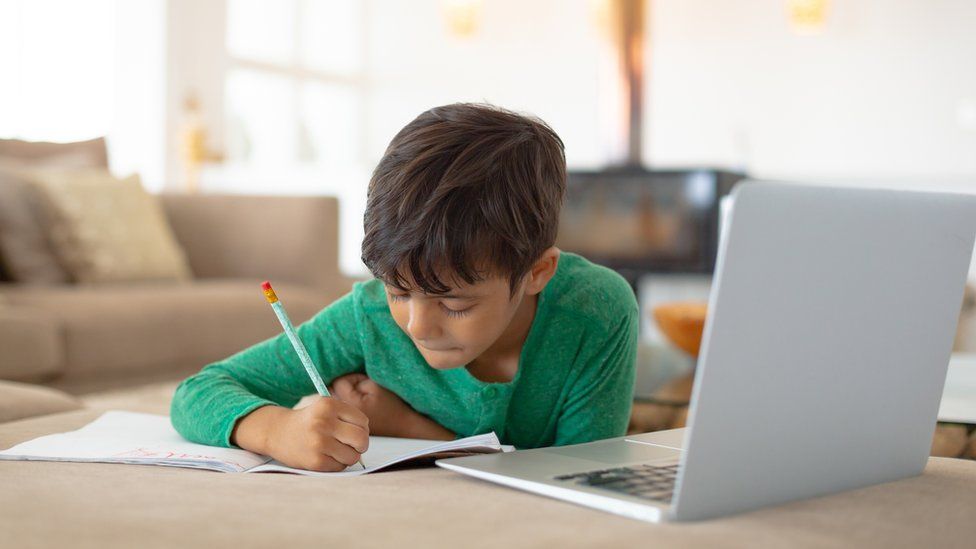 Scottish schoolchildren are set to return to classrooms in August using a "blended model". This will involve a mix of ordinary classroom learning, online learning and homework. But how will this work in practice?
What the Scottish government says
She said there would be a different way of learning, using a "blended model." This will involve part-time study in school combined with some learning at home, but social distancing will still need to be observed.
The Scottish government has published a strategic framework document explaining the factors that contributed to its plan for the reopening of schools.
The precise date for pupils to return to class will have to be confirmed by individual councils.
How will the blended model work?
Class sizes will be significantly reduced, with most pupils spending about half their time in class and half learning at home. Time in school will increase further as soon as it is safe to do so.
Some children could attend school in the morning while others will go after lunch or different groups of children could attend on alternate days or even alternate weeks.
Schools will implement physical distancing measures, such as providing seating that is two metres (6ft 6in) apart and staggering arrival, departure and break times.
Innovative use will be made of existing teachers and staff and, where necessary, the role of former teachers will be considered to return to the classroom or for virtual teaching to support in-home learning.
The physical space available for teaching will be expanded by making use of libraries, community halls, leisure centres, conference venues, and taking short-term leases of vacant business accommodation.
A further £30m is being offered to provide laptops for disadvantaged children to reflect the fact that pupils will continue to be learning part of their time at home.
Ms Sturgeon also said transition support would be given, where possible, to children going into Primary 1 or moving from primary to secondary schools.
What is happening in other countries?
England, Wales and Northern Ireland
In England, from 1 June, children in Reception, Year 1 and Year 6 will be able to return to school if infection rates and the UK government's other tests at the time allow it.
Primary children in Denmark have been back at school for a month.
It was the first country in Europe to reopen its primary schools, after containing the virus early on.
It is assumed that social distancing will be unreliable with young children, so instead children stay in small groups all day, in "protective bubbles".
These micro-groups of pupils arrive at a separate time, eat their lunch separately, stay in their own zones in the playground and are taught by one teacher. No face masks are used by pupils or teachers.
There is a huge amount of hand washing and sterilising.
"There is pretty much hourly washing going on," says Dom Maher, head of the international section of St Josef's school in Roskilde, so much so that the new problem is skin irritation and eczema.
But he says the idea of perfect social distancing with small children is not realistic.
"Most of them are pretty good with it and mindful of space. But they do forget," he adds.
When some schools opened in Germany last month, individual seating plans were put in place.
Shaun Roberts, principal of the Cologne International School, says there is a fixed place for each student - so that if someone is found with the virus, the contact tracers will know exactly who was sitting nearest.
The oldest year groups have gone back first.
Exam halls are one of the few locations that lend themselves to social distancing.
There is a one-way system in the corridors to minimise contact, break times are staggered, there is a strict cleaning regime and face masks are worn in common areas.
The school days are shorter and mixed with online lessons, so different year groups can share classrooms that might now only hold 10 pupils.
And there are staff and pupils who are staying at home because of their health issues or because of concerns about someone in their family.
Children in Norway went back to school at the beginning of May.
Classes have been reduced to a maximum of 15 students to allow for social distancing.
Some school playgrounds are divided, and there is a large focus on hygiene.
Primary schools and nurseries opened in much of France on 11 May. Schools for 11 to 15-year-olds known as collèges opened only in green zones - where the outbreak is not as bad - on 18 May. Schools for 15 to 18-year-olds (lycées) are not opening before June.
Schools have reduced class sizes but some local authorities are keeping schools closed.
Masks are mandatory in secondary schools.
Schools resumed classes from 18 May, but no more than 10 children are allowed in each classroom.
Schools in Spain will partially reopen from Tuesday. This will allow for revision classes and state exams but a full reopening is not expected until September.
Secondary school pupils in the Netherlands are due to return to class on 2 June.
In Greece, schools reopened on 11 May for final-year students only, with special measures including students attending classes on different days.
In Austria, final-year school pupils returned to classes at the beginning of May.
Schools reopened in Switzerland on 11 May with strict social distancing measures in place.
Some pupils have returned in Portugal but many classes continue remotely.
Schools in Italy and Ireland will not open until September and remain shut in Russia.
Schools were never shut in Sweden.
Schools returned on Monday but instead of escorting their children to class, parents dropped them at "kiss and go" zones, while early childhood centres recorded personal details needed for contact tracing.
In South Korea, classrooms opened again at the beginning of April. But they remained empty of pupils as a decision was taken to start the new term online.
Teachers communicated with their pupils via laptops and video links.
Edinburgh primary teacher Blair Minchin said the way schools now work would have to be taken into consideration.
"It's no longer sitting and looking at the teacher at your desk," he said. "We're collaborative, we're creative. We have kids move around the class.
"They're touching concrete materials, blocks and cubes. Would they need to be washed every time a kid touches one? And what about handrails on stairs?"
Mr Minchin said that as a teacher who had been working in one of the hubs for the children of key workers, it was possible to distance small groups of pupils, but difficult.
"If you have a child that gets stuck its very hard for a teacher to socially distance from that pupil."
Jude Barber, director at Glasgow-based Collective Architecture, told the Architects' Journal: "Given the spatial and behavioural challenges surrounding the pandemic, it seems only right that architects, landscape architects and planners should be central to the discussion and share their ideas and expertise."
But Alan Dunlop, visiting professor in architecture at the University of Liverpool, said the cost of the measure would be "prohibitive" and added: "Even if you could compartmentalise classrooms, there is the issue of common areas, such as stairways, corridors, toilets etc and the no small matter of parents and carers collecting and dropping off children at the same time.
"I have never seen a retrofit school that works particularly well and certainly none that would promote learning."