Coronavirus: How do Scotland and England compare on testing?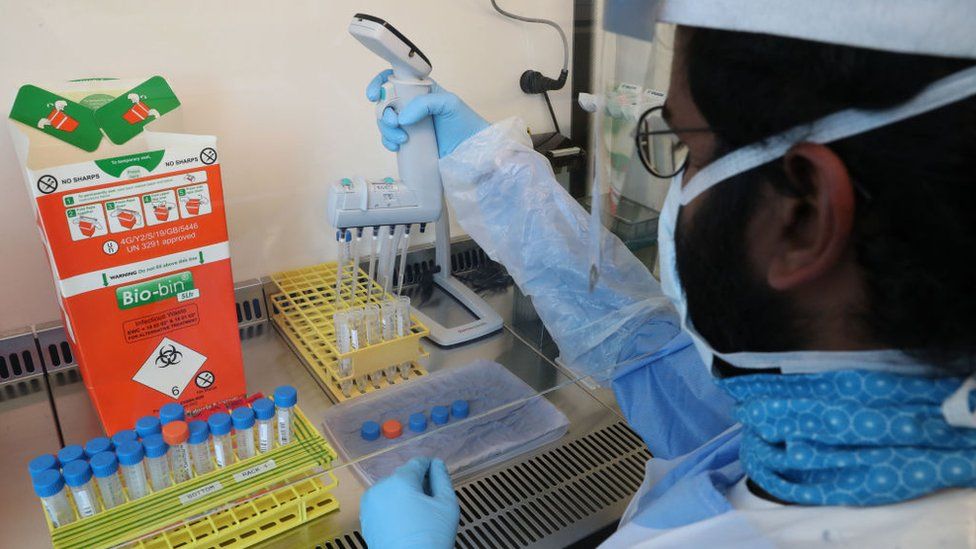 Both the UK and Scottish governments have stressed the importance of mass testing in the battle against coronavirus, with the two governments responsible for different parts of the testing system in Scotland.
There had been some key differences in the approach being taken on either side of the border - but many of these differences have now been removed.
What are the testing targets in the two countries?
The UK government had said it wanted to be carrying out 100,000 tests a day by the end of April and it announced the UK had carried out 122,000 coronavirus tests on the last day of the month.
UK Health Secretary confirmed 122,347 tests took place across the UK in the 24 hours up to 09:00 BST on 1 May.
There has never been a specific Scottish equivalent for this UK target, with First Minister Nicola Sturgeon saying the aim was for the country to carry out a "proportionate" amount of testing.
Ms Sturgeon confirmed on Friday that the NHS in Scotland had surpassed its initial target of having the capacity to carry out 3,500 tests a day by the end of April, and now has laboratory capacity for 4,350 tests a day.
This figure should increase to 6,500 by the end of next week, and to 8,000 by the middle of this month.
In addition, the Lighthouse testing "superlab" that was established by the UK government at Glasgow University has capacity for 4,000 tests a day.
However, the number of tests that are actually being done has so far been well below capacity.
The NHS tested 2,537 people on Thursday, with a further 2,124 being tested at the UK government's drive through centres across the country - a total of 4,661 tests, which is well below the current total capacity of about 8,350.
It is important to remember that all these tests can only tell if you currently have the virus - and not whether you have had it in the past.
How is testing being carried out in hospitals?
In both Scotland and England, any hospital patients who are suspected of having Covid-19 have been getting tested for the virus since the outbreak began.
The Scottish government recently announced that this would be extended to all patients over the age of 70, who will now be tested when they are admitted to hospital and again every four days during their stay regardless of whether they are displaying any symptoms.
It says that this will help it closely track transmission of the virus in hospitals.
However, all frontline NHS workers in England are eligible for tests - while in Scotland it is only those who are suspected of having the virus.
The front line in the battle against the virus seems to have largely shifted from hospitals to care homes, which are now thought to account for more than half of all deaths.
There had been some significant differences between the approaches in Scotland and England - but that gap has now largely been closed.
In England, testing is being rolled out to all residents and frontline staff regardless of whether or not they are showing symptoms, with kits now being sent directly to care homes to allow this to be done.
But in Scotland, staff and residents had only been offered testing if they had symptoms of the virus - although any new residents entering a home were also given a test.
Scottish Care, which represents the independent care sector, had said that did not go far enough.
On Friday, Ms Sturgeon announced that testing in Scottish care homes would be expanded to bring it closer to England, with all staff and residents now to be tested in any home that has a coronavirus case, regardless of whether they are symptomatic.
Testing will also be carried out in any linked homes which staff or residents may have been moving between.
But unlike in England, Scottish care workers will still not be eligible unless they have symptoms or work in a care home which has a coronavirus case.
However some "sampling testing" will be done in homes which are believed to be free of the virus.
Are all older people with symptoms being tested?
In England, anyone over the age of 65 who is displaying symptoms of the virus is eligible to be tested, regardless of their circumstances.
That had not been the case in Scotland, but on Friday Ms Sturgeon confirmed that the country would mirror the policy south of the border.
Key workers and their families
The aim is to prevent essential workers self-isolating with symptoms similar to Covid-19 but which are not actually caused by the virus.
Workers who are eligible can also book online and choose whether to attend a regional test site, or ask for a home test kit.
But supplies of home testing kits are limited, and demand for testing slots has been extremely high in many areas - leading to some sites running out of slots.
In England, "essential workers" include those working in the military, police, prison service, education and childcare, social work, transport, the food sector, local government, utilities and energy, banking staff, journalists, the funeral industry and religious staff.
The Scottish government has set out its own "priority matrix" for testing of key workers and their families, which divides them into four groups.
The top priority group includes health and social care workers, staff working in residential institutions and essential roles where service resilience is at risk.
Lower priority groups include key staff working in other essential services and industries, as well as those involved in volunteering.
In England, anyone who is not classed as a key worker but who must go into work because they cannot work from home - for example construction workers, shop workers, delivery drivers and emergency plumbers - can also be tested if they have symptoms.
Again this had not been the case in Scotland until Friday, when Ms Sturgeon announced that eligibility would be extended to cover these workers.
How do you get tested in Scotland?
Scotland effectively has two testing systems running in parallel - one through the NHS, which is the responsibility of the Scottish government, and the UK government's own testing programme. However, both essentially follow the same rules.
People classed in the top priority group - mainly frontline health and care home staff, patients and residents - are generally tested by the NHS through a referral system.
Other key workers can also access NHS tests, but if there is no capacity they can apply for a test under the UK government programme using its booking website.
The UK government operates drive-through testing centres at Glasgow, Edinburgh and Aberdeen Airports and at the Highlands and Islands University Campus in Inverness.
A further site in Perth is due to open this week, with the military also to operate 13 mobile test units in Scotland.
Use the form below to send us your questions and we could be in touch.
In some cases your question will be published, displaying your name, age and location as you provide it, unless you state otherwise. Your contact details will never be published. Please ensure you have read the terms and conditions.
If you are reading this page on the BBC News app, you will need to visit the mobile version of the BBC website to submit your question on this topic.