Coronavirus: The home school pupils putting on their uniforms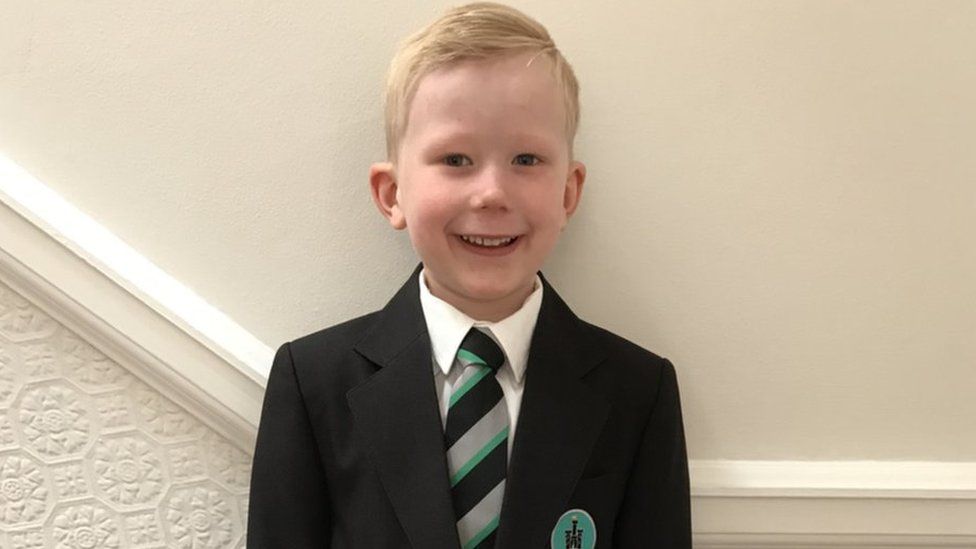 Children across Scotland have put on their school uniforms despite having lessons at home due to the lockdown.
The "school uniform day" idea was started by an Edinburgh pupil who was missing going to class so he decided to put on his uniform for home schooling.
Six-year-old Daniel Park's parents say on the first morning after the Easter break he surprised them by getting himself dressed in full school clothes.
They think the ritual has helped bring structure to lockdown days.
Schools in Scotland have been closed since the last week of March due to the Covid-19 pandemic and do not look like they will be returning before August.
So Daniel's idea for a "School Uniform Friday" has been taken up by primary school pupils across Scotand.
Daniel's mum and dad, Wendy and Stephen Park, said they think their son feels "more connected" to school by wearing his uniform.
Wendy says it gets harder as lockdown goes on to keep Daniel motivated but the uniform days keep things fun and focused.
Dad Stephen thinks wearing the uniform is one of the things that helps his son focus and sets him up for the day.
Making kids feel connected
Marie Conway, acting principal of Daniel's school, Wardie Primary, said the staff felt "really emotional" when Daniel's dad sent in a picture of him dressed up.
Ms Conway said the idea of turning it into an initiative that the whole school could participate in would help children feel connected.
She said: "It made us realise there was a need for some children to feel connected to their school more, so that's how the idea of having a school uniform day event, where children can put on their uniform and have a fun day [came about]."
"We are trying to put aspects of normality that we would usually be doing through school events to our pupils - we've tried to do a virtual assembly, we've got a virtual sports day on Tuesday, it's just trying to have fun and do our usual school events we would do throughout the year."