Officers call for automatic custody for 'Covid assaults'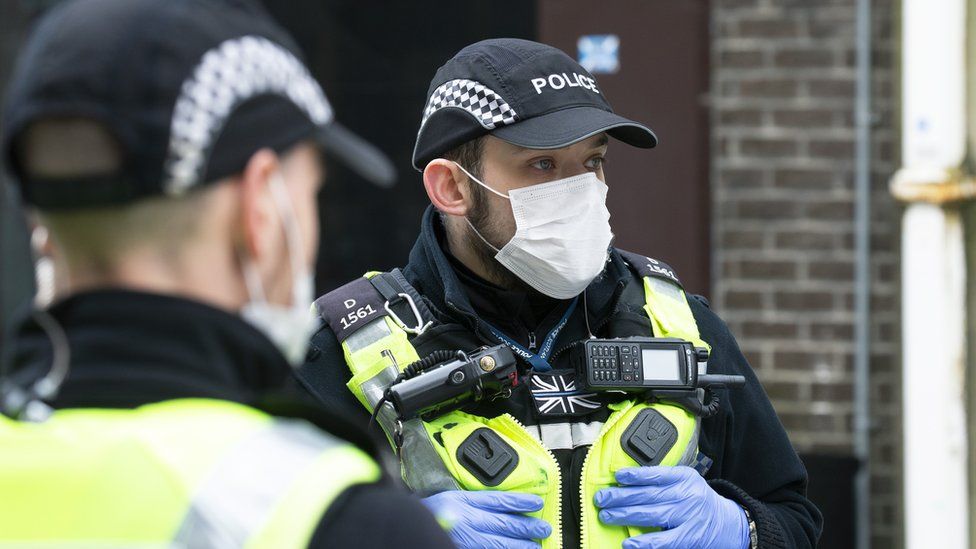 Rank-and-file police have demanded that anyone who commits a "Covid-19 assault" should be automatically held in custody until they appear in court.
Police Scotland recorded more than 100 crimes in the first three weeks of lockdown where officers or staff were the victims.
The offences included officers being spat at or deliberately coughed on.
The Scottish Police Federation said its members needed to be given greater legal protection.
And it argued that the law currently favours those who are committing offences over officers who are attempting to enforce the lockdown.
In a submission to Holyrood's sub-committee on policing, the federation called this "morally indefensible."
The federation said: "Our members are exceptionally angry that neither the police service nor the Crown Office took a deliberate and unambiguous position that those who committed such assaults should be kept in custody pending court appearance.
"The harm this caused (and continues to cause) cannot be understated.
"On one hand officers were (and are) expected to enforce legislation to 'save lives' whilst on the other having to tolerate that those who endangered their own lives often being home in their beds before the officers themselves were off duty."
Chief Constable Iain Livingstone said he Chief Constable Iain Livingstone said he shared "the outrage and disgust" of any officer who was the victim of an assault, saying this was "utterly unacceptable" and of "enormous concern".
But he said it was "not possible in law" to have a blanket rule where people were held in custody.
Mr Livingstone told the policing sub-committee: "The law says, based on human rights law, there is always a presumption of liberty for an individual.
"Every case is assessed on an individual basis. I don't think there's been any ambiguity about how categorically we condemn such attacks, but to be absolutely clear, a blanket instruction to keep people in custody would not comply with the law."
On Monday, a former England youth international footballer, James Hurst, was remanded in custody after admitting acting in a threatening or abusive manner towards police.
Glasgow Sheriff Court heard he had coughed in the faces of officers as they arrested him, and claimed he was infected with Covid-19.
Hurst, 28, will be sentenced at the end of June.
The policing sub-committee is examining the way Police Scotland has used the emergency powers that have been granted during the pandemic.
It is also investigating how the national force is coping with issues such as Personal Protective Equipment (PPE), absences, testing and attacks on officers.
The chief constable told the committee that more than 14,000 Police Scotland officers and staff now have access to PPE.
The chief constable also said the force's absence rate is currently just 3.5% - which he said was the lowest it had ever been.
And he said his officers had been "very visible" during lockdown, and praised the vast majority of people for the way they had worked with and helped the police.