Coronavirus death toll in Scotland reaches 4,000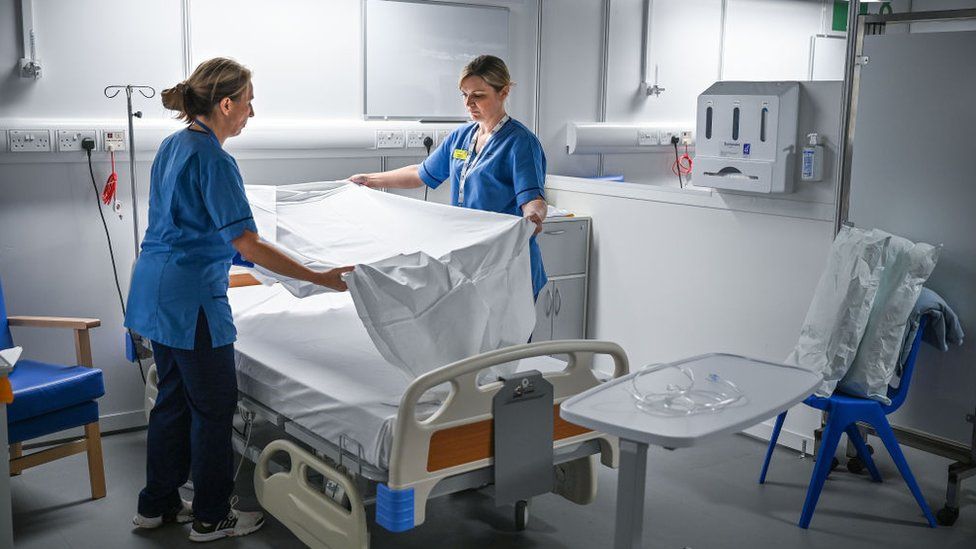 A total of 4,000 deaths in Scotland have now been linked to Covid-19, according to the latest figures.
The NRS figures have now shown a reduction in the number of deaths from Covid-19 for six weeks in a row.
Deaths involving Covid-19 accounted for 8% of all deaths registered last week, down from 36% at its peak.
The largest proportion of coronavirus deaths last week (47%) were still related to care homes but the proportion has dropped back from previous weeks.
The figures show that, as of 7 June, there had been 1,861 deaths in care homes when Covid-19 was mentioned on the death certificate, higher than the 1,854 fatalities in hospitals.
Three-quarters of all deaths involving Covid-19 have been of people aged 75 or over.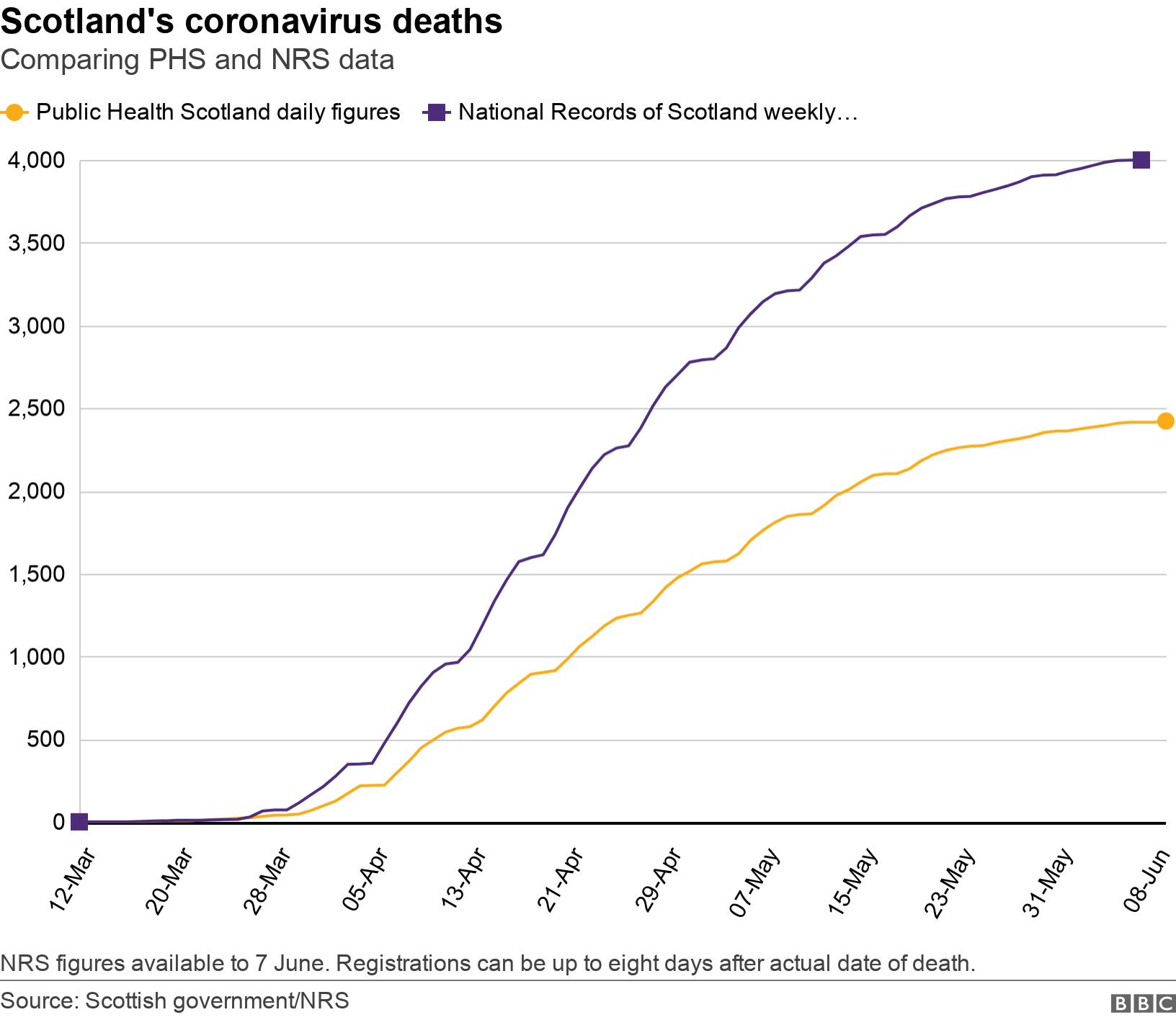 First Minister Nicola Sturgeon told the Scottish Parliament on Wednesday that the figures represented the lowest number of total deaths since late March.
Deaths in week beginning 23 March - the day lockdown was announced - were 63 and they peaked at 659 in the week from 20 April. Deaths have dropped for the past six weeks to this week's total of 89 Covid deaths.
The latest figures show "excess deaths" - the number above the five-year average for the same week of the year - were down to 37.
Ms Sturgeon said the downward trend would not console those who had lost loved ones to the virus, but that progress was "significant".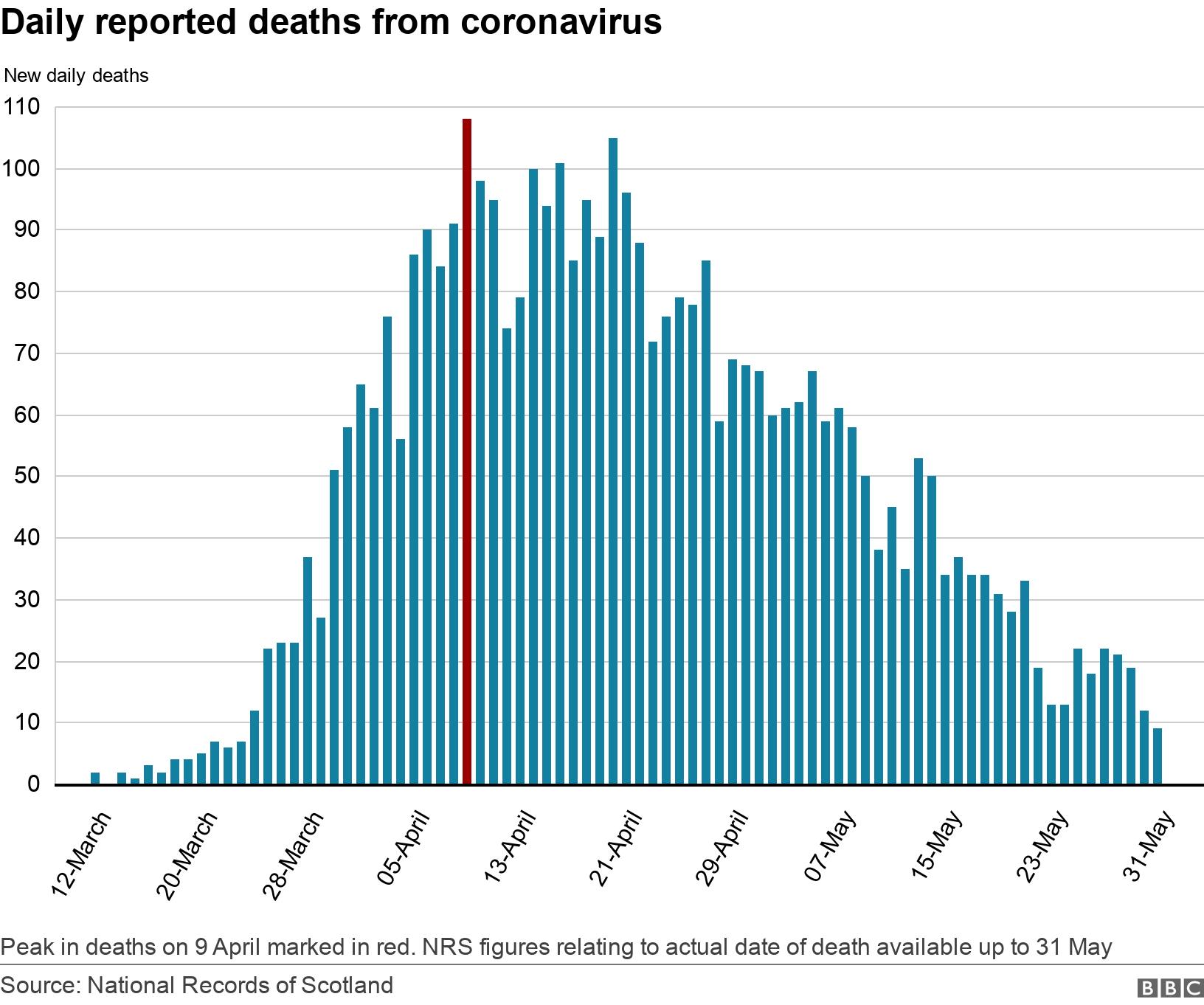 "We want to take care to see that it is sustained," she said.
"If it is, I hope that next week we will be able to announce some further, albeit careful, changes to lockdown measures."
The NRS figures are higher than those announced each day by Ms Sturgeon because they include all cases where Covid-19 is mentioned on a death certificate, even if the patient had not been tested.
The total number of patients who have died in Scotland after testing positive rose by 12 to 2,434 on Wednesday.
In the latest daily totals, there were 987 patients in hospital with confirmed or suspected coronavirus, a decrease of 24. This represented the lowest number since figures for the pandemic became publicly available in March.
There are currently 18 ICU patients with Covid-19 or suspected Covid, a decrease of three.
Health Secretary Jeane Freeman said contact tracers had followed up each new positive test to ensure that those who may have come into contact with the virus take steps to isolate.
"By doing so, we can break the chains of transmission while slowly changing lockdown measures," she said.
"The average number of people traced for each positive case reflects that we are still in phase one of lifting lockdown restrictions and people should not be mixing with large numbers of people outside of their own household."