Coronavirus: Sturgeon wants 'normal' schooling back 'as quickly as possible'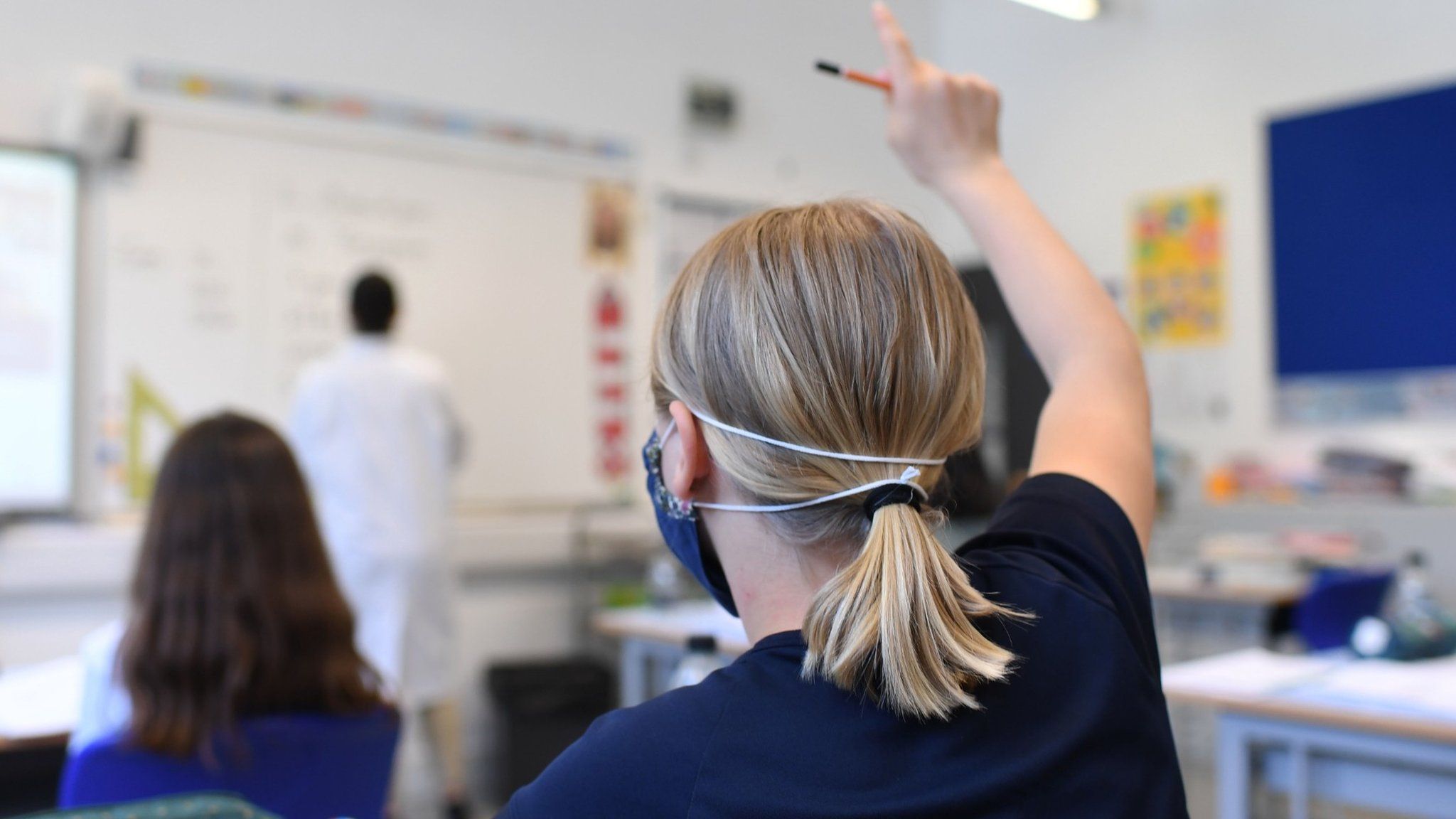 Scottish pupils should get back to "normal" schooling "as quickly as possible", Nicola Sturgeon has said.
Scotland's schools are due to re-open from 11 August, but will initially have a "blended" approach involving face-to-face teaching and at-home learning.
But the first minister said pupils must be back in the classroom full-time "as quickly as is safe and feasible".
She said it was her government's "firm intention" that next year's exams would go ahead - and that there were no plans for blended learning to last a year.
The EIS union said pupils would have to be taught in "significantly smaller" groups and that it was unlikely that classrooms could accommodate "even 50%" of normal pupil numbers.
Scottish councils have been drawing up their proposals for how schools will operate when they return after the summer holidays.
City of Edinburgh Council has told parents that only 33% of children would be in school at any time when its autumn term starts on 12 August.
Ms Sturgeon said this amount of classroom time was "not good enough".
"We have to start from a point of seeking to maximise the amount of time children will spend in a school environment having face-to-face learning with teachers," she said.
The first minister said local authorities should be "creative and innovative" about how they use "all the resources at their disposal", and that the government would work to address any "genuine issues" which arise.
At her daily coronavirus briefing, Ms Sturgeon said education was of "absolutely critical importance" and was "central to my thinking as we plan and steer our country through the emergence from lockdown".
She said: "It is absolutely not the case that we are planning for blended learning to last a year, or anything like it.
"On the contrary we don't want blended learning to last a single minute longer than is necessary.
"We want young people to be back having face-to-face teaching for 100% of the school week as soon as feasible."
She said the government would study data about transmission of coronavirus in schools and evidence from other countries, and would seek to ease restrictions where possible.
She added: "One of the things that is inescapable right now is that we don't have a crystal ball that allows us to know with certainty how this pandemic will develop over the months ahead. We know there is a risk of the virus resurging, so we can't stand here and be absolutely clear we won't face renewed risks from the virus come the tail end of this year.
"But we will be doing everything in our power to keep it suppressed and getting it as close to elimination levels as possible.
"Our planning assumption is to get back to normal schooling as quickly as possible, and that means firstly maximising the degree of normality by 11 August, and then as we build confidence and an evidence base and get more assurance about the risks in schools and among young people, then we can build on that as fast as possible.
"I do not want the situation to exist for a minute longer than necessary where children have anything other than a normal school experience."
Earlier, Education Secretary John Swinney told BBC Scotland that an education recovery group had been working with local authorities to develop plans for the reopening of schools.
"We agreed to work together to maximise the amount of time that children and young people could spend in schools," he added.
"I've made it clear that I believe that trying to get to 50% of the time being able to be spent by a young person in school should be our objective to maximise that participation."
Asked about Edinburgh's plans, which could see pupils in school for just one day a week, Mr Swinney replied: "I accept that and I don't think that's strong enough."
He said authorities should be looking at how they could use leisure facilities or public buildings to increase the amount of classroom space.
Larry Flanagan of the EIS union said most schools would need to have "significantly smaller teaching groups to allow for physical distancing", with other pupils learning from home.
He said: "It is unlikely that schools will be able to accommodate even 50% of normal pupil numbers in classrooms at any one time, and certainly significantly fewer than that in smaller classrooms.
"For the rest of the school week, the expectation is that pupils will continue to learn from home as part of the blended learning approach."
Mr Flanagan said there were "clearly challenges" to creating temporary classrooms, including funding to pay for extra space and teachers needed, adding: "If we are serious about minimising the damage to children's education, these costs and challenges need to be met."