Covid in Scotland: Do I still need to test and self-isolate?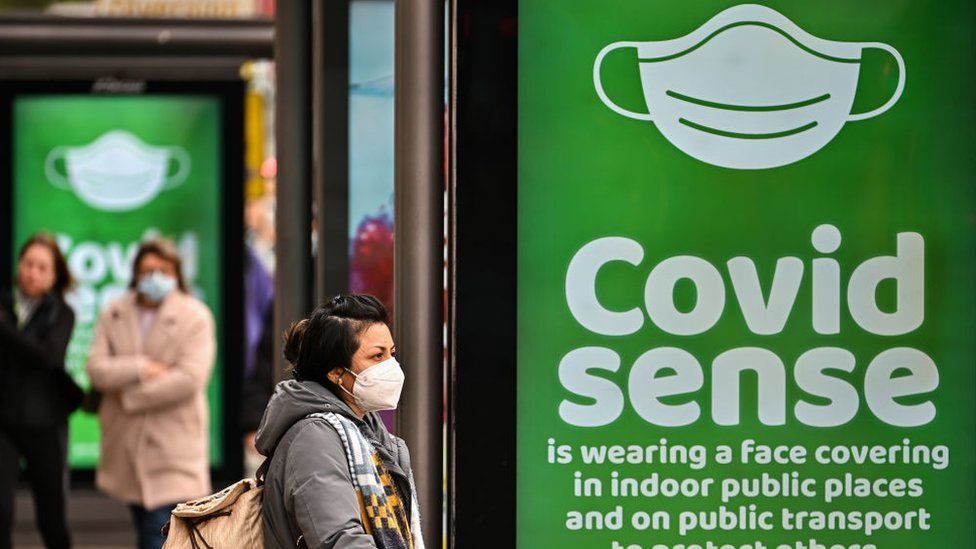 Covid case numbers are continuing to rise, with one in 18 Scots estimated to have had the virus in the week ending 24 June. Some experts believe this is being driven by the more infectious Omicron sub-variants BA.4 and BA.5. So what is the current guidance on Covid?
The raft of restrictions put in place over the pandemic were lifted at the beginning of May as Scotland moved into the phase of "living with Covid".
The current public health advice is to stay at home if you feel unwell or have a fever.
People are also urged to avoid contact with others if they have the symptoms of respiratory infection and a high temperature or do not feel well enough to go to work.
A GP should be contacted if symptoms worsen or if a person feels they can no longer manage their symptoms at home.
The legal requirement to wear face coverings in shops, hospitality venues and on public transport in Scotland came to an end on 18 April.
However, the Scottish government and health experts are still strongly advising people to continue to wear masks voluntarily in indoor settings or on public transport.
What are the symptoms of Covid now?
The officially recognised symptoms for Covid have been updated. They now include:
Fever
New continuous cough
Loss of sense of smell or taste
Shortness of breath
Unexplained tiredness
Lack of energy
Muscle aches or pains
Unusual hunger
Headaches
Sore throat
Stuffy or runny nose
Diarrhoea
Feeling sick or being sick
What is the guidance on testing?
Most people no longer need to test for Covid and free lateral flow home testing kits are no longer available for the general population.
Testing remains available for certain groups such as health workers, social care workers, unpaid carers, people visiting care homes or those deemed to be at high risk. PCR testing sites have closed.
People without symptoms are also no longer advised to take regular tests.
What about travelling abroad?
For those who can demonstrate they are fully-vaccinated, for instance using a vaccine passport, most European countries and the USA are now open to travel and no pre-departure Covid test is required.
If you are not fully vaccinated, you will still need a pre-departure test to travel to certain countries such as France, Spain, Portugal, Tunisia or the United Arab Emirates.
Only US citizens or people with an exemption can enter the USA if they are not fully-vaccinated.
Some countries may accept evidence that you have recently recovered from Covid as an alternative to a vaccine certificate.
Private companies offer paid-for testing services and a choice of rapid antigen testing or PCR testing which takes a little longer to process. Travellers should check which test type is acceptable to their destination country.
The entry requirements can change at short notice, so travellers are advised to check with their airline or the Foreign Office website.
Do I still need to self isolate if I have Covid symptoms?
People who have Covid symptoms, a fever or are what the Scottish government describes as "too unwell to carry out normal activities" are being asked to stay at home until they get better.
Those under the age of 18 with mild symptoms, such as a runny nose or slight cough, who are otherwise well do not need to stay at home and can go to school, college or childcare.
People who still take Covid tests, such as NHS workers, and get a positive result will still be expected to isolate at home for five days after they take the test. Many people will no longer be infectious after this period.
Contact tracing has ended and the Protect Scotland app no longer sends alerts - although people are advised to keep it on their phones in case it is required in future.
Which rules had already changed?
The vaccine passport scheme - which covers nightclubs and large events - ended on 28 February.
New guidance on working from home came into effect on 31 January. This recommends that employers consider a hybrid working system, with staff spending some time in the office and some time at home.
The legal requirement to wear face coverings in certain settings, such as shops, ended on 18 April.
What is happening in the rest of the UK?
People with Covid are no longer legally required to self-isolate, although the guidance is that those who test positive should stay at home and avoid contact with others for at least five full days.
The government suggests wearing a mask in "crowded and enclosed spaces where you may come into contact with other people you do not normally meet".
Patients are no longer required to wear masks in NHS hospitals, GP surgeries and emergency departments, unless they have suspected or confirmed Covid infection.
Masks are no longer required in shops or on public transport in Wales, or in health and social care services - although they are recommended. Lateral flow tests (LFTs) are still free until the end of July.
Legal measures have been replaced by guidance in Northern Ireland, which recommends that face masks are still worn in certain places, such as enclosed public spaces and health and social care settings.
Do you have a question about the Covid rules in Scotland? Use the form below to ask us what you want to know, and we could be in touch.
In some cases your question will be published, displaying your name, age and location as you provide it, unless you state otherwise. Your contact details will never be published. Please ensure you have read the terms and conditions.
If you are reading this page on the BBC News app, you will need to visit the mobile version of the BBC website to submit your question on this topic.