Covid in Scotland: Extra police patrols as pubs prepare to shut at 18:00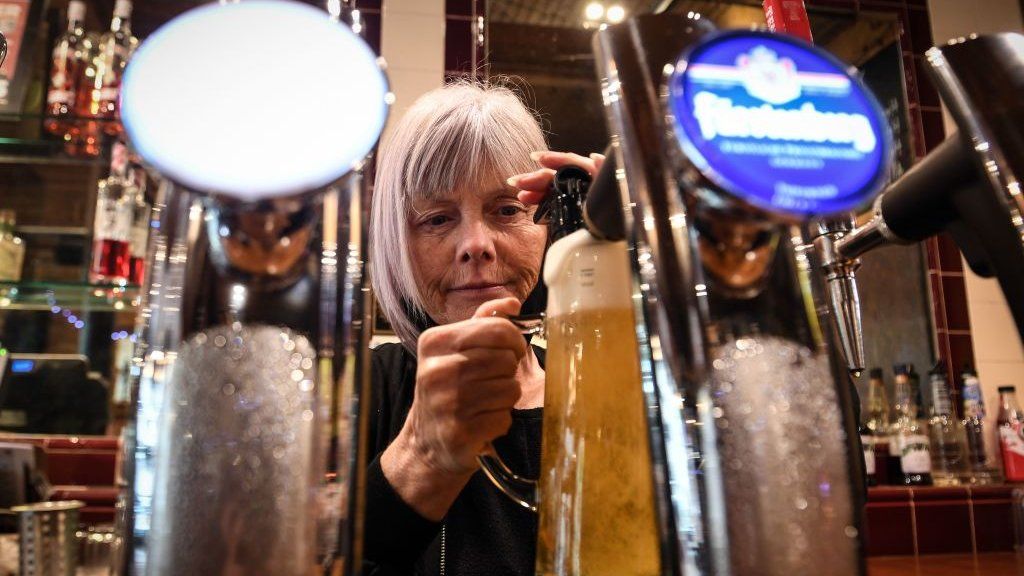 Additional police officers will be deployed in communities across Scotland to ensure pubs and restaurants close at 18:00, Police Scotland has said.
Chief Constable Iain Livingstone said patrols would be "highly visible" to explain and encourage compliance with new Covid restrictions.
After premises close in the central belt, they will not reopen until at least 25 October.
Tighter restrictions will also come into force in the rest of the country.
Licensed premises will not be able to serve alcohol indoors and opening hours will be limited.
First Minister Nicola Sturgeon said the moves were "essential" to get the spread of the virus back under control.
Mr Livingstone said most people had co-operated with the police and supported their work during the Covid crisis. But he said he was concerned about a "small minority" who continue to host house parties.
In the week up to Sunday 4 October, police broke up 271 illegal house parties, issued 106 fines, and made 18 arrests.
"While restrictions have changed quickly and often, I do not believe anyone in Scotland can be in any doubt that house gatherings and house parties allow the virus to spread and are unlawful," Mr Livingstone said.
Financial support for business
About 3.4 million people in five health boards - Greater Glasgow and Clyde, Lothian, Lanarkshire, Forth Valley and Ayrshire and Arran - are to be subject to the harshest restrictions.
In these areas across the central belt, licensed premises will have to close for 16 days, although they can still serve takeaways.
Hospitality venues in the rest of Scotland will be allowed to open, but will only be permitted to serve non-alcoholic drinks and food indoors between 06:00 and 18:00.
Licensed premises in these areas will still be able to serve alcohol in outdoor areas, such as beer gardens, up to the 22:00 curfew introduced in September.
She said the Scottish plan would include support for employment, a cash grant for each business and a discretionary fund for local authorities.
The new restrictions are an attempt to arrest a sharp rise in coronavirus cases, with a further 1,246 positive tests recorded on Friday.
There are 397 people in hospital being treated for the virus, with 33 in intensive care. Six confirmed Covid deaths were also recorded in the last 24 hours.
A paper published by the government on Wednesday claimed that the rate of infections could hit a peak similar to that experienced in March before the end of October.
Further measures will also come into force from midnight to bring back the 2m (6ft 6in) physical distancing rule in shops and tighten the rules around the wearing of face coverings.
Outdoor live events, adult contact sports, group exercise classes, snooker and pool halls, casinos and bingo halls will also have to close in the health board areas covering Greater Glasgow and Clyde, Lothian, Lanarkshire, Forth Valley and Ayrshire and Arran.
People are also being asked to avoid public transport where possible and not to share a vehicle with another household.
Scotland's national clinical director has insisted the new restrictions are not meant as a "punishment" from the Scottish government for people not complying with the regulations.
Prof Jason Leitch told the BBC's Good Morning Scotland programme on Friday: "The enemy here is not the clinical advice. The enemy here is a deadly virus that has killed a million people."
Prof Leitch also told the programme he was "very hopeful" that the combination of the recent limitations on household mixing and the new measures will enable progression to the "next version of what the restrictions might look like".
But, highlighting the spiralling number of cases across Europe, he warned: "There has to be a reverse gear."