Covid in Scotland: Taxi drivers 'working 14 hours for £40'
By Mary McCool
BBC Scotland news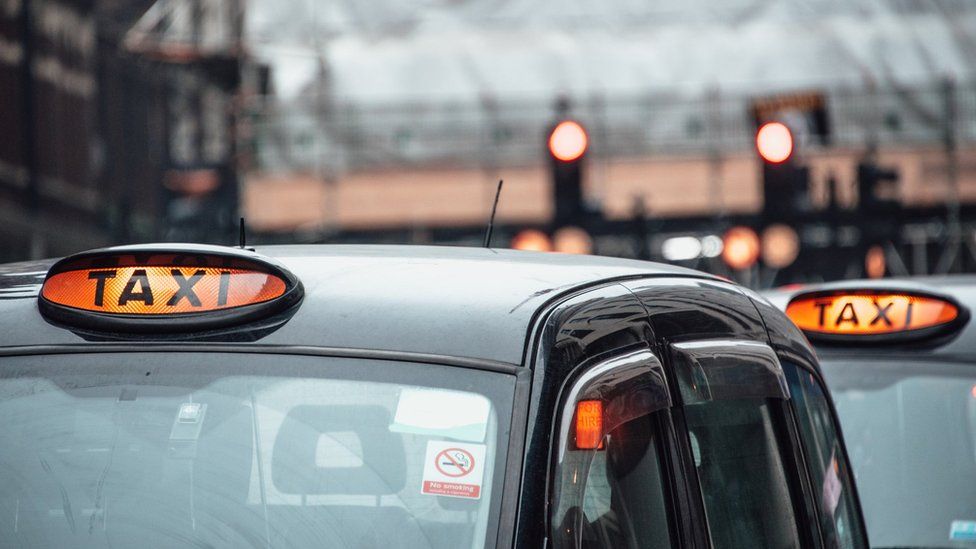 Bars and restaurants in Scotland are preparing to either shut down completely or to run an alcohol-free service before 18:00 - that much is clear. But what about the trade that relies so heavily on a strong night-time economy?
Taxi drivers have told BBC Scotland that they fear for the future of the trade if more support is not made available.
Union officials also estimate that as high as 80% of night-shift drivers in Glasgow alone have stopped working entirely since lockdown began.
Calum Anderson, who is chairman of Unite's Glasgow cab section, owns and hires out a number of vehicles in the city. He says some drivers have extended already-long, arduous shifts in order to make up the fares lost from the 22:00 curfew.
"Quite simply, for some time there has been very little of a night-time economy," he said. "Night-shift drivers have been walking away from the trade.
"Those that haven't have been trying to get jobs on the day shift and have been diluting the work. The hours were always long but now it's just ridiculous - people are working 12-14 hour shifts to try to gross £30-£40."
There are many variables when calculating the cost of hiring or running a taxi. For a hackney cab - which can be hailed down in the street, unlike private hires - Calum estimates monthly outgoings to be more than £1,300. This includes hire purchase, insurance, vehicle tax, repairs, a radio fee and licensing costs - all for a low-emission zone vehicle.
Calum has been leading calls for Glasgow City Council to bring back early lockdown exemptions that relieved financial pressure for taxi drivers - such as the extension of licences due to expire and suspension of vehicle testing, normally required every six months.
"We're pressing the council to allow drivers to put their cabs off the roads," he said. "The cab inspections are really proving sore especially when the inspection centres only take cash - and the reality is people at the moment are living off credit cards.
"There were green shoots of recovery when the pubs opened but the curfew just killed it. We estimated as high as 70-80% of the night-shift drivers have just walked away."
Calum was hospitalised with Covid-19 earlier this year, but says working in a hackney offers a degree of protection due to the plastic screen. His main concern is that the latest rules do not target the main source of virus transmission.
He said: "The government need to come up with something else. I've dined out and bars and restaurants have done what they should do. But people are jumping out the pubs and going to house parties."
'I started stacking shelves in Asda'
Jacqueline Dunn went from working as a dental nurse to driving a cab in Edinburgh 16 years ago and has never looked back.
But the prospect of a lockdown in March prompted her to make inquiries in her local Asda for work even before measures were announced.
"When I heard the bars were closing on the Friday I was devastated, I drove home in tears," she said.
"But I got phone call from Asda asking me to come in for an interview on Saturday - I started stacking shelves on the Monday. I was offered a full-time job and I wish I'd taken it."
Jacqueline went back to her taxi for six weeks until the latest measures were announced - since then she describes her situation as a "forced unpaid holiday" and has been scouting for courier jobs instead.
While she knows she can rely on her resourcefulness to secure work, she says the uncertainty of her situation has been the greatest challenge.
"I'm a strong woman," she said. "If you're seriously desperate for money there are things you can do but it's that waiting that's the problem.
"At the beginning I had to go to the doctor to get sleeping tablets I was so worried. One day I had job that I loved and soon as the bars shut it was like I had lost it in 30 seconds.
"I've been canny with my money and been cutting back on things. At the moment I'm ok for a week - after next week it'll become a problem."
'We've fallen through the cracks'
Steven Grant turned to driving a taxi in Glasgow after being made redundant as an industrial chemist.
He said many professionals from all walks of life had similarly turned to the trade as they believed it to be a safe move - but he said the shutting of bars and restaurants, had made the taxi business "unviable".
"You can't compartmentalise hospitality," he said. "The economy is a web of interconnected businesses and so many are heavily-dependent on it functioning.
"Lots of people turn to taxi driving. There's plumbers, police, firefighters - they like the flexibility and it's a reliable wage. It was a perfectly viable business before Covid, that's what's so frustrating.
"This latest announcement is ruinous for the trade."
Steven says he has seen a 70% drop in his earnings, which he would normally make on night shifts. His wife, a teacher, has been able to cushion the blow - but he fears for the single-income drivers on the roads who have dependents to care for.
He also believes the grants for self employed people that are due to return next month will not be enough to keep people from financial hardship over winter.
"For some people it's going to be the difference between having food on the table and heating their homes," he said.
"We've had two successive grants that covered about 70-80% of past earnings - when it comes back it will only cover 20%. That's quite a drop. I would say we've fallen through the cracks.
"We could go out in the ranks, drive around and look like operating but it's really a façade - there's nothing to be made. It's the worst I've seen in 10 years."