Covid in Scotland: All cafes to be allowed to stay open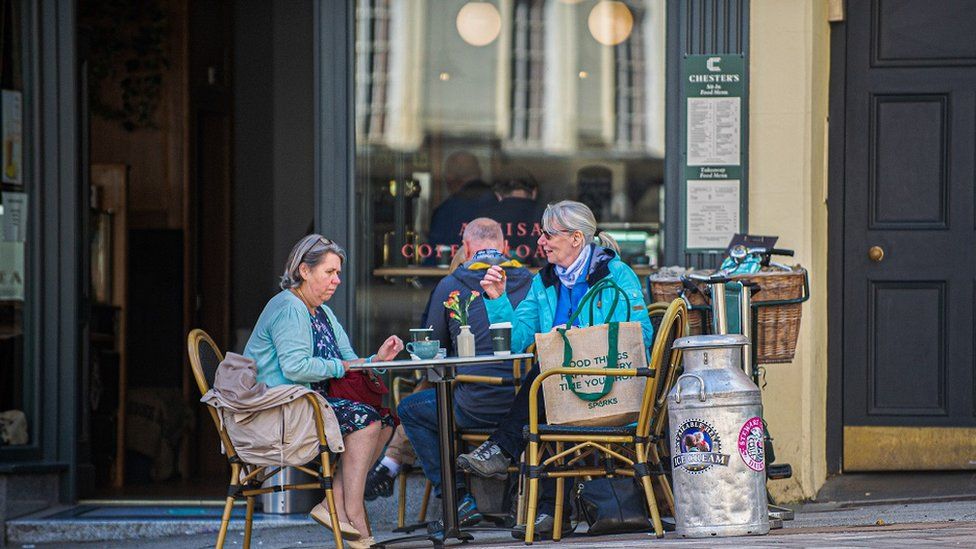 Licensed cafes can remain open as long as they do not serve alcohol, the first minister has confirmed.
On Wednesday the Scottish government said that in the central belt only cafes without an alcohol licence would be allowed to open.
Those with a licence in that area were to close under new restrictions aimed at slowing the spread of Covid.
But now all cafes in the central belt will be allowed to open as long as they do not serve alcohol.
During First Minister's Questions, Labour MSP Jackie Baillie said that following Wednesday's announcement, cafes in her constituency would be "forced to close their doors as a result of the new restrictions but the reality is 99% of what they do is about food".
She asked Nicola Sturgeon if there was a way for cafes to suspend their licences and continue to trade?
Ms Sturgeon responded that she was "delighted" to have "the opportunity to clarify this point".
"Cafes will be able to open whether they are licensed or unlicensed - as long as they don't serve alcohol."
She continued by saying: "The regulations that we will shortly bring forward to close certain premises will include a specific exemption for cafes."
The first minister added that these regulations would be published on Friday, and said environmental health officers would be responsible for ensuring the new regulations were adhered to.
So what are the new rules for central Scotland?
In five health board areas - Greater Glasgow and Clyde, Lanarkshire, Forth Valley, Lothian and Ayrshire and Arran - where the infection rate is highest, new restrictions will come into force from 18:00 on Friday until 25 October. They will result in the following changes:
Licensed premises - with the exception of hotels for residents, and cafes - will be required to close indoors and outdoors (although takeaways will be permitted)
Cafes (both those with and without an alcohol licence) will be able to stay open until 18:00
Snooker and pool halls, indoor bowling alleys, casinos and bingo halls will close
Contact sports for people aged 18 and over will be suspended for the next two weeks - with an exception for professional sports
Indoor group exercise activities will not be allowed, although the current rules will remain in place for under 18s and gyms can remain open for individual exercise
Outdoor live events will not be permitted for the next fortnight.
There will be no travel ban in any of the areas, but people in the central belt have been urged to avoid public transport unless it is "absolutely necessary".
They have also been advised not to travel outside of the health board area they live in if they do not need to.
Rules for the rest of Scotland
In the rest of the country (where the infection rate is not as high), the rules are also changing from 18:00 on Friday until 25 October. These rules include:
Pubs, restaurants and cafes are being barred from selling alcohol indoors
They can open inside from 06:00 until 18:00 to sell soft drinks and food
They will be able to sell alcohol for outside areas until 22:00.
Can restaurants also open if they don't serve alcohol?
James Withers, the chief executive of Scotland Food and Drink, told BBC Scotland's Drivetime that allowing all cafes to open was "the right decision".
He said the situation the government had created was "an incredibly confusing and avoidable problem".
He added: "Now you face the question… when is a café a restaurant and when is a restaurant a café?
"We need a common sense approach which is if licensed cafes can operate and just not serve alcohol then that should be translated across to licensed restaurants as well."
Regulations 'essential' to curb transmission of coronavirus
Prof Jason Leitch, the Scottish government's national clinical director, said decision-making around the pandemic was difficult.
The first principle was to stop people from different households meeting up, he said.
He said local authorities would have to make those judgements on what the difference was between restaurants and cafes - these will often fall to the judgement of environmental health officers.
Some of the decisions would be obvious, he said, but not all were binary.
It is expected that the regulations - which are to be published on Friday - will set out the difference between cafes and restaurants.
A spokeswoman for the Scottish government said: "The temporary restrictions on hospitality, supported by £40m of funding, are essential to curb transmission of the virus - particularly in the central belt.
"However, as the first minister has set out, we are allowing a very limited exception to this so that cafes can open during the day to allow socialising for those who may suffer from social isolation or who may live alone, while still reducing transmission."