Scottish government sets out plans to hit net-zero emissions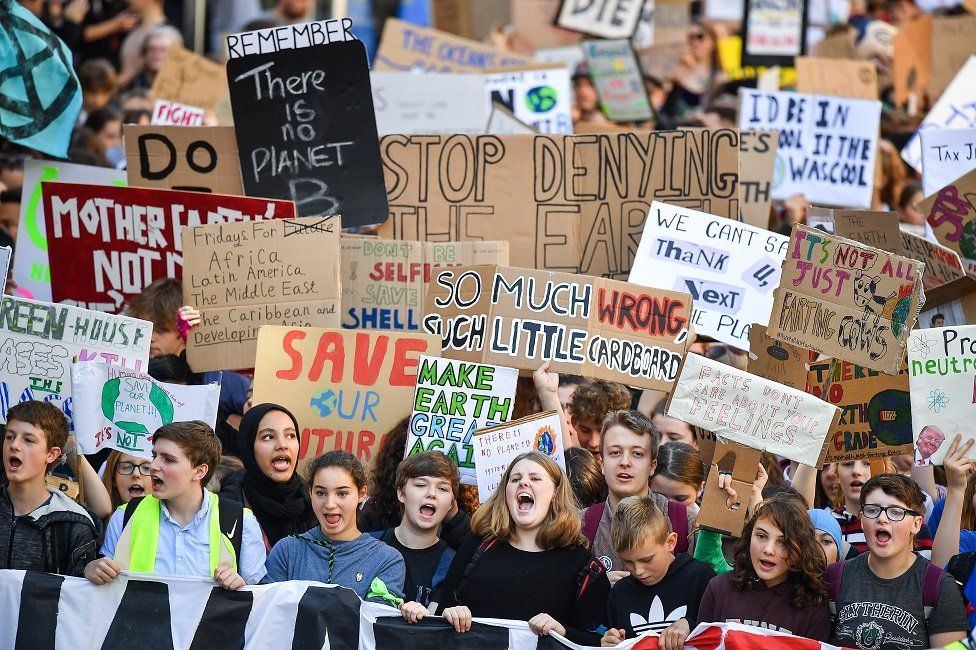 The Scottish government has set out details of how it plans to hit its climate change targets and reduce emissions to net-zero by 2045.
MSPs passed a bill in 2019 which put the targets down in law - including a 75% cut in emissions by 2030.
New policies designed to hit these goals include increased tree planting and use of low carbon technology.
Ministers have also brought forward a ban on sales of new petrol and diesel cars to 2030, in line with UK plans.
Environment Secretary Roseanna Cunningham said there was an "unprecedented" challenge ahead to deliver targets while rebuilding the economy in the wake of Covid-19.
However, she said the government was "determined" to grasp the opportunities of "a transition to a fairer, more sustainable and greener economy".
MSPs passed a bill in 2019 which put the "net-zero" target - the aim of having all emissions offset by 2045 - in law.
The plans published by the government on Wednesday set out how it intends to build towards the initial goal of a 75% reduction in emissions - compared to 1990 levels - by 2030.
This is no big headline grabbing moment but it's an important one for the journey to a carbon free economy.
It sets out some of the policies for achieving net-zero and, importantly, the commitment to cutting emissions by three quarters in just 10 years.
What this in effect does is roll forward or upscale some of the existing commitments like changing our cars or boilers.
In many ways the change is downplayed; ministers don't want to overwhelm us into thinking it's beyond achievable.
But it's important to realise that these absolutely are big shifts in behaviour, technology and Scotland's landscape.
By 2022, the government wants to have implemented a deposit return scheme for single-use drinks containers, and to have a series of technology funds backing the hydrogen and carbon capture and storage industries up and running.
By 2024 it aims to be creating 18,000 hectares of new woodlands per year, with the ultimate goal of having 21% of Scotland's land covered by forest by 2032 - compared to 19% today.
Ministers have set a target of having 50% of all new heating systems being installed to be zero-emissions models by 2025, and to reduce food waste by 33% compared to 2013.
They want to have "phased out" the need for new petrol and diesel cars by 2030 - and there is a goal of reducing the use of cars generally, with the number of kilometres driven to be reduced by 20%.
The government also aims to restore 250,000 hectares of peatland, which is helpful in storing carbon and is seen as a "nature based solution" to emissions.
By that year ministers also want renewable energy generation to account for 50% of energy demand across electricity, heat and transport.
Beyond this, there is also a goal of fully decarbonising the passenger rail network by 2035.
In her foreword to the report, Ms Cunningham said: "Amid the enormous challenges of the global pandemic, the climate emergency has not gone away - far from it - and the Scottish government remains absolutely committed to ending Scotland's contribution to climate change by 2045 in a just and fair way.
"Indeed, it is central to our recovery. We have the opportunity to design a better future and, coming out of the pandemic, put things back together differently."
The Scottish Greens said it was "good to finally see this plan published", but said it failed to commit to moving away from fossil fuels and was "heavily reliant on untested technologies such as hydrogen and carbon capture and storage to keep the oil and gas industry running at maximum levels of extraction".
MSP Mark Ruskell said the government had "dismal record" on cutting car traffic, adding: "If the government is serious about alternatives to private car use then that needs to be reflected in the Scottish budget, redirecting the billions of pounds currently being spent on road expansion to green transport infrastructure."
Scottish Conservative environment spokeswoman Liz Smith welcomed the detail in the plan and said the Scottish government must ensure it remains on course to meet its commitments.
"It is essential that we see strong co-operation between the UK and Scottish governments as we all play our part in striving to tackle climate change in the years ahead," she said.
Scottish Labour's Claudia Beamish said: "The next decade is crucial in setting us firmly on the path to net zero and protecting the most disadvantaged from climate change's cruellest effects.
"The bottom line is that people cannot afford for the Scottish government to get this wrong."