Brexit: Scotland in talks over EU Erasmus scheme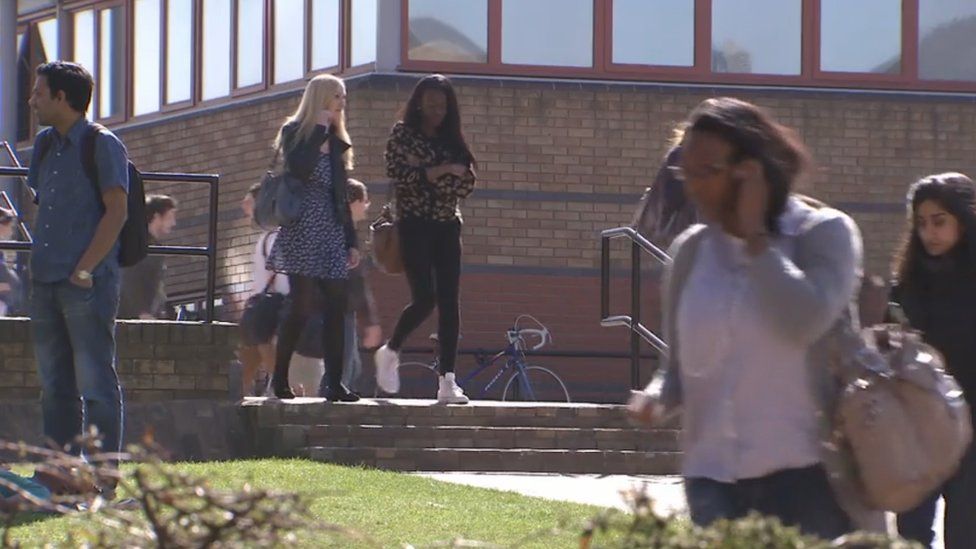 Holyrood ministers are exploring options to keep Scotland involved in the EU's Erasmus programme.
The scheme, which offers opportunities to study abroad, is ending in the UK because of Brexit, with a new and cheaper programme to be offered.
The Scottish and Welsh governments wanted to continue full participation in Erasmus after Brexit.
However, Higher Education Minister Richard Lochhead said the UK government had ruled that out.
Prime Minister Boris Johnson had previously assured MPs that Brexit posed no threat to the Erasmus+ scheme, but the UK government later decided the programme was too expensive and withdrew.
It has proposed a more limited but global alternative called the Turing Scheme, named after the pioneering mathematician and computer scientist Alan Turing, which it said offered better value for money.
According to the Scottish government, more than 2,000 students and staff from Scotland use the Erasmus+ exchange programme each year.
The UK left the EU on 31 January last year, entering into a transition period until the end of 2020. During this time, the UK-EU relationship continued much as it was before - including the Erasmus scheme.
Now that the Brexit transition period has ended, Scotland, England and Wales will no longer participate in Erasmus, but Northern Ireland's access will continue.
Mr Lochhead called the ending of the programme a "huge blow" for Scottish students, community groups and adult learners.
Last week he held what the Scottish government described as "productive talks" with European Commissioner for Innovation, Research, Culture, Education and Youth Mariya Gabriel to explore Scotland continuing with the Erasmus scheme.
The government has now welcomed the support of 145 MEPs who urged the European Commission to explore the idea.
Mr Lochhead said: "I have already had a virtual meeting with Commissioner Gabriel. We agreed that withdrawing from Erasmus is highly regrettable and we will continue to explore with the EU how to maximise Scotland's continued engagement with the programme.
"I have also spoken with my Welsh government counterpart and agreed to keep in close contact."
The Scottish and Welsh governments have criticised the Turing Scheme as "a lesser imitation of the real thing".
They said it offers no support for our adult education or youth work, and reduces support for colleges, schools and vocational training sectors.
In a joint statement from Mr Lochhead and Welsh Education Minister Kirsty Williams, they said: "The Scottish and Welsh governments have always been united in our view that participation in Erasmus+ is in the best interests for the whole of the UK.
"The UK government's decision not to associate to the programme is therefore deeply disappointing, a decision that will see support for our most deprived communities cut, and opportunities for all our learners reduced."
A spokesman for the EU Commission said the decision would mean organisations and individuals from across the UK, including Scotland, "will be deprived of opportunities for exchange and co-operation".
But he added that the UK would still be able to participate in Erasmus+ in a limited way as a "non-associated Third Country".
'People outside universities need to be valued too'
Cameron McKail, from Edinburgh, worked as a labourer for two years straight after leaving school.
At age 18 he secured a place with Erasmus+ and travelled to Strona in Italy, where he heard about employment experiences of young people around Europe.
The 25-year-old has since been to college, studied community education at the University of Edinburgh and secured work with Erasmus, helping other young people who want to improve their employment opportunities.
"Sometimes it's young people's first time out of Scotland," he said. "To open up those opportunities is invaluable, particularly down a community path.
"For young people who are outwith mainstream education, maybe on work or employability courses, it's really important for them to be valued and to be afforded these experiences as well. Sometimes it's those young people who need that support.
"Erasmus+ allows young people who might never have the experience to go away and meet other people from alternative cultures - to open their eyes and their minds as well to the world and understand it a little bit better."
Last month, Boris Johnson announced the UK would replace Erasmus with the Turing Scheme, which would include countries outside Europe.
A Department for Education spokesperson said: "The UK decided to not participate in the next Erasmus+ programme as it was not in the interest of UK taxpayers and our net contribution would have been around £2bn over the programme.
"The new global Turing Scheme is designed to provide thousands of students across all of the UK the opportunity to study and work abroad, beyond EU countries, and will include additional support for students from disadvantaged backgrounds.
"We will continue to work with the sector and devolved administrations to deliver the programme, backed by over £100m, ensuring students from all backgrounds benefit from the opportunity to learn across the world."