Covid in Scotland: Vaccine numbers rise as Scotland tries to go faster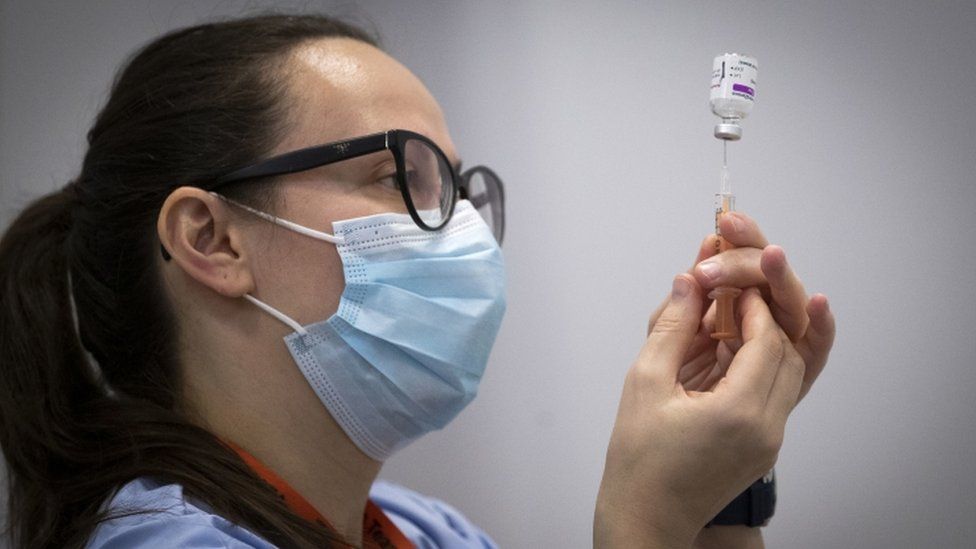 Almost 35,000 people received their first dose of the Covid vaccine on Monday, the highest daily figure since the programme began.
It marked the first day in which mass vaccination centres were open in Edinburgh, Aberdeen and Glasgow.
The jump in figures came after concerns that just 9,628 people had the jab in Scotland on Sunday.
Prof Jason Leitch, Scotland's national clinical director, told BBC Scotland "we do need to be doing it faster".
He said Sundays had been "a bit tricky" for the vaccine programme because many GP surgeries were closed.
The figure was the lowest since the Scottish government started publishing daily vaccine statistics.
Scottish Secretary Alister Jack later wrote to the first minister on behalf of the UK government to offer "any support or assistance we can give you to accelerate your rollout programme".
Mr Jack said this included further requests for military assistance and mutual aid between health services.
His letter concluded: "I strongly believe that to put the nightmare of Covid-19 behind us as quickly as possible, we must collaborate as closely as possible."
Scotland, which has about a twelfth of the UK population, has now vaccinated just over 610,000 people while the UK tally stands at about 9.6 million.
Scotland has vaccinated the lowest percentage of its population aged 16 and over - 13.45% - of all of the four UK nations.
The equivalent figure for England was 18.39%, Wales was 16.98% and Northern Ireland was 15.59%.
In order to be equal to its population share, Scotland should have vaccinated another 200,000 people.
In her Covid statement at Holyrood, First Minister Nicola Sturgeon said Scotland had initially concentrated on making sure there was a depth of uptake in the clinically most vulnerable groups such as elderly care home residents.
She said the challenge now was to increase the breadth of the overall numbers.
In response, Ruth Davidson, leader of the Scottish Conservatives at Holyrood, said the Scottish government's vaccination programme was "slow, stuttering and lagging way behind the rest of the UK".
Scottish Liberal Democrat leader Willie Rennie said Scotland needed to be "ambitious" with its vaccination programme and said there was no need to ditch the rest of the rollout while care homes and other vulnerable groups were prioritised.
Ms Sturgeon said "legitimate questions" were being asked about the slow rollout but she stood by the approach that was taken.
The Scottish government insists that it remains on track to meet its target of having vaccinated everyone over the age of 70 and those who are clinically extremely vulnerable by 15 February.
But many people aged over 70 have not yet received an appointment letter, with 21% of those aged between 75 and 79 having been vaccinated by Tuesday.
Scotland now needs to be vaccinating about 40,000 people per day to meet the target - with Tuesday's total of 34,881 being the highest it has managed in a single day so far.
Opposition parties have accused First Minister Nicola Sturgeon of being "in denial" about the pace of the vaccine rollout in Scotland.
Prof Leitch said the plan had been for most over-80s to be vaccinated in their local GP surgery so they would not have to travel greater distances and where they would know the staff.
He acknowledged that many GP surgeries did not open on Sundays, and that "some people think this was not the right thing to do".
He said the vaccination teams had been "asked to have another look at that".
"That is why now, as we have gone down a level to people who are a little bit more mobile - the 70 years olds, the over-75s - they are now being done in big vaccination centres or semi-big vaccination centres."
He also predicted that the opening of the new mass vaccination centres in Edinburgh and Aberdeen earlier this week, alongside the existing facility in Glasgow, meant that "many, many more" people would be vaccinated this weekend.
The latest figures show 83% of people over the age of 80 have now had their first jab, although the first minister said the figure was likely to be closer to 90% as there were fewer people in the age group than they had thought and the figures are being "refined".
The daily figures show 98% of older care home residents and 88% of care home staff have been given their first dose.
Prof Leitch said: "We'll finish the over-80s this week, apart from a few stragglers who are maybe a bit doubtful or don't want done or were Covid positive.
"So not 100% but we'll get to just as many as we can by this Friday, and we've started the 70 to 79 year olds and we're beginning to send letters out to those who are over 65 and those who are vulnerable."
He admitted that it was "hard" for people in Scotland to hear that vaccination numbers were higher in England, but insisted that it was "not a race" - and pointed out that the death rate and prevalence of the virus in Scotland was still lower than in England.
Prof Leitch added: "It is a race against the virus, not a race against my colleagues and I want England to be vaccinated as fast as they can possibly do it and I also want Wales and Northern Ireland to be vaccinated.
"So I don't really like the competitive nature of the vaccination story."