Covid in Scotland: Planned NHS operations drop 35% in December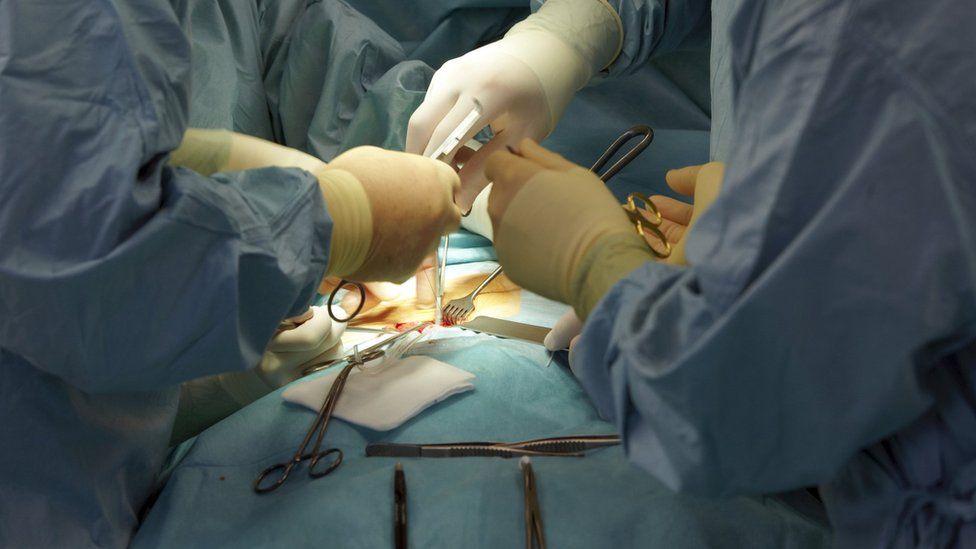 There were 35% fewer planned operations carried out in Scottish hospitals in December compared with the same period the year before, monthly figures show.
In December 2020, NHS Scotland carried out 16,740 planned operations. In December 2019, the figure was 25,791.
December 2020's figure had also decreased 6.6% on the month before, with 17,916 planned operations carried out in November.
Last December, 7.5% (1,257) of all planned operations, were cancelled the day before or on the day the patient was due to be treated.
Of all the operations cancelled in this way, 3.1% (511) were cancelled by the hospital for "clinical reasons", 2.3% (381) for "capacity or non-clinical reasons", 1.9% (319) were cancelled by the patient and 0.3% (46) were cancelled for other reasons.
However, there was variation across Scotland's health boards, with the figure ranging from 3.4% to 18.3%.
In November 2020, this figure was 7.4% (1,332) and in December 2019 it was 10.1% (2,617).
In January, the number of people being treated in Scotland's hospitals for coronavirus hit a record daily high of 1,596 patients with recently-confirmed Covid.
Jo Montgomery, from Lockerbie, has been suffering with rheumatoid arthritis since she was 10.
For more than 30 years, she has been suffering "inescapable" pain "every second".
She had expected to go for an operation on her finger last month, but it was cancelled.
So far, she has no idea when it may be rescheduled for.
"Initially it was devastating - thinking I was getting it then being told I wasn't going to," she said.
"It's almost like you can see the light at the end of the tunnel, and it's that little ray of hope and to have that taken away is really quite difficult.
"For me it was devastating, to be honest."
Trying to manage the pain "is just impossible", she said, and waiting in pain for an operation "unbearable".
"I feel a bit lost and really frustrated and not sure what's going on," she added.
"Even if you tell me it's in a year, at least I know it's going to be then - but it's so unpredictable."
The Scottish government said that as the number of Covid cases declined, the focus of the health service would be on remobilising services that had to be reduced.
A spokeswoman said that Covid had increased in the number of hospital admissions in December, causing a reduction in NHS capacity to undertake planned procedures.
She said £200m was being invested in a network of new elective and diagnostic treatment centres, which would add extra capacity for hip and knee replacement patients. The NHS Louisa Jordan would continue to provide urgent outpatient and diagnostic appointments.
Scottish Conservative health spokesman, Donald Cameron, warned that the NHS was facing "a ticking timebomb" and said the backlog had "spiralled over the last year".
Scottish Labour's Jackie Baillie said "mismanagement" by the SNP government had left the NHS in a "perilously weak situation", with little capacity to respond to anything other than Covid.
Alex Cole-Hamilton, of the Scottish Liberal Democrats, said there had to be "a needle-sharp focus on recovery and a solid plan to strengthen the capacities of our NHS".
Other official statistics published on Tuesday showed:
The number of patients attending A&E departments in Scotland was the third lowest on record in December. The previous lows were recorded during the initial lockdown last April and May. 86.4% were seen and admitted, transferred or discharged within the four-hour target.
Delayed discharge from hospitals in December had reduced 27% year-on-year. Health and social care reasons accounted for 60% of delays, complex needs accounted for 36%, and patient and family-related reasons accounted for 4% of delayed discharges.