Covid in Scotland: Quarantine hotel plan to cover all overseas flights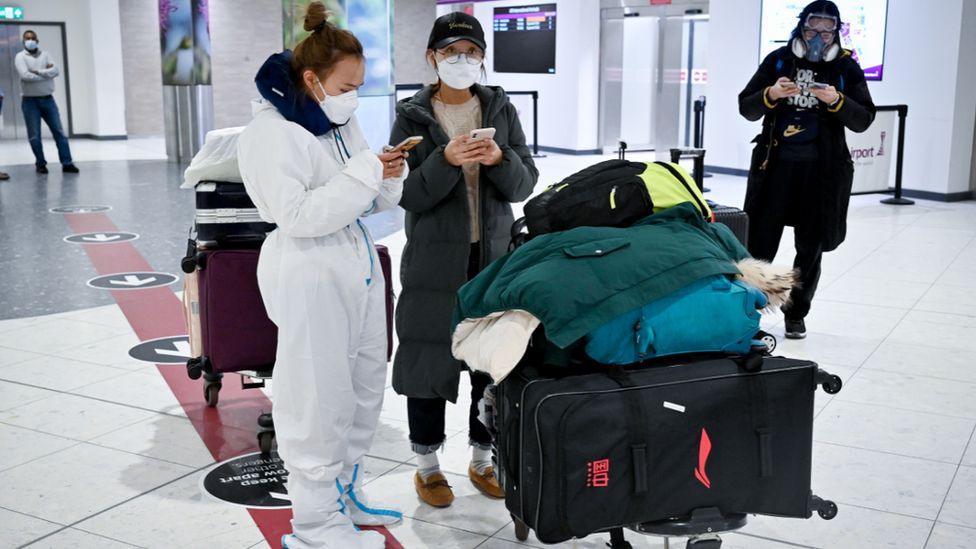 Everyone arriving in Scotland on an international flight from next Monday will have to quarantine in a hotel for 10 days.
The Scottish government said it would be "block booking" 1,300 rooms at six hotels near the country's airports.
The £1,750 cost of the stay will have to be borne by passengers themselves.
Transport Secretary Michael Matheson said on Tuesday there were approximately 1,600 Scottish arrivals in the last week of January, and numbers fell to 730 in the first week of February.
He said: "The number of travellers coming to Scotland directly is reducing and I expect these restrictions to reduce arrivals yet further.
"These measures will be backed with criminal offences as usual. The stronger approach we are taking are necessary and appropriate."
Mr Matheson confirmed that an online booking system, run by the UK government, would go live on Thursday.
People travelling to Scotland will then be required to use the portal to book and pay for a quarantine hotel room if they are arriving from Monday.
The £1,750 charge for the room includes mandatory Covid tests on day two and day eight following arrival for one person - any additional travellers will incur supplemental costs.
A welfare fund will be developed for people struggling to meet these charges, Mr Matheson added.
He said anyone who breaches the measures could face criminal charges including culpable and reckless conduct.
A spokesman for AGS Airports, which owns Aberdeen International and Glasgow Airports, said: "Bar two oil and gas related flights at Aberdeen, there are no other international flights at our airports, so these latest measures will have no impact as the damage had already been done.
"We've stated previously that we understand the need for emergency measures, however, we urgently need to work with government on developing a recovery plan for our sector which has been at a standstill for almost one year."
In England, the policy only applies to people travelling from "red list" countries.
In theory, that means travellers from other countries could avoid quarantine in Scotland by flying to an English airport, then crossing the border into Scotland by road or rail.
Mr Matheson said he had urged the UK government to "match the comprehensive approach" in Scotland.
Elite athletes are currently exempt from travel restrictions however Mr Matheson said the criteria would be strengthened, to only permit travel for athletes and coaches preparing for the Olympics and Paralympics.
A small number of arrivals will not be required to isolate at all, including essential supply chains for goods coming into Scotland, foreign diplomats and essential defence activities.
Which hotels could be used?
The BBC has approached a number of hotel groups asking whether rooms have been booked for international travellers required to quarantine.
A commissioning document was sent out to hotels last week with details of how they can bid to be involved in the quarantine system and what they would need to provide.
The BBC understands governments will book three and four star accommodation with the capacity to provide meals and laundry services.
Firms have submitted their proposals and await news on whether bids have been successful in order to bring in staff and reopen buildings, some of which have been closed for months.
Premier Inn said it was not one of the 16 hotels so far part of the UK government hotel quarantine scheme.
Intercontinental Hotels Group, which owns Holiday Inn, Hotel Indigo and Crowne Plaza brands, declined to comment as did CitizenM, Millennium Hotels, Macdonald Hotels and Travelodge.
Radisson Hotel Group said it had "consistently supported" local governments and "provided quarantine services at select properties for travellers and front-line workers".
It added that its safety protocol and "enhanced operating procedures" meant it had "all the necessary measures in place to support and implement quarantine services quickly and safely".
Accor, which owns the Ibis, Novotel and Mercure brands, also suggested it may take part in the scheme.
A spokesperson for the firm said discussions were "well under way" with the government and hotels "ready to support the call for quarantine in order to enable safe travel".
OYO Hotels, which operates venues near Edinburgh and Prestwick airports, said it was "ready to work with the government" to provide accommodation in line with the new protocols.
Hilton, Marriott, Best Western, Jurys Inn, and Leonardo Hotels have also been contacted but have yet to give a response.