Scotland exams 2021: How will grades be awarded?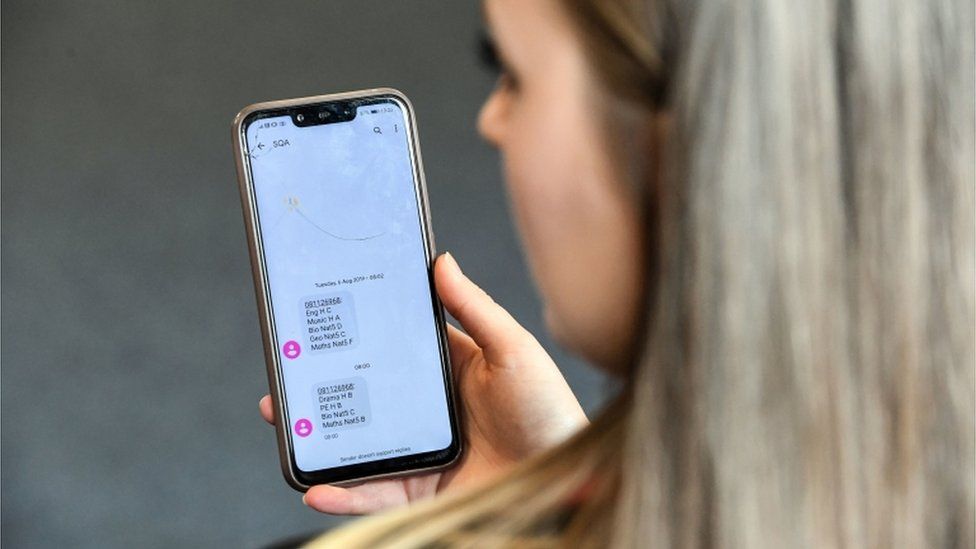 Exams have been cancelled for the second year in a row in Scotland because of Covid. Guidance has been released for teachers on how assessments should work, although this may change. So, how will pupil grades be awarded in 2021?
The Scottish Qualifications Authority (SQA) is in charge of running exams in Scotland. Traditionally, pupils in the senior stage of secondary school would sit at least some of their National 5, Higher and Advanced Higher courses under exam conditions, on the same day, and at the same time as their peers across the country.
This year however, final grades will be decided by teacher estimates and a "quality assurance" procedure overseen by the SQA.
In order to reach these estimates, teachers need to gather three or four pieces of work from each pupil to used as evidence of a final grade.
The SQA is advising that this evidence is, wherever possible, gathered in controlled conditions - like the conditions usually found in a class test. This might look and sound like an exam, but it doesn't have to clear that high a bar. For example there will be no external invigilators.
The work gathered by a teacher needs to demonstrate a pupil's understanding of the different aspects of a course. For example, Higher English would require a pupil provides evidence of critical essay writing, reading for understanding, analysis and evaluation as well as a Scottish text.
To establish an estimated grade, teachers will then have secure access to material from the SQA to help them formulate things like questions for tests and marking structures.
Once teachers have decided on an estimated grade, a process called "quality assurance" begins.
It is a three stage process where initially teachers within the same school will sample and check each other's work.
Local authorities will also play a role in sampling work. SQA representatives could then provide a third layer of "quality assurance" by carrying out spot checks on some schools.
Final estimates will be submitted to the SQA by Friday 18 June - a month later than originally planned, following the Scottish government's latest extension of lockdown to mid-February.
When the SQA have the grades, in theory, only a very small number may need to be changed if they spot anomalies or inconsistencies.
In 2020, teachers also submitted grade estimates. An algorithm used a school's past performance to change some pupils' grades.
That caused a significant backlash which eventually lead to a u-turn on exam results.
The SQA reverted grades to original teacher estimates.
There is no algorithm like that in place this year.
What are the possible problems?
There are a number of issues which could cause problems for this planned way of assessing Scotland's pupils such as the continuation of remote learning.
Most pupils have been at home since the start of the year. A small number are due back in class, in two weeks, under a phased return. This includes senior pupils who need to complete practical work, like lab experiments.
We are still waiting to find out how long this situation will last, however it is likely to involve some form of social distancing for the older pupils once they return, which could limit class numbers.
It states: "Assessment cannot be undertaken unless young people understand the foundations of their course content and have had time to consolidate their learning once they return to school."
The SQA advises against assessments while pupils are still out of classrooms and is asking for young people to be given time for more in-class learning before they start to complete work that will contribute towards a grade.
However, the longer pupils are learning from home, the more time pressure there is on both pupils and teachers to provide work relevant to their eventual grade when they return.
Parents should not be surprised therefore if we see the SQA modify guidance further or for the process of "quality assurance" to be simplified again.
An SQA spokesman said that "maximising learning and teaching" was the priority during remote learning.
He said: "SQA has provided schools and colleges with broad guidance on evidence gathering and estimation with a very clear focus on the quality of key critical evidence, not quantity."
The spokesman said the "alternative certification model" was being supported by the SQA issuing specific guidance and assessment resources.
He added that the SQA was considering what was the most appropriate process for appealing against the grades awarded.