Salmond and Sturgeon: How the best of political double acts fell apart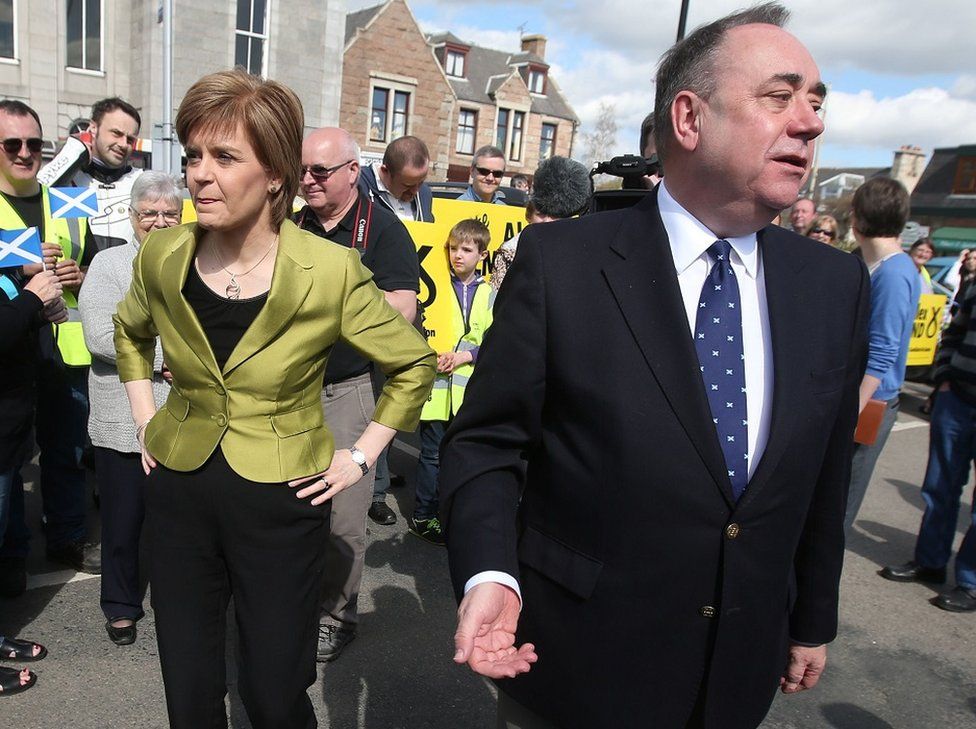 For 10 years Alex Salmond and Nicola Sturgeon showed how to be a successful political duo. They campaigned hard, won elections and brought to the fore a shared dream of Scottish independence. That irresistible combo is gone, having given way to personal silences and a public war of words. As MSPs continue investigating the Scottish government's mishandling of complaints against Mr Salmond, we look at their story.
As the clock ticked past midday, I waited in the first minister's walnut panelled office for Nicola Sturgeon to give her first interview on the scandal.
The first minister was said to be so upset that her advisers worried she might cry on camera.
When it came to it, Nicola Sturgeon kept her composure but there was clear emotion in the interview that followed. Her voice wavered slightly when she told me how "incredibly difficult" the situation was.
At about the time she was speaking to me, Alex Salmond was telling journalists gathered around a Linlithgow pub table that while he was "no saint" he had not harassed anyone.
The Scottish government had investigated complaints about him from two civil servants, under a new procedure signed off by Nicola Sturgeon. That was not news to the first minister because Alex Salmond had told her privately about the investigation several months before.
What then could have brought Scotland's leader close to tears?
This was, of course, a watershed moment when a private burden finally had to be shouldered in public. And, according to one source close to Nicola Sturgeon what was also significant was confirmation from the civil service that it had sufficient confidence in its investigation to refer the complaints to the police. That is said to have shattered the first minister's confidence in the denials Alex Salmond had given her.
Having controversially met or spoken to him five times during the investigation - in which she insists she played no part - she broke off contact with him in July.
Nicola Sturgeon's long standing alliance with her predecessor was in the process of breaking down and the day of the Daily Record scoop was probably when it became irretrievable. Alex Salmond was effectively at war with the government he once led and therefore with the woman who replaced him - his protégé, Nicola Sturgeon.
There was a lot to cry about.
The Salmond/Sturgeon association spans three decades - she had backed him for the party leadership in 1990 and he encouraged her to stand for Westminster two years later, when she was just 21.
"He believed in me long before I believed in myself," she once said.
Alex Salmond was a mentor, ally and friend. You could trace his influence in her early speaking style and in the way she sometimes scoffed at rivals during debate.
He appointed her to the SNP front bench when they were both elected to Holyrood in 1999. However, a little over a year into the new parliament Alex Salmond gave up the leadership, passing the reins to John Swinney. When he resigned in 2004 Nicola Sturgeon made her move for the top party job.
The then 34-year-old entered the contest, but when it looked like she would lose to rival Roseanna Cunningham Alex Salmond came to the rescue. His decision to make a leadership comeback saved her from defeat. Instead, she became a winner, running as his deputy on what they styled as a joint ticket.
This was the beginning of the powerful political partnership that has dominated Scottish politics and made a big impact on the UK political scene in the early part of this century. They led the SNP into government for the first time in 2007, to an overall majority at Holyrood in 2011 and within touching distance of independence in 2014.
They worked well together. Not least because Alex Salmond tended to let Nicola Sturgeon and other trusted ministers do their jobs without interference. As his deputy, her skills and personality seemed to complement his. Where he revelled in the spotlight, she was more naturally reserved. While he enjoyed painting the big picture, she was content to fill in the detail.
They offered each other advice and challenge in private, and presented a united front in public - a discipline upon which the SNP's success was built.
That's not to say there were no disagreements. When the NHS faced a budget squeeze after the financial crash, Nicola Sturgeon took a stand. According to one Alex Salmond ally, she "pushed very hard" to protect cash spending and won the first minister's support. Had she failed, another source said, she was prepared to resign.
Nicola Sturgeon's confidence grew further during the independence campaign. From 2012, she took charge of referendum preparations as the Scottish government's so called "Yes" minister. It was during this period that she started coming into her own, establishing an approach that was distinct from his.
Contrast, for example, the responses they gave to protests by independence supporters against the BBC. Alex Salmond defended those involved, arguing they must be allowed to express a view. Nicola Sturgeon advised that they spend their time campaigning for a "Yes" vote rather than against the BBC.
Where he could be strident, she was more pragmatic is how one source close to Alex Salmond put it.
While their relationship remained strong throughout the referendum there were points of tension.
Nicola Sturgeon was frustrated not to be involved in Alex Salmond's preparation for his first debate with the pro-Union leader Alistair Darling. The head-to-head, hosted by STV, saw Alex Salmond struggle with currency questions.
When he set off for China in November 2013 without leaving detailed comments on the latest draft of the independence White Paper, her team questioned his commitment. The first minister's feedback would eventually filter through from the People's Republic.
None of this caused a serious rift between them - that would come later, once Alex Salmond had left office.
From big boots to high heels
As Nicola Sturgeon prepared to take over, she acknowledged Alex Salmond had left "big boots to fill".
However, she also asserted her political independence. "I will wear my own shoes" she said "and they will have higher heels".
She promised a more female friendly-leadership that would give priority to key issues of gender equality and seek to advance the interests of women. That's a pledge that may have weighed heavily as she thought of her response to the #MeToo movement a few years later.
The key point about this transfer of power is that it fundamentally changed this political couple's relationship. She was no longer the understudy, she was now the principal performer.
By contrast, Alex Salmond's political power was on the wane. He could have pursued a career in business, academia or on the lecture circuit but he could not resist the pull of politics.
As part of the 2015 landslide, he returned to Westminster, as MP for Gordon, in search of a new role. The party appointed him international affairs spokesman with a certain licence to stir things up. Friends said it was difficult for him to adjust. According to one MP, he did not take kindly to no longer driving the bus.
When Alex Salmond publicly suggested a referendum might not be the only route to independence, the new driver asserted her authority. Nicola Sturgeon made clear that winning a referendum was now the established way to leave the UK.
Within a few months of replacing him, Nicola Sturgeon dropped Alex Salmond's policy of a blanket 3p cut to corporation tax in the event of independence. He was not consulted. He was, however, brought into the loop for some decisions, such as the ill-fated call for indyref2 in early 2017.
They were still in touch but nothing like as much as when they were partners in power. With one at Westminster and the other at Holyrood, they saw each other less and were gradually drifting apart.
When Nicola Sturgeon phoned to offer her commiserations, she found Alex Salmond unavailable. It was, apparently, two or three weeks before they spoke.
Alex Salmond was dealing with the death of his father around that time as well as the loss of his parliamentary seat. But there was something else.
A friend of his said he was "not very impressed" with the SNP's election campaign, considering it insubstantial and lacking in energy and purpose. The party lost 21 of its 56 seats in this first election after the Brexit referendum and the Scottish Conservatives won 13 - enough to sustain Theresa May in office with help from the DUP.
If that was one source of tension in Alex Salmond's relationship with his successor, others soon emerged as he began a new career outside politics. Appearing in his own show at the Edinburgh Fringe, Alex Salmond was accused of sexism when he explained the absence of any high profile female guests with the double entendre that he "couldn't make them come".
It was apparent to some in the SNP that she was wearying of him. As one MP put it, he was "seen as a nuisance" by the leadership during 2017.
The lowest point came in November of that year, when it was announced that Alex Salmond was to host his own show on the Kremlin-backed TV station, RT. Nicola Sturgeon has since spoken of her "incredulity" at this decision. It would increase the distance between them. As one Nicola Sturgeon ally put it - "the first minister cannot take advice from a presenter on Russian state TV".
The week before Alex Salmond's TV show was announced, SNP MSP Mark McDonald was forced to resign as a Holyrood minister over inappropriate behaviour.
The Scottish government's wider response to the #MeToo movement, following this departure, would set these political titans on a collision course. There was speculation that if Mr McDonald stood down, Alex Salmond might want to fight the Aberdeen Donside by-election.
According to friends of Alex Salmond that was wrong - he had no interest in making another Holyrood comeback and Nicola Sturgeon's team did not take it seriously either. Even if they found him annoying, they did not appear to regard him as a political threat. They would not however have been unaware that Alex Salmond had helped nurture new talent at Westminster, including the QC turned MP, Joanna Cherry, whom some see as a future leader.
What appeared to be of concern to team Sturgeon in November 2017 was an enquiry from Sky News about allegations of sexually inappropriate behaviour by Alex Salmond at Edinburgh Airport. He denied wrongdoing and nothing was broadcast at the time, but according to a later account from Nicola Sturgeon, it raised suspicions about her predecessor's conduct.
On the first minister's instruction, the Scottish government was revising its procedures for dealing with complaints of bullying and harassment against ministers, following Mr McDonald's resignation. Nicola Sturgeon specifically told the civil service that the new policy could apply to former ministers and she put that in writing after the Sky News enquiry.
This note was sent after her private secretary met a potential complainer against Alex Salmond from within the civil service. The Scottish government insists the first minister did not know about that.
Supporters of Alex Salmond suspected the new policy was designed with him in mind, however, the Scottish government rejects that claim. What is clear is that Nicola Sturgeon chose an approach that would not exempt her predecessor.
Had she decided otherwise, there might never have been a scandal. Alternatively, one might have blown up in the media anyway and she might have faced criticism for protecting an old friend.
Complaints of sexual harassment against Alex Salmond from two female civil servants were lodged and a seven month investigation by the Scottish government followed. Those findings were shelved when the 66-year-old successfully challenged the complaints handling process in court. It decided the investigation was "tainted by apparent bias" and he was awarded more than £500,000 in legal costs.
But the former first minister faced a much bigger legal battle ahead.
In January 2019, Alexander Elliot Anderson Salmond was arrested and charged with a string of sexual offences against women he had worked with at the Scottish government or the SNP, during his term as first minister.
When he looked at the names on the charge sheet - according to a Salmond ally - "that was when it hit him" that this could be a conspiracy.
One of those who testified against him in court has since told the BBC that it is "utterly absurd" to suggest nine women would perjure themselves as part of a political plot. Their evidence did not persuade a jury to convict and on 23 March last year - hours before the UK went into coronavirus lockdown - he was acquitted of the 13 sexual assault charges he faced.
Alex Salmond is now trying to expose what he believes was a conspiracy, accusing Nicola Sturgeon of multiple rule breaches including misleading the Scottish Parliament. She denies his claims.
Their toxic feud has destroyed their relationship and caused deep divisions within the SNP. It also threatens damage to the first minister's reputation and to the independence dream she still shares with Alex Salmond. While she seems confident of weathering the storm, her credibility has hardly been enhanced by the revisions she's made to her story along the way.
For example, having told Holyrood she learned about the investigation into Alex Salmond directly from him, she now acknowledges that "allegations of a sexual nature" were mentioned at a meeting she had days earlier and claims to have forgotten.
Exactly what did she know and when, what meetings were held and why, where does party business end and government business begin? These are the questions being picked over by a committee of MSPs at Holyrood.
The inescapable point is that Alex Salmond and Nicola Sturgeon cannot both be telling the truth, the whole truth and nothing but the truth as they are obliged to do under oath before the committee.
What started three years ago with complaints about the former first minister's behaviour has led to intense scrutiny of Nicola Sturgeon's conduct in handling those complaints. If Alex Salmond can prove his allegations, a clamour for her resignation will follow - ironically at a time when her party and its goal of independence are polling strongly.
If his claims are not proven, he is unlikely to give up the fight. Some of his supporters have called for him to be readmitted to the SNP. Others hope that he will stand in this May's Holyrood election for one of the newly formed independence parties.
While those who know him well think that unlikely, they note he has not publicly ruled it out. As one MP put it "you just never know what Alex is going to do next".