Blackford: 'I have full confidence in first minister'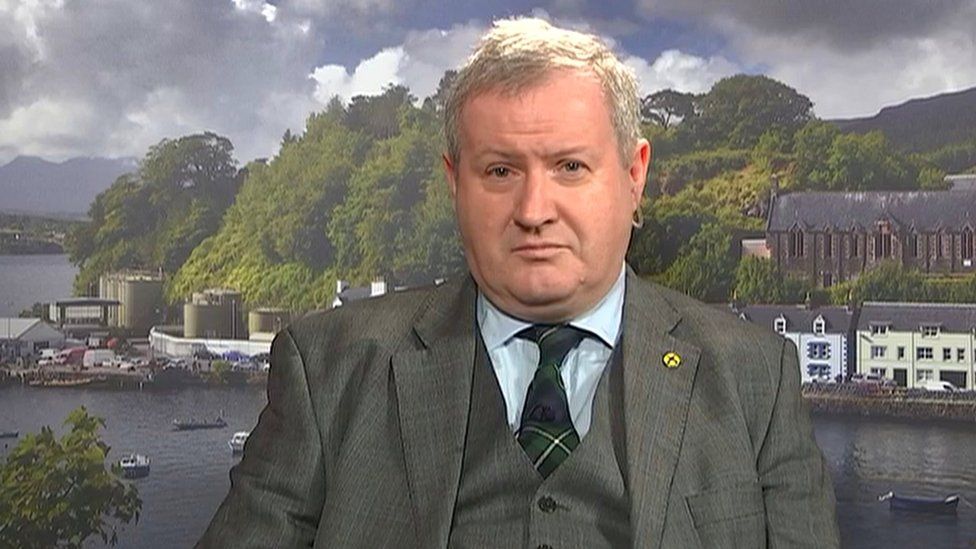 SNP Westminster leader Ian Blackford has thrown his support behind Nicola Sturgeon, saying she has not broken the ministerial code.
The first minister has been accused of misleading parliament over when she knew about harassment allegations against her predecessor, Alex Salmond.
In six hours of inquiry evidence, Mr Salmond said he had no doubt that she had broken the ministerial code.
Mr Blackford said he had "full confidence" in Ms Sturgeon.
He told BBC Radio 4's Today programme: "I think we've had a number of false dawns in this whole spectacle and I do not believe under any circumstances, under any determination, that the first minister has broken the ministerial code."
However, Conservative MSP Murdo Fraser, who is a member of the Scottish Parliament committee that questioned Mr Salmond on Friday, told Today that if half of what Mr Salmond had claimed was true, then Ms Sturgeon would have to resign.
"I've been a member of the Scottish Parliament for almost 20 years and this was the most extraordinary event I can recall," he said.
"To have the former first minister of Scotland and the former leader of the Scottish National Party come and make such devastating claims about the failure of leadership across a whole range of public institutions in Scotland and effectively say the country is not ready to become independent - despite the fact that is a cause he has campaigned for his entire political life - was quite striking.
"If even half of what he alleged yesterday turns out to be true - and we will get to the bottom of this very soon - then Nicola Sturgeon's position is untenable, and she will have to resign."
Appearing at the committee that is looking into the botched handling of claims made against Mr Salmond, he repeatedly said, under oath, that Ms Sturgeon broke the ministerial code, but stopped short of saying she should stand down.
The first minister referred herself for investigation to James Hamilton QC, an independent adviser on the ministerial code.
Mr Blackford told the Today programme: "She's made it clear on a number of occasions that she does not believe she has broken the ministerial code.
"I believe that to be the case as well, this will be put to bed, and we will be able to move on from it to make sure we are dealing with the Covid crisis in the right way, and we're having that discussion about what Scotland's future is.
"I and my party have full confidence in the first minister leading us to that destination of Scotland becoming an independent country."
He added: "Yesterday was supposed to be a seminal day in this inquiry where the former first minister was going to bring forward evidence of a conspiracy - by his own admission, there is no evidence of a conspiracy by the first minister against him."
Mr Blackford refused to say whether Ms Sturgeon should resign if she was found to have broken the rules, describing the question as "hypothetical".
He added: "The fact is there has been no conspiracy, the first minister has not sought to mislead anybody over this whole saga, and that will be demonstrated next week when the first minister appears before the committee."
Ms Sturgeon denies breaching the code, and has accused Mr Salmond of creating "wild" conspiracy theories that are untrue.
Her spokesman said Mr Salmond had failed to prove his allegations in his evidence to the committee, and "also gave testimony which directly undermined some of the central planks of his conspiracy theories".
The Scottish government admitted it had acted unlawfully during its investigation into the initial complaints from two female civil servants after Mr Salmond launched a judicial review case, and had to pay his legal fees of more than £500,000.
Mr Salmond was arrested two weeks after the government admitted defeat in the civil case, and was later cleared of 13 charges of sexual assault against a total of nine women after a trial at the High Court last year.
Ms Sturgeon is due to give her evidence to the inquiry on Wednesday.