Cladding: 'We felt trapped in a flat worth zero'
By Chris Clements
Social affairs correspondent, BBC Scotland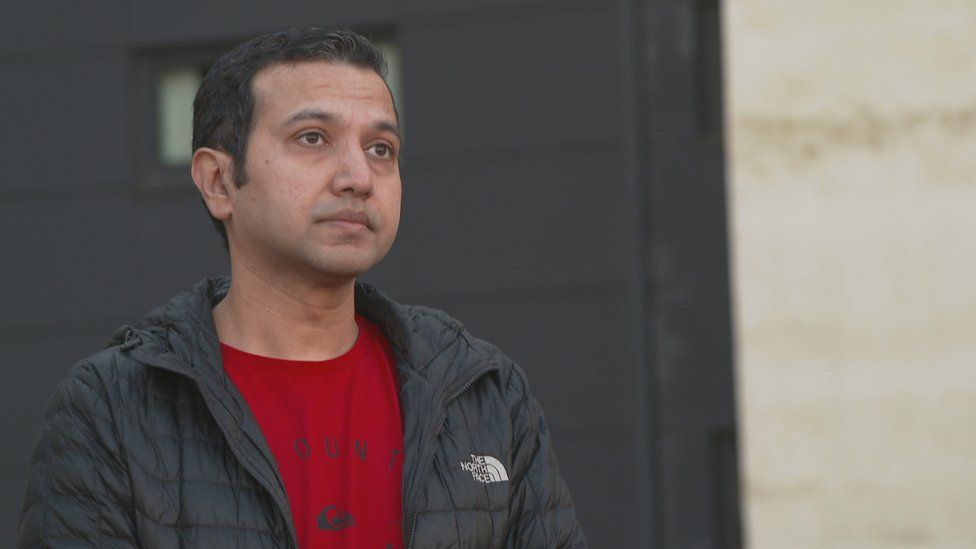 A man has described how he felt "trapped" after buying a flat on the banks of the River Clyde which is covered in combustible cladding.
Abhijeet Kadwe, 39, moved into the two-floor property in Glasgow with his family in May 2018.
But soon afterwards he discovered the block was covered in aluminium composite cladding, similar to that involved in the Grenfell Tower fire.
Mr Kadwe said his situation had been made worse by the Covid restrictions.
On Friday the Scottish government announced a free single-building assessment system to avoid residents paying for multiple inspections on one block.
It will also provide remedial funding for repairs, possibly as soon as August.
The ministerial working group on mortgage lending and cladding was set up in the wake of the Grenfell disaster in west London, which claimed 72 lives in June 2017.
'Nobody will touch it with a barge pole'
About 700 high-rise properties and many more at lower heights fall within the scope of the review.
Like many flat owners Mr Kadwe had to cope with spiralling insurance costs and the plummeting value of his home, which he bought for just over £210,000.
The business analyst told BBC Scotland: "Before this problem began, the flat was actually worth about £235,000.
"Now I would say it is almost worth zero."
Mr Kadwe revealed he had paid thousands for a so-called EWS1 form to work out the value of his home.
He added: "When we did that exercise some time ago, that resulted in our flat being given a B2 rating.
"That has resulted in our flat being worthless, because no banks will lend on a flat like this. Nobody will touch it with a barge pole, to be honest."
And Mr Kadwe admitted the pandemic has only made matters worse.
He said: "We were caught between a rock and a hard place. We weren't allowed to go out and at the same, we were feeling very unsafe in here.
"The fire could happen at any time. We kind of felt like prisoners, to be honest. We were trapped."
The ministerial working group published its final report on Friday and Housing Minister Kevin Stewart said the Scottish government would accept all of its recommendations.
These include putting in place a system of inspections which will look at entire buildings as opposed to single properties - in the same way as the current system, which is usually paid for by homeowners.
Mr Stewart said: "This is an important milestone for people who are living in buildings with cladding.
"I have heard personally from homeowners who have had to change their life plans or are living with real concern about safety - no-one wants that uncertainty and anxiety to continue."
He confirmed that assessments will start in June with remediation funding confirmed afterwards, possibly as early as August.
Mr Stewart added: "By funding the single-building assessments, we will have a clear picture of the scale of the issue.
"This will enable us to provide support for the remediation work required - I do not want people left facing unfair remediation costs."
The move will pave the way for ministers to financially support the remedial work needed on buildings.
More than £97m has been given to Scotland through the Barnett formula to deal with the issue, and Mr Stewart has pledged that "every penny" will be spent on the scheme.
But he also voiced concern that there may not be enough public funds to support all the work that is needed and called for clarity from the UK government over any further consequentials.
Mr Stewart also urged other parties, such as developers, to continue to play their part "where construction is not as it should have been".
John Sinclair, convener of the Law Society of Scotland, welcomed the minister's commitments.
He said: "The current situation has left homeowners very concerned about the safety of their buildings and a number have been unable to sell their properties.
"The assessment programme should begin as soon as is practicable to identify those buildings which require work, to help target the best use of the available funding and to help bring residents peace of mind about the safety of their homes."
Chris Ashurst, High Rise Scotland Action Group founder, said: "Owners and residents have been living in a state of uncertainty and fear over the safety and saleability of their homes.
"It is important that costs for assessments are borne by the Scottish government and not homeowners.
"I also welcome the fact that assessments will be undertaken by suitably qualified professionals working to a common standard, and will encourage collaboration between individual owners and residents, and factors. This pilot scheme for expression of interest starts within a fortnight."