Covid in Scotland: Foreign holidays 'less likely' as Europe cases rise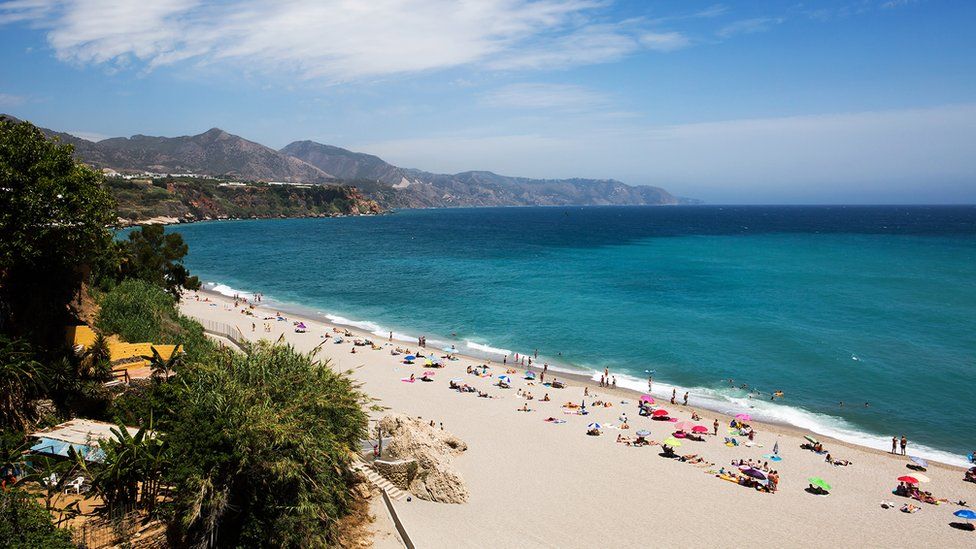 Scotland's national clinical director says foreign summer holidays in Europe are looking "less likely" as Covid numbers rise again in some countries.
Jason Leitch said the developments were a "cause for concern" but he was confident Scotland's routemap out of lockdown remained on track.
Eight deaths and 488 cases of Covid-19 were reported in the past 24 hours.
The rise in Covid infections in some European countries coupled with vaccine supply problems have prompted fears of a third wave of infections.
Prof Leitch told the BBC it was a "concern" but described the situation in Scotland as "stable and falling a little".
"We're at 75 [cases] per 100,000. Paris yesterday was at 400 per 100,000," he said.
"They're on the upward slope of a wave of the variant we are recovering from.
"So this is a worry for western Europe, for central Europe and eastern Europe. The numbers are increasing right across the continent.
"It should be a warning to us to be careful - careful of importation but also careful of our own numbers to drive those numbers as low as we can."
The estimate of the reproduction (R) number in Scotland rose slightly last week to between 0.7 and 1 - the first increase since early January - but the percentage of positive tests remains low.
Prof Leitch said he was confident "if we stick to our guns" the planned routemap out of lockdown would remain intact although "we may have to adjust here and there" as numbers fluctuate.
When the first minister outlined lockdown easing plans last week she said non-essential travel overseas was extremely unlikely before mid-May and may not take place for some time after that.
Asked if summer holidays abroad would be possible, he said: "It certainly makes it less likely for Scots. It's difficult to be definitive in March what will be true in July, but it certainly doesn't help.
"Most of these countries who are seeing upward spikes would now not have UK travellers. Remember travel is a two-way thing. You have to go but you also have to be received so travel is going to be a challenge for some months to come, whether you are French or Scottish."
Earlier, public health expert Prof Linda Bauld stressed there were important differences between the situation in Europe and Scotland.
She told Good Morning Scotland that some countries previously had far less stringent restrictions and they have vaccinated a smaller proportion of their population - 8.6% on average compared to more than 50% in the UK.
She also pointed out that rising cases in Poland were being driving by the B117 variant, the more contagious strain that started circulating in the UK before Christmas.
"I think the B117 variant accounts for the vast majority of their new cases and it's come later to that country because unfortunately we exported it so we were having to deal with it first, " she said.
The UK as a whole has hit the milestone of giving a first dose vaccine to 50% of the population, with Scotland's figure a few percentage points behind.
Prof Leitch said there were supply challenges but he believed the entire adult population would have received the vaccine by the end of July.
Almost 2.1m Scots have now had their first dose of the vaccine, according to official figures. Just over 19,000 people got their first dose on Friday.
This means 45.9% of the population aged 16 and over have now had their first jab. 207,000 have also had their second dose.
Across the UK as a whole, more than 50% of the population aged over 16 have now had their first dose.
The headline figure for Scotland is notably lower but within the country there are wide variations from health board to health board.
In many areas the proportion of adults who have received their first dose is already above 50% or within touching distance of this landmark.
The NHS areas where the milestone has been passed are Ayrshire and Arran, Borders, Dumfries and Galloway, Highland, Orkney, Shetland and Western Isles.
Lanarkshire, Fife, Tayside and Forth Valley have all vaccinated at least 48% of adults.
However in the three remaining areas - which include Scotland's three biggest cities - the percentage rate is much lower.
Grampian has given a first jab to 42.5% of adults - Glasgow and Clyde is just behind. In Lothian, the total is just 39.6%.
The data from these three areas inevitably pulls down the Scottish national total.
The official figures also show the progress of the vaccination programme in target age groups.
Almost 82% of 60-64 year olds, 46% of 55-59 year olds and nearly 37% of those aged 50-54 have had their first jab.
The Scottish government says it is on target to vaccinate everyone aged over 50, unpaid carers and people aged over 16 with underlying health conditions by mid April.