Citizen's Assembly: 'Ordinary folk' outline climate change plan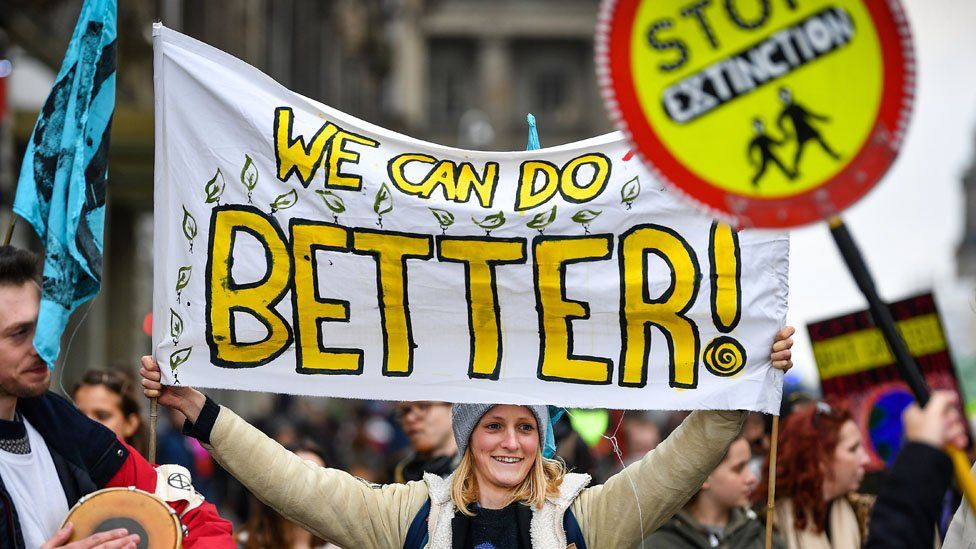 Individuals need to play their part in tackling climate change, according to a report by Scotland's Climate Assembly.
The interim report calls for politicians to have the courage to act now to help reduce carbon emissions.
Scotland's Climate Assembly was set up to allow people to make recommendations on tackling climate change.
The assembly is made up of about 100 people who broadly represent Scottish society and is designed to influence decision making at Holyrood.
Their report concludes that everyone has a part to play in minimising the use of energy.
Another issue is reducing the carbon footprint caused by consumption, according to the report, with members citing the need to get people to buy fewer new goods.
The assembly has set out 16 goals agreed by a consensus of members for tackling the climate emergency in a fair and effective way.
These cover a broad range of issues including domestic heating, taxation and the economy.
Ruth Harvey, co-convener of the Climate Assembly, paid tribute to the group's members for "grappling with so much complex, technical evidence".
She added: "This is a learning journey I believe all of us in Scotland now need to take together.
"For the first time, ordinary folk are today setting out for our parliament a concrete programme so that Scotland can take the lead in tackling the climate emergency."
The assembly's full report, which will include specific recommendations for the next Scottish government, will be published in May after the Holyrood election.
Scottish government ministers will then, by law, have six months to say how they will respond.
The Climate Assembly is the second citizens' assembly to be held in Scotland
The first made a series of recommendations aimed at improving how the country is run, including making all employers pay the living wage and devolving further powers over tax and immigration.
Are we prepared to make sacrifices in our behaviour as consumers to help save the planet or is it simply a matter for government and industry?
Often the policy discussion on tackling climate change focuses on the big picture.
For instance, the debate is usually over how more electricity can be generated from renewables or how goods can become more efficient - not whether as consumers we should try to use less energy.
Environmentalists fear that climate change could run out of control.
Yet changes which involve actually asking for sacrifices in our material standard of living can be a big ask - even where people say they want to do the right thing.
Some consumers already do their best to avoid being part of the "throwaway society" but can this be enforced by the state?
Some would see it as an investment to buy quality furniture which lasts decades or buy lovingly restored, "upscaled" furniture.
Others could see buying old or second hand goods as simply a necessity for those who cannot afford something new.
There is also "fast fashion" - some may not be too concerned about buying a T-shirt made thousands of miles away which they soon throw away.
Talking the talk is often easier than walking the walk.
But can certain changes in behaviour which may involve a degree of personal sacrifice be turned into positives?
Is the role of lawmakers to enforce or actively incentivise some of them?
Or have some politicians over the years been too quick to simply assume the consensus is for a consumer culture and ever-rising standards of material wealth?