Covid in Scotland: Swinney says pupils 'have learnt a lot' in lockdown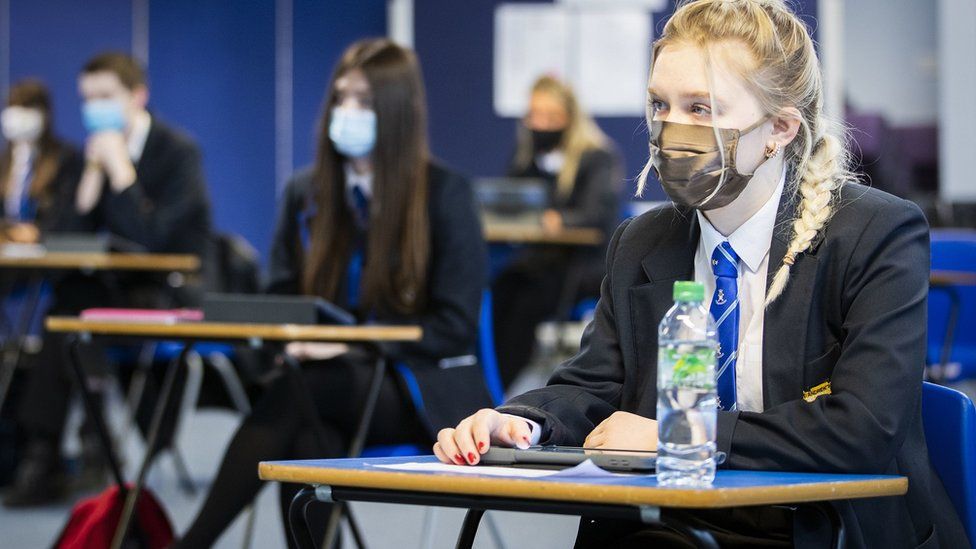 Scotland's Education Secretary John Swinney has said there have been "benefits and advantages" to pupils learning at home during lockdown.
Appearing before Holyrood's education committee, he questioned the idea of "education catch-up".
Mr Swinney said he had received feedback saying that despite the disruption "young people have actually learnt a great deal".
However, he added that individual pupils would require ongoing support.
The minister's comment came after Labour MSP Daniel Johnson asked what "strategy" would be in place in the next academic year to identify learning gaps and produce an educational catch-up policy.
Mr Swinney said: "Despite disruption to learning, young people have actually learnt a great deal during the process of disruption."
He added: "If I can use the words of Mr Johnson's question, and words that are extensively used in media debate, of catch-up, I think young people have been learning a lot during lockdown.
"They have been learning a lot through remote learning led by their educators, but they have learnt a lot outwith that formal education and I think we should recognise that there are benefits and advantages in all of that.
"But crucially we have to focus on the needs of individual young people in supporting their learning outcomes."
Mid-April for full school return
When Scotland's schools finished for the Christmas break in late December, they remained closed until a gradual opening up in February.
All primary children are now back in the classroom full-time and all secondary pupils are learning part-time at school.
However, high schools are not due to return full-time until about 19 April. Mr Swinney said a firm decision would be made about that date when a special education steering group meets on 6 April.
During First Minister's Questions, the Conservatives' Holyrood leader Ruth Davidson challenged Nicola Sturgeon on the education "catch-up" issue.
She said: "There is simply no way that pupils who would otherwise have spent the entire year in class can have done anything other than fall behind - the only question is how far."
Ms Davidson said everything possible must be done to help pupils catch up after "the better part of a year out of the classroom".
The first minister said she thought it was "really important" for the Scottish government to support young people to catch up.
However, she added that it was also important to recognise the impact on their wider wellbeing and mental health.
She said a holistic approach was important and that "education is part of that but it is not the only part of that".
The Conservative added that the report claimed those in the most challenging circumstances had been most affected by school closures due to Covid.
She said the gap was "deeply entrenched" in Scotland, which was a "serious problem".
But Ms Sturgeon insisted "demonstrable" progress had been made on many measures including overall exam performance.
However, she acknowledged progress had been hampered by the pandemic.
Scottish Liberal Democrat leader Willie Rennie also raised the attainment gap and said the government's performance on education fell short.
The SNP have been in power at Holyrood for 14 years now, he said, and it was six years since the first minister had pledged to close the attainment gap.
He said: "The first minister said judge me on education - now is the time for people to judge."
He asked Ms Sturgeon if she accepted she had had time and had not done enough.
She said she did not accept that, and that in the upcoming election she would be straight with voters about the challenges she had faced, and what she intended to do.
She added that the Audit Scotland report recognised it would take time to achieve further progress and that Covid had hampered it.
The Scottish Greens' Alison Johnstone said the link between poverty and attainment could not be overstated. She said more had to be done to reduce child poverty.