Independent MSP Andy Wightman defends Holyrood inquiry report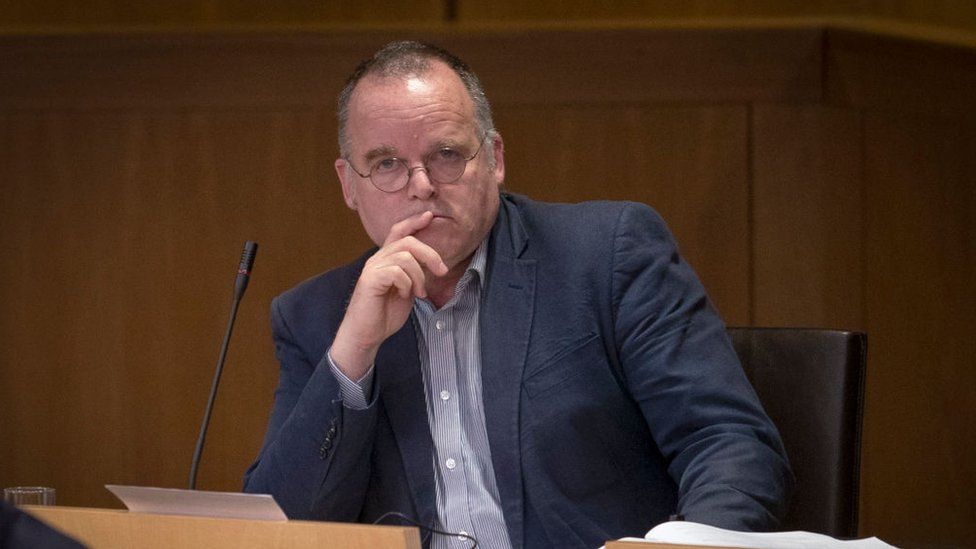 The independent MSP who had a crucial role on the Alex Salmond inquiry has dismissed claims its conclusions were based on "supposition and smear".
The inquiry's report, issued on Tuesday, said there were "serious flaws" in the government's handling of complaints against Mr Salmond.
And a majority of members said Nicola Sturgeon had misled the committee.
A spokesman for the first minister said the group had "resorted to baseless assertions" due to political motives.
But Andy Wightman - the independent MSP on the committee - said this was "not fair at all" and an "inaccurate characterisation".
He told BBC Scotland's Podlitical podcast that there was a "stunned silence" in a committee meeting when MSPs heard their conclusions had been leaked to the media, and that "one or two people walked out".
And the MSP said there should be accountability for the "series of mistakes and errors and lapses in judgement" by the government during its botched investigation of Mr Salmond and the court challenge which followed.
The inquiry was set up in 2019 after the government conceded that an internal investigation of two harassment complaints against Mr Salmond had been "unlawful". The former first minister, who had launched judicial review proceedings at the Court of Session, was awarded more than £500,000 in costs.
However the cross-party committee was put on hold after separate criminal charges were filed against the former first minister, and it only began its work after he was acquitted in a High Court trial in March 2020.
The committee's report was finally published on Tuesday, with members unanimously critical of the government's approach to the complaints process and the civil case - while a majority of them said Ms Sturgeon had misled them in her written testimony.
Mr Wightman's role was crucial, with the four SNP members voting together on most issues and the two Conservative, one Labour and one Lib Dem MSPs doing likewise - leaving him effectively acting as the swing vote.
Quotes from a private session with the two women who originally made complaints were also disclosed to a Sunday newspaper, leading them to submit a formal complaint to the parliament.
After the draft conclusions were leaked on Friday, a spokesman for Ms Sturgeon said the group "appears to have resorted to baseless assertion, supposition and smear", and said MSPs were "simply exposing their base political motives".
The spokesman also claimed that "the committee appear to have deliberately ignored and suppressed evidence submitted to them that corroborates the first minister's evidence".
Mr Wightman - who joined the inquiry halfway through as a substitute for Green member Alison Johnstone, before later quitting the party - said this was "not fair at all".
He said he could understand that "the weekend was difficult for the first minister and her team because of the leak of the more controversial recommendations and conclusions of the committee", which had been leaked in the middle of a meeting.
He said: "As I recall, [SNP member] Alasdair Allan was making a contribution and he got interrupted by the convener, and she doesn't normally interrupt people, to say that she'd had a text from the parliament's media office to say that there were reports out there - I think Sky News had it - of our conclusions.
"There was a kind of a kind of stunned silence. One or two people walked out. It's been at times quite tense, there's been difficult conversations we've had about process.
"So in a sense it was the culmination of quite a bit of tension. I wouldn't say it was very pleasant because I suppose we all think that it must have been one of the committee because these draft recommendations were circulating that day amongst committee members.
"So I don't know who leaked it, but getting back to the first minister I can understand, I suppose, her reaction. They didn't know what Hamilton was going to say. But it was wrong of them to say that - it was an inaccurate characterisation."
Listen to the full interview with Andy Wightman on the latest episode of Podlitical here or wherever you get your podcasts
Mr Wightman said the committee's report would have had more impact had its conclusion been kept until until its scheduled publication date, and said the leaks were "deeply regrettable".
And he said the evidence of the complainers being made public in a Sunday newspaper was "arguably the most serious breach", because the women had initially refused to give evidence due to "concerns about the committee and confidentiality".
He said: "They were very open with us, and they trusted us and it was very moving and powerful.
"It was really rewarding because this was candid, frank evidence we were getting from people, and prior to this we'd just been getting evidence from politicians, and we have scepticism as to whether they are telling the whole truth all the time, and we had evidence from civil servants who were naturally kind of dry and reserved.
"But here we had two real people in the real world talking about real things and it was quite refreshing. So that was a real breach not only of the MSP code of conduct, but of their trust."
All parties have condemned the leaks, with several hitting out during a Holyrood debate on Tuesday.
Mr Allan told MSPs that hearing of the leak of the complainers' evidence was "the low point" of his 14 years in parliament.
He added: "To say that our committee leaked like the Titanic would be to do a disservice to Harland and Wolff - the Titanic leaked only once."
Scottish Green co-leader Patrick Harvie said the leaks were "a disgraceful betrayal of trust", and said that "any political party that wants to come out of the episode with a shred of credibility will do whatever it takes to identify the culprits and ensure they are not able to stand for re-election".
Scottish Conservative group leader Ruth Davidson said the leak was "both damaging and wrong", and said her party would back "any investigation into that wrongdoing", while Labour's Jackie Baillie told BBC Scotland that she would "absolutely" support an inquiry into the "entirely inappropriate" leak.