NHS staff in Scotland to be offered 4% pay rise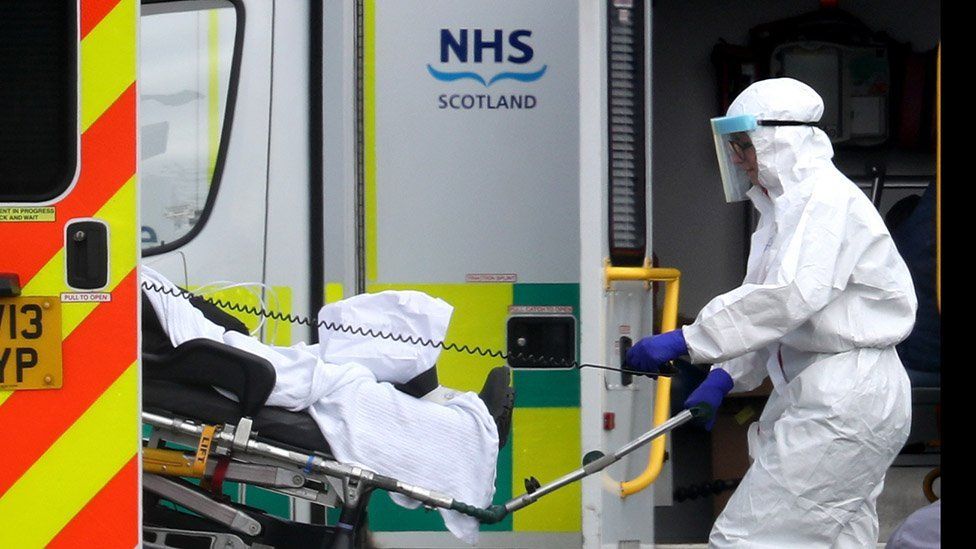 NHS staff in Scotland are to be offered a pay rise of at least 4%, the Scottish government has confirmed.
Nurses, paramedics and domestic staff are among those who could receive the boost to their salaries.
Health Secretary Jeane Freeman said the average pay of a front-line NHS nurse would rise by over £1,200 a year.
She said the offer - which does not apply to doctors - recognised the "service and dedication" of staff during the pandemic
The settlement will be backdated to 1 December 2020 in recognition of an "exceptional year of significant pressure".
It follows the £500 thank you payment for all health and social care workers which was announced by First Minister Nicola Sturgeon in November.
Earlier this month Prime Minister Boris Johnson defended plans to give some NHS staff in England a 1% pay rise.
He praised "heroic" health and social care workers but said the rise was as much as the government could afford during the "tough times" of the pandemic.
Ms Freeman described the Scottish government's offer as "the biggest single pay uplift since devolution" for NHS Agenda for Change (AfC) staff.
AfC is the current grading and pay system for NHS staff. It does not include doctors, dentists, executives and senior managers.
Across cycles of economic growth and contraction, public sector pay remains stable while private sector pay is more volatile - racing ahead in the good times, taking the bigger hit and redundancies when they turn tough.
So when private employer competition for skilled workers is lower, public sector pay increases can be reined in.
However, the Scottish government has opted to boost pay, going against that cycle and in contrast with the 1% offered to NHS staff in England.
Coming at the end of a three-year 9% pay deal, the cost looks to be about £135m next year, and unlike the £500 one-off NHS payment last year, it is baked in to future pay rises.
NHS staff have political support, so it makes sense ahead of an election. However, with a balanced budget required, a pound spent on pay cannot be spent on others who have been at the Covid battlefront - for instance, care home workers, those in the voluntary sector, welfare benefits for unpaid carers.
A further consideration in NHS pay is that demand for scarce skills is on the rise, without easy access to EU labour, with doctor retirement, many GPs working part-time and loss of medical expertise overseas. This is one sign of the measures the NHS has to take to ensure it recruits and retains the staff it needs.
She added that it would benefit 154,000 staff and including domestic staff, porters and health care support workers.
This group, which she described as "the backbone of our services" would see pay rises of more than £1,000, the equivalent of between 4% and 5.4%.
Those on the highest salaries will receive a £800 pay rise.
Ms Freeman said: "This has been an exceptionally challenging year for our health service and I am pleased that the Scottish government is able to recognise the service and dedication of our healthcare staff."
The announcement follows ongoing negotiations between the Scottish government, NHS employers and unions, who will now consult their members on the offer.
And the offer is significantly higher than the pay rise proposals for other public sector workers.
This is not just a bumper pay offer for many NHS workers in Scotland, it is a powerful negotiating tool for health unions trying to prise more cash from the UK government.
It is hard to imagine nurses and other healthcare staff in England settling for a proposed 1% rise when their colleagues in Scotland are receiving 4%.
That contrast will presumably not go unnoticed by the independent pay review panel in England which is due to make its recommendations in May.
In Scotland, details of the new pay offer were released just hours before the start of the Holyrood election campaign, during which governments are obliged to avoid making big spending announcements.
It may lead to a wider debate in the campaign about how other public sector workers are rewarded and the support available to those in the private sector struggling as a result of the Covid crisis.
In her budget, Finance Secretary Kate Forbes announced a 3% rise for people earning under £25,000, with 1% for people earning up to £80,000 a year.
She called it a "progressive and restorative approach" but unions said it was disappointing after a year of working through the pandemic.
Colin Poolman, Royal College of Nursing Scotland senior officer, said: "The timescale for negotiations was tight as a result of the forthcoming election but we have now received an offer for a one year pay deal."
Willie Duffy, Unison regional organiser, said that each of the individual trade unions would now enter into discussions with their members on the offer.
He told BBC Radio's Good Morning Scotland programme: "There will be a view that it's not enough but we managed through the negotiations to get extra money into the pay envelope."
He also compared the offer to the 1% offered in England by the Westminster government.
He said: "It shows the stark difference between the two governments and their attitude to trying to deal with health service workers."
All of Scotland's main opposition parties have made the NHS a central part of their appeals in the forthcoming Holyrood election.
The Scottish Conservatives have promised to deliver an increased share of funding to GPs.
Scottish Labour's health spokeswoman Jackie Baillie said the NHS pay offer was welcome but it did not consider social care workers, whom she called "the unsung heroes of the pandemic".
Ms Baillie said Scottish Labour was committed to a wage rise to £15 an hour for the social care workforce, with an immediate increase to £12 an hour.
The Scottish Greens have pledged support for a properly funded publicly-owned NHS Scotland while the Scottish Liberal Democrats are promising a "decent" pay rise for NHS staff.