Renewables met 97% of Scotland's electricity demand in 2020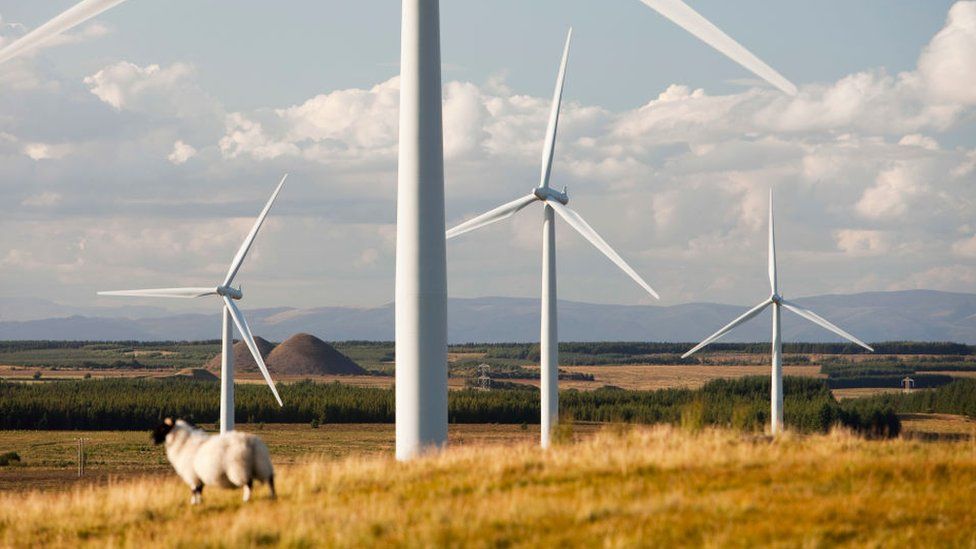 Scotland has narrowly missed a target to generate the equivalent of 100% of its electricity demand from renewables in 2020.
This target was set in 2011, when renewable technologies generated just 37% of national demand.
Industry body Scottish Renewables said output had tripled in the last 10 years, with enough power for the equivalent of seven million households.
Chief executive Claire Mack, said: "Scotland's climate change targets have been a tremendous motivator to the industry to increase deployment of renewable energy sources.
"Renewable energy projects are displacing tens of millions of tonnes of carbon every year, employing the equivalent of 17,700 people and bringing enormous socio-economic benefits to communities."
In 2019 Scotland met 90.1% of its equivalent electricity consumption from renewables, according to Scottish Government figures.
Scotland has some of the most ambitious climate targets in the world, with its Climate Change Bill setting out a legally binding target of reaching net-zero emissions by 2045.
By 2030, ministers want renewable energy generation to account for 50% of energy demand across electricity, heat and transport.
Ms Mack, added: "Domestic and commercial transport accounts for almost 25% of the energy used in Scotland, with heat making up more than half, as well as more than half of its emissions.
"Currently 6.5% of our non-electrical heat demand is generated from renewable sources.
"Industry and government must continue to work together if we are to fully realise our potential to meet net-zero by 2045."
Scotland has been moving away from burning fossil fuels, with the last coal-fired power station, Longannet, closing in 2016.
The only remaining gas-fired power station is at Peterhead in Aberdeenshire.
'Cheap, clean renewables'
Onshore wind delivers about 70% of capacity, followed by hydro and offshore wind as Scotland's main sources of renewable power.
WWF Scotland praised the new figures, but said more needed to be done to cut emissions from transport and heating.
Climate and energy policy manger, Holly O'Donnell, called for an acceleration in the roll-out of electric vehicles and grants for renewable heating in Scotland.
She said: "Not only do renewables reduce the impact of our electricity use on the climate, they are also generating jobs and income for communities around the country.
"In order to cut the climate emissions from the transport and heat sectors we will need to continue to increase our use of cheap, clean renewables."