GMB union urges members to reject 4% NHS pay rise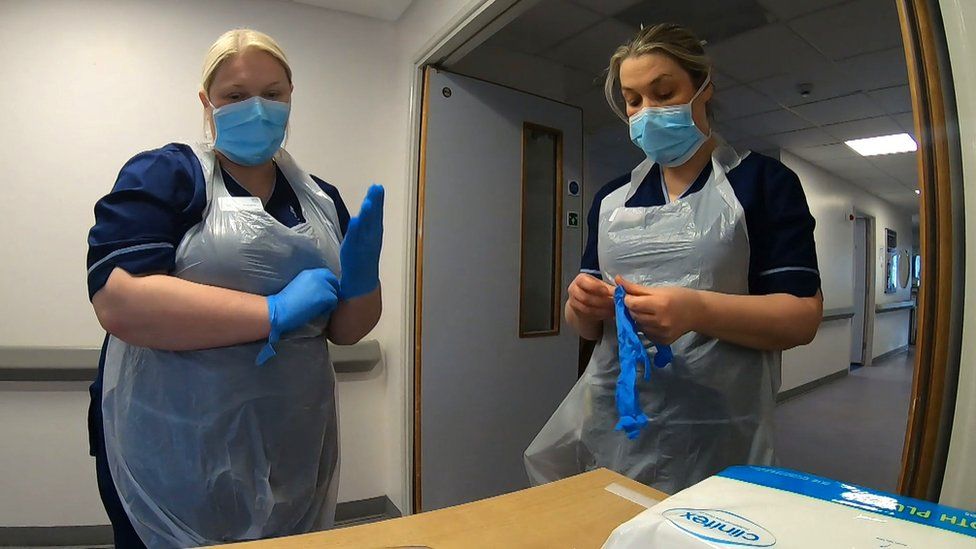 The GMB union has recommended its NHS and Scottish Ambulance Service members vote to reject the Scottish government's 4% pay offer.
The proposal will affect 154,000 staff including nurses, porters and health care support workers.
Unison and Unite have put the offer to members without recommendation, while the RCN is considering its position.
Health Secretary Jeane Freeman said the proposal recognised the "service and dedication" of staff during the crisis.
It compares favourably with England where some NHS staff have been offered a 1% pay rise.
But GMB Scotland Organiser Karen Leonard said the Scottish government's proposal "doesn't go far enough".
"These workers have faced a decade of cuts, a decade of austerity, and when you look at the pay gap, had these workers been getting inflation-rated pay the gap is 14%.
"A nurse, for example, right now has probably lost about £5,000 from where they should be. A porter and a catering worker is down about £2,000.
"So what would be enough? Enough would be restoring the pay that these workers deserve."
The union's ballot will run from 12 April to noon on 5 May.
Last week Ms Freeman said the average pay of a frontline NHS nurse would rise by over £1,200 a year.
She confirmed the pay offer - which does not apply to doctors - will be backdated to 1 December 2020 in recognition of an "exceptional year of significant pressure".
It follows a £500 thank you payment for all health and social care workers announced by First Minister Nicola Sturgeon in November.
Unison described the proposal as a "serious offer" but said the decision on whether to accept it would lie with its members.
Both Unite and the Royal College of Nursing Scotland said it would up to members to decide if the proposal for NHS Agenda for Change (AfC) staff is enough.
Those on the highest salaries will receive an £800 pay rise while lower earners would see an increase of more than £1,000, the equivalent of between 4% and 5.4%.
AfC is the current grading and pay system for NHS staff. It does not include doctors, dentists, executives and senior managers.