Covid in Scotland: How are the numbers looking?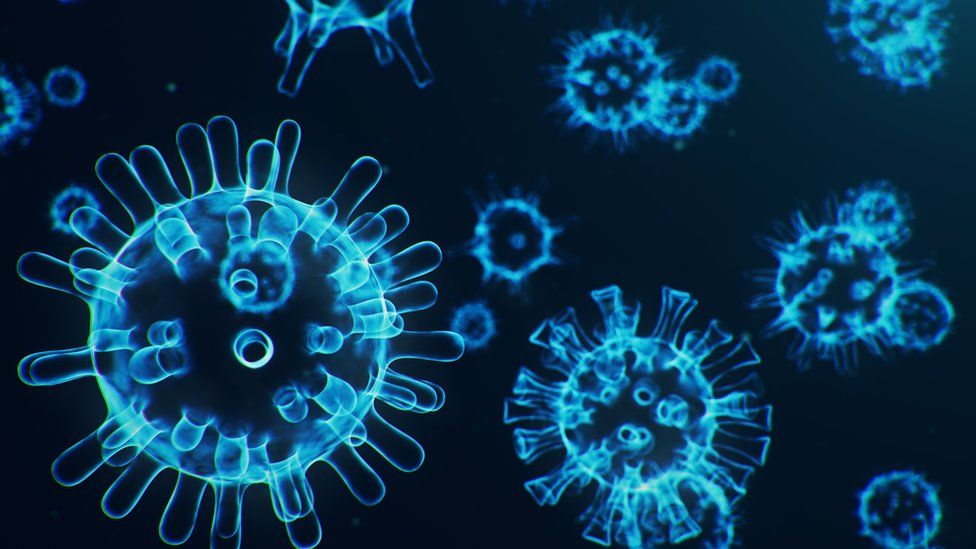 After three months of lockdown the tough restrictions are finally beginning to ease - but with the caveat that it's all dependent on continued progress in tackling Covid. So how are the numbers looking?
The lockdown delivered a steep and steady decline in case numbers throughout January and February - but the first weeks of March saw a small increase.
The most recent data suggests case numbers are now falling again, although at a slower rate than we saw earlier in the year.
There were 66 weekly cases per 100,000 of population - a similar rate to that observed at the end of September.
Scotland no longer has the highest proportion of people becoming infected, having been overtaken by Northern Ireland, but the rate of infection is still higher than in either England or Wales, according to the Office for National Statistics (ONS).
Case rates have declined among all age groups but the falls have been most marked among the over-80s.
The latest estimate of the reproduction (R) number - a measure of the disease's ability to spread - is between 0.8 and 1, unchanged from last week.
While overall case rates have come down, there are wide geographical variations with local outbreaks keeping infection rates stubbornly high in a number of council areas.
Clackmannanshire currently has the highest weekly case rate in Scotland reporting 165 cases per 100,000 population in the last week.
West Lothian, North Lanarkshire and Renfrewshire also had seven-day average rates above 100 cases per 100,000 population.
Sharp increases in infection have recently been observed in Angus, East Dunbartonshire, Moray and North Lanarkshire.
At the other end of the scale Shetland, Argyll and Bute, Na h-Eileanan Siar and Orkney each reported 10 or fewer cases per 100,000.
Under the Scottish government's plans for easing lockdown, it is hoped all mainland council areas will be able to move initially to level three from 26 April but rates of lower than 50 cases per 100,000 population will be one of the benchmarks for going down to level two.
It's important to stress that the case rate is only one of the factors that will determine such decisions on levels, with other considerations including, for instance, the capacity of the NHS locally to cope with the situation.
The number of people in hospital with confirmed Covid peaked on 22 January at 2,053 which was well above the first wave peak.
The most recent figure, which will not be updated until after the Easter break, is 215 people in hospital, 21 of them in intensive care. In addition there were another 18 people who have been in ICU for longer than 28 days.
The latest modelling predicts that both hospital bed and ICU occupancy will continue to fall, however it is possible that this will plateau or even rise again slightly depending on factors such as the impact of more pupils returning to school.
Before the start of the Easter break a slight increase in infections among children was observed, although this could have been down to the wider availability of asymptomatic testing.
In the week to 28 March there were 61 deaths where Covid was mentioned on the death certificate - an 8% decrease on the previous week.
By comparison, during the first wave in April last year the equivalent figure was 663.
In mid-December more than a third of deaths were occurring in care homes but that has now fallen to about 8%.
Scotland, however, does have the highest daily rate of deaths in the UK - 0.1 per 100,000 population compared with 0.07 in England, Wales and Northern Ireland.
More than 54% of the adult population have now received a first dose of a vaccine - that's more than 2.5 million people.
That figure includes 34,000 care home residents and 51,000 care home staff.
While it has been hard to unpick whether the falling death rate is due to lockdown or vaccination, there is now evidence the vaccination programme is leading to decreasing hospitalisation and deaths.
Vigilance is required though as it is not clear yet how effective existing vaccinations will be for some new variants of Covid-19.
The more infectious variant, known as the UK variant, is currently the dominant strain in Scotland.
However, there have also been 22 confirmed and five probable cases of the "South Africa variant" as well as three confirmed and one probable case of the "Brazil variant".