Covid in Scotland: Carry on staycationing
Douglas Fraser
Business/economy editor, Scotland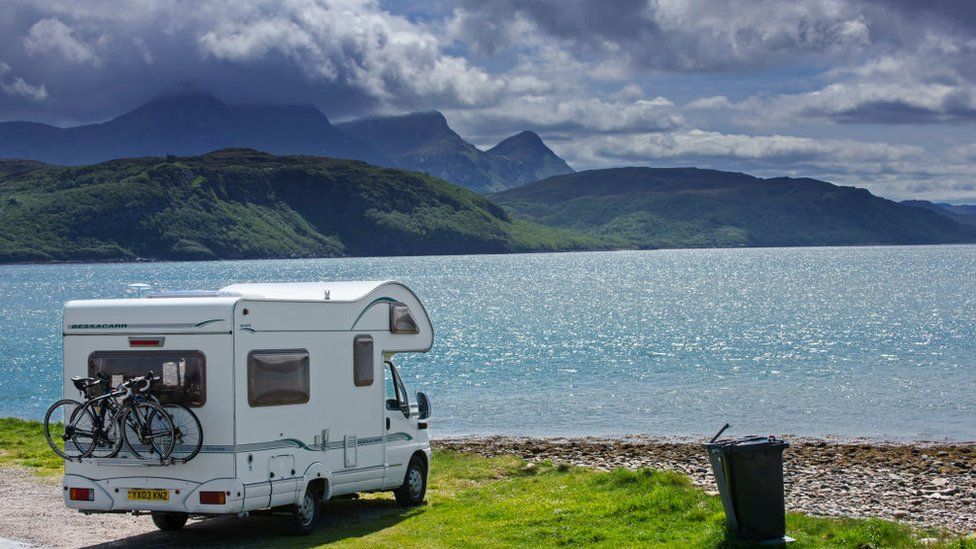 England and Scotland have different approaches to talking up or talking down the prospect of foreign travel. Neither makes it look likely any time soon, and the aviation sector is frustrated.
Without that, British Summer Time brings a bumper prospect for staycationing. That's if travel boundaries are erased. But travel links with Scotland's islands or across the border at Gretna and Berwick shows no sign of relaxation.
Survey evidence points to pressure points from July, in self-catering and in the Highlands
Is the best part of a holiday the reality, or the preceding months of anticipation? In Downing Street, they seem to rate the latter.
The prime minister's team is eager to please and to give England back its birthright of freedom. There seems to be a strategy of teasing those most eager to get back in the air, on to foreign beaches, vying with Germans to book the best sun-loungers.
That doesn't mean foreign travel is brought forward - only that it makes the prospect more real. The light remains at red for now, it's easily understood, and more countries were added last week to England's "red" list for required quarantine.
Meanwhile, talk of Covid passports is becoming a new front on which the prime minister has to mind out for his party's stroppy wing of libertarians and serial rebels.
At St Andrew's House in Edinburgh, they're much more cautious. At election time, you might expect the administration to be at least as eager to please. But it has seen the Downing Street operation get ahead of itself, leading to things going badly wrong.
Hence, talk of foreign travel is discouraged. There still isn't a date for crossing the border on non-essential business, let alone flying to Malaga.
To go beyond the UK is to venture into territory where vaccination cover is much less extensive - notably in the European Union, but even more so in more exotic locations in Africa or Asia.
That said, there are a lot of people eager to start outbound travel for their summer holiday. Facing the prospect of being last to re-open, the travel industry is desperate that testing protocols should be put in place at scale to allow that to happen.
The chief executives of British-based airlines wrote to the prime minister yesterday. They said: "We believe vaccinated passengers should not be subject to travel restrictions and that testing can also reduce the barriers to travel including for areas that are considered to present some risk. Only very high-risk areas would be subject to more stringent measures".
They went on: "Digital solutions are also already making it easier for customers to provide verifiable health data, and these will help industry and authorities alike ensure travel can return smoothly and safely".
Parts of the industry are just as frustrated that international travel is so often perceived as the means for British people to get to the sun in summer. A lot of businesses depend on inbound foreign tourists, who spend a lot more per head.
The upside of all this is that there is the prospect of a truly bumper year for Scottish staycations - if we are allowed to travel, and we aren't stuck on the wrong side of a boundary between different levels or tiers of rules.
If the data look ripe, mainland travel within Scotland will be allowed from 26 April. Expect a rush from the cities to the hills and the coast.
However, there's a different approach to island tourism. There's little mention, let alone a date, allowing travel between the mainland and Scottish Islands - and there are loud complaints form Brodick to Benbecula to Burra Sound that they're facing an unexplained "discrimination" and millions of pounds in lost bookings.
On 23 March, when quizzed in the Scottish Parliament the first minister explained that she intended to discuss with island representatives "whether, as the rest of the country goes down to level three at the end of April, as I hope it will, our island communities will stay at level three or go down to level two, which the data will probably justify.
"If our islands were at a significantly lower level of restrictions, with hospitality more open, we would need to protect them from the possible importation of cases. There might therefore be merit in their staying at a similar level of restrictions, to allow people to travel to see loved ones, for example."
That seemed to indicate a priority for family visits over tourism, which could create another source of frustration for the travel sector
Only recently published is a survey for the industry of 500 Scottish adults, to better understand the market and how it's changed. To be clear, it's not the usual and more reliable sample of 1000-plus, but it's worth a look.
In the first half of last month, market research firm 56 Degrees found that 22% of people were not even thinking about planning a holiday; 27% were not planning one any time soon.
More than half want to take a holiday before long, most likely delaying until July to September; 12% are desperate to travel, and will do so as soon as they can.
Some 70% are sure, likely or planning to have a holiday at home this year, while 40% are looking overseas. Clearly, some anticipate both.
Within Scotland, more than half want to holiday in the Highlands. City breaks look less attractive without bustle, nightlife, busy shops, bars, restaurants or theatres.
There's some anxiety about cleanliness of the places people stay. The survey registered a huge 25 point swing to a preference for self-catering since the Covid crisis began.
And 56 Degrees found that 11% were planning last month on taking to the road in a campervan.