Covid in Scotland: Alternative vaccines for 700,000 under-30s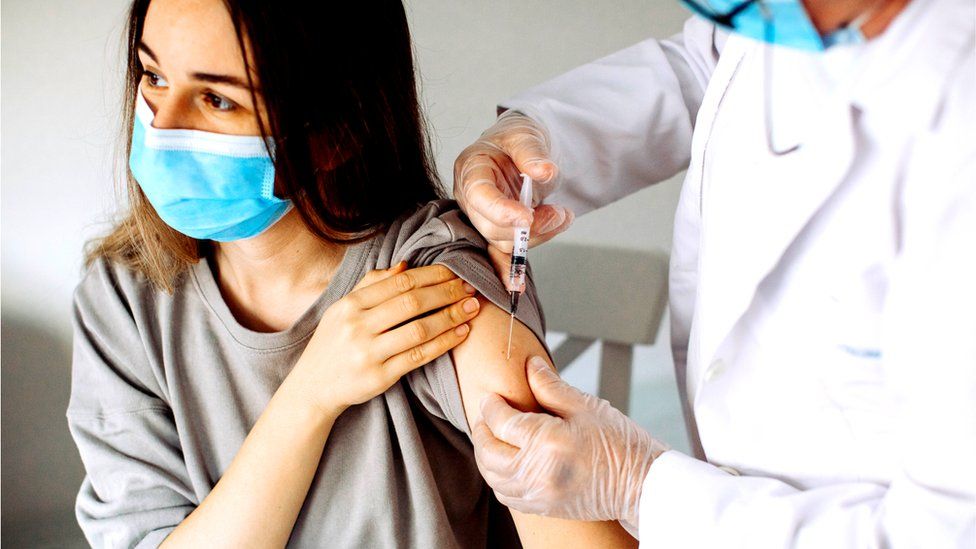 About 700,000 people under the age of 30 are to be given alternatives to the AstraZeneca vaccine in Scotland.
National clinical director Prof Jason Leitch said that age group would be given the Pfizer and Moderna jabs.
And he said Scotland remained on track to offer all over-18s their first dose of the vaccine by the end of July.
UK vaccine advisers say the under-30s should be offered a different vaccine due to evidence linking AstraZeneca jabs to rare blood clots.
The regulator said this was not proof the AstraZeneca jab had caused the clots, but it said the link was "getting firmer".
On Wednesday, it was announced that people under the age of 30 should be offered an alternative Covid vaccine.
Prof Leitch said the risks were "vanishingly small" and urged people to take up the offer of a vaccination.
Prof Leitch said: "The JCVI said two important things.
"If you are under 30 and there is an alternative vaccine - use that. If there is not, go ahead and get the vaccine."
He said it was a matter of weighing up the risk-benefit situation.
"If there was only AstraZenica in the world and there was no other vaccine available, the MHRA advice would be to keep going," he added.
"But we have got an alternative, in fact we have got two - Pfizer and Moderna - and others in train to come."
Prof Leitch said that if someone ended up in intensive care, they had a one in four chance of developing a serious blood clot, which he said "knocks the other risks out of the park".
He added: "Vaccinating everybody and everybody turning up for their appointments is the crucial message.
"The vaccines are safe, effective and are available."
More than 2.5m people in Scotland have had their first dose of a vaccine. The target is to offer all adults a jab by the end of July.
So far, about 150,000 under-30s have had their first dose. This includes people from priority groups, such as health care workers and over-16s with underlying health conditions.
Prof Leitch said about 700,000 people under the age of 30 had still to be vaccinated.
Health authorities have stressed the vaccine is safe and for the vast majority of people the benefits outweigh the risks of getting Covid.
But they did want healthcare professionals to be aware of the symptoms that develop four or more days after they get the vaccine - severe headaches, vision loss, but they are very rare.
The risk of getting a blood clot is four in a million and the risk of dying is one in a million.
But because of that evidence review, led the JCVI, they have recommended that people under 30 be offered an alternative because there are several available.
It is key now that this doesn't dent overall confidence in the vaccine programme. The regulator still insists the benefits of the vaccine far outweigh the risks for the vast majority.
Covid is still a real danger and it's only when there is population-wide protection that we can be confident the disease is under control.
Those who have already been given the first AstraZenica dose will go on to get their second.
Speaking later during a coronavirus briefing, Prof Leitch said the modelling suggested that the developments would not delay the end of July target for all over-18s to be offered a first dose of the vaccine.
He added: "I imagine that when we go to that stage, we may be asking them (the under-30s) to travel a little bit more because Pfizer and Moderna are freezer vaccines, not fridge vaccines, and therefore the logistics of it are slightly more difficult.
"That might slow somewhere in those middle weeks, but I actually believe we can get to July in time and the pace will be exactly as the supply allows it to be."