Douglas Ross 'not sure' if PM Boris Johnson will campaign in Scotland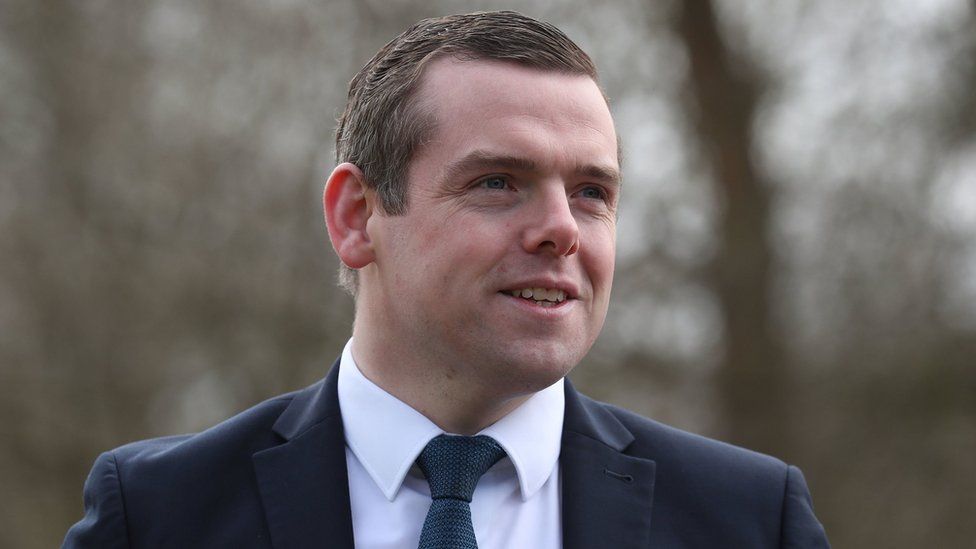 Boris Johnson may not join the Scottish Conservatives to campaign in Scotland, party leader Douglas Ross has said.
Mr Ross said he was "not sure" whether the prime minister would travel from London, despite having previously expected his support in person.
He told BBC Radio Scotland people would understand that the 6 May election was very different because of the pandemic.
In a visit to Scotland in January, Mr Johnson said "wild horses" would not keep him away from the campaign trail.
Speaking in an interview with the Good Morning Scotland programme on Thursday, Mr Ross said: "I'm not sure if he is going to come up. I previously expected him to come up.
"Last time he was up here he was supporting our vaccinators. He was looking at how we were getting the vaccine rolled out across Scotland.
"Now we are in an election campaign it is very different because he wouldn't be coming up to speak to a big meeting or doing a massive visit as previous leaders have done.
"We've seen all the party leaders in Scotland having to tackle this in a very different way because we are still living under significant restrictions."
Mr Ross added: "The prime minister is clearly fully in touch with what we are doing here, but he understands it is my campaign as leader of the Scottish Conservatives.
"It is our manifesto, he is absolutely behind what we are doing in Scotland. He knows our fight is as Scottish Conservatives and he is backing that as prime minister of the United Kingdom."
Boris Johnson is a central part of the Holyrood election campaign - but not for the Conservatives.
The prime minister is constantly popping up in SNP campaign adverts and speeches, but Douglas Ross has confirmed there are currently no plans for him to feature on the ground for the Scottish Tories.
Both of these facts may have something to do with the suggestion from pollsters that Mr Johnson is not a hugely popular figure north of the border.
But there may also be a calculation on the Tory side that he is actually more helpful to their cause in London, fronting Covid-19 briefings and underlining that the pandemic is still a live issue.
All things considered Mr Johnson would probably be happier rolling up his sleeves and diving into the constitutional debate - he previously said wild horses would not keep him away from this election - but this could play right into the SNP's hands, given their messaging about Scotland's future being Scotland's choice "and not anybody else's".
The Conservative mantra meanwhile is that the focus should be on recovery, not referendums - and thus Mr Johnson is better off setting an example of that behind a lectern in Downing Street, rather than in the thick of the political fray.
Asked if he thought Scottish voters were put off by the UK Conservatives party leader, Mr Ross responded: "I think that what the voters in Scotland look at right now is the protections they have received in the furlough scheme, the self-employed income support, the 90,000 businesses across Scotland who have been helped by business support, and of course the UK-wide vaccination scheme.
"They can see that because of decisions taken by the prime minister and his government at the start of this pandemic that means we have a number of different vaccines to help protect the most vulnerable in society and now working through the age groups."
Scottish Liberal Democrat campaign chairman Alistair Carmichael said it looked like Mr Ross was too "divisive" for the prime minister.
"Despite Douglas Ross having switched positions to back Boris Johnson's Brexit, he's not even being rewarded with a photocall," Mr Carmichael said.
"First he couldn't get his priorities into a Conservative budget, now he can't even get the prime minister to stand next to him."
Labour has confirmed it is making plans for UK leader Sir Keir Starmer to campaign with Scottish party leader Anas Sarwar in the Holyrood election.
The Liberal Democrats' Sir Ed Davey has been campaigning alongside the Scottish party leader Willie Rennie this week.
SCOTLAND'S ELECTION: THE BASICS
What elections are happening? On 6 May, people across Scotland will vote to elect 129 Members of the Scottish Parliament (MSPs). The party that wins the most seats will form the Scottish government. Find out more here.
What powers does the Scottish Parliament have? MSPs pass laws on most aspects of day-to-day life in Scotland, such as health, education and transport. They also have control over some taxes and welfare benefits. Defence, foreign policy and immigration are decided by the UK Parliament.
How do I vote? Anyone who lives in Scotland and is registered to vote is eligible, so long as they are aged 16 or over on the day of the election. You can register to vote online.
Mr Ross also told the BBC the risk of an independence supermajority pushing through a "wildcat referendum" was the "biggest threat to our country".
"People want to see this country focus on our recovery from Covid-19," he said. "They don't want to see the division and damaging discussions we had in the previous referendum. That didn't help our country. It didn't help bring us back together again."
He said the Scottish Conservatives' "tried and tested method" to stop independence was the approach Ruth Davidson adopted in the 2016 election - to ask people to vote for them in the regional list ballot.
Voters in Scotland chose one constituency candidate and one political party in the regional list. The parties are then allocated a number of MSPs depending on how many votes they receive.