Mark Walters: No-one spoke about the racist abuse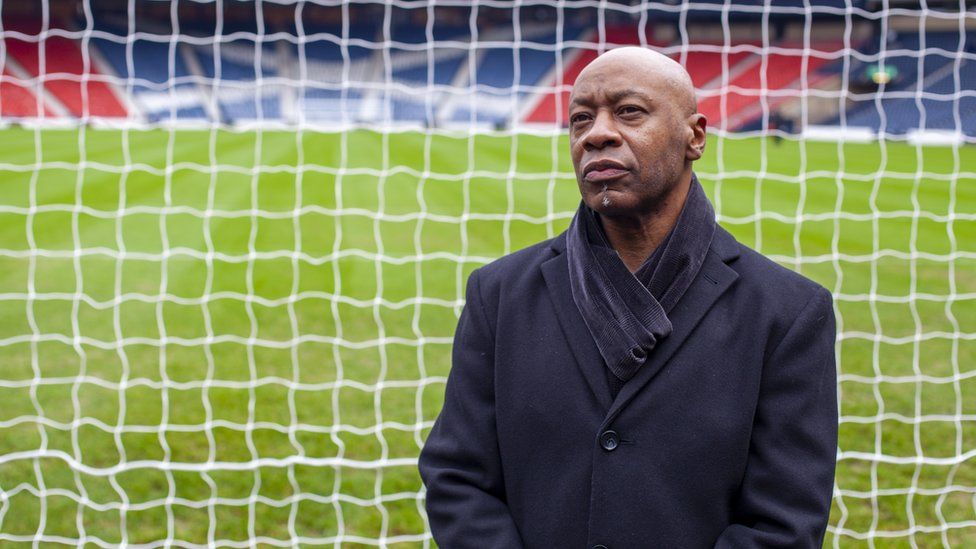 When Mark Walters signed for Rangers at the end of 1987 it was the highlight of his career but he suffered some of the most appalling racist abuse ever seen in the Scottish game.
As the only black man in top flight Scottish football, opposing fans targeted him by shouting abuse and hurling bananas.
More than 30 years after leaving the Ibrox club, Walters has told a BBC documentary he knew he could not complain because he would be seen as a troublemaker - and his team-mates never discussed it with him.
"Watching players take the knee to say that Black Lives Matter was unthinkable in my day," says Walters, who arrived at Rangers from Aston Villa as manager Graeme Souness carried forward his mission to change everything about the game north of the border.
Souness told reporters at the time that "whatever colour, whatever religion", players could sign for Rangers if they were good enough.
In the BBC Documentary, Souness still maintains that Mo Johnston, the first Catholic to sign for Rangers in modern times, experienced more difficulty than Walters.
But Souness tells Walters he is "saddened" to hear that he grew up not expecting to be treated the same as white players.
Walters grew up in Aston in Birmingham, surrounded by other children of the Windrush generation of Caribbean immigrants who came to the UK in the 1950s.
In 1987, the 23-year-old winger was much sought-after, and had been in talks with Everton, but Rangers offered an exciting new project and the prospect of European football that was being denied to English teams at the time because of crowd violence at high-profile matches.
He signed for £500,000 and made his debut in the Old Firm Game at Celtic Park in January 1988.
In England, Walters had played alongside other black players but when he came to Scotland he stood out as the only one at the top level.
Walters remembers being booed during his debut against Celtic - and then came the bananas.
He also saw a dart stuck in the turf near where he ran up the wing.
Walters says that when half-time came it was a long, lonely walk back to dressing room.
"I was isolated in that nobody spoke about it," he says.
"Not even my team-mates said to me 'Mark, don't worry about it, keep going'. No-one said anything to me."
At the start of the second half, commentator Archie Macpherson told viewers the game was slightly held up while "some assortment of fruit was removed from the pitch".
He told the documentary he had missed the implication of the banana throwing.
He says: "I looked down and I saw them lying on the edge of the pitch but no more than that.
"It didn't grab me. It didn't make any impact on me and I regret it to this day. I just carried on dealing with the other aspects of that game."
Macpherson says he can only conclude that he was taken by surprise but when he reflected on the game the legendary commentator was determined to be ready next time.
The next away game at Hearts, predictably, saw Walters targeted again, with coins and other missiles added to the bananas.
"It was intimidating, there are no two ways about it," he says. "I have never experienced anything like it in my life."
Walters went over to take a corner and says the hatred in the eyes of some of the fans was "terrifying".
"All of a sudden he was cascaded with objects," says Macpherson.
In the commentary, at the time, he said: "Bananas are raining in on Walters and that's a disgrace."
"What really hurts, watching back the footage, is I now realise kids were at it too," says Walters.
He says he felt like there was nothing he could do.
He could not go to the ref to complain. Walters says that the attitude was that if he didn't like it then he should leave the field and they would put someone else on.
"If I did complain I'd be classed as having a chip on my shoulder," he says.
At the end of the highlights programme that week, Macpherson made a plea for the madness to stop.
Quite soon afterwards rules were changed to punish fans more harshly for action such as throwing objects at players.
Although the throwing stopped, the racism didn't.
"Looking back it was an horrific time for me. I wouldn't wish it on my worst enemy," says Walters.
In the BBC documentary Walters talks to modern-day players about how attitudes in the game have changed.
He also looks back to the earliest days of football to find out more about black pioneers such as Andrew Watson, the world's first black international player, who captained the Scotland national team in 1881 to its greatest ever win over England.